Show us your film : The Fast and the Grainiest
Some cracking film collections here, including one that is so well organised that it actually has its own spreadsheet! Check them out.

Paul Castle

This is my current film stock I just bought all the delta and there is no room in the fridge so took this picture just between fridge swaps into the food fridge the misses is not happy haha.
Paul
Christian Heinrich


since my first contribution my stash has exploded in size.
I plan on shooting at least one roll of different film each week, for the whole year. To fill the weeks I bought current and also some expired old film, so the stash had to move to the fridge.
The films are too many to list them all here, but if someone really wants to know, I have a somewhat organized Google-Doc – I'm german after all.
The project itself is living here: https://coffeepyros.wordpress.com/
Thanks for all your continued work!
Christian
Ewoud Koster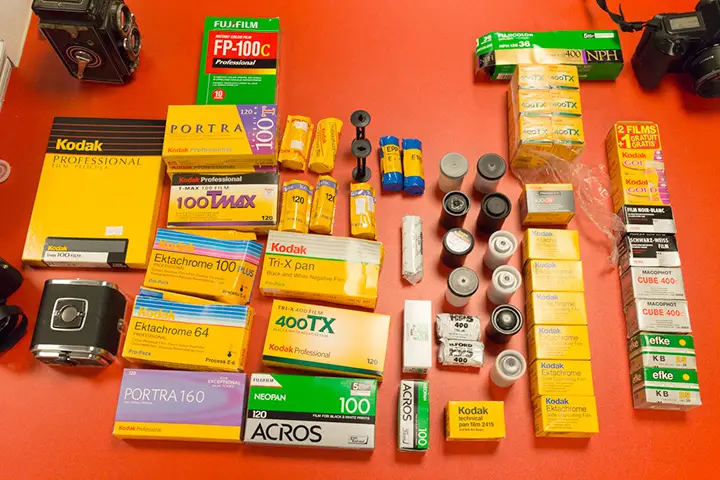 I thought I would just send in a picture our film stash. Me and some other photog's we all shoot digital for a living. So for fun and free work we are starting to do our own b/w processing again, 5 years after closing my darkroom.
We just took over a nice toyo view large format, and while taking the picture we forgot to include the tmax 4×5 inch pack.. because we were filling cassette's in a changing bag.
My favorite film b/w in 120 is acros 100, and for 135 it is tri-x. We've also gotten our hands on a lot of expired film, useful for experiments and checking shutters.
Might have to send in my bags someday!
Keep up the good work, we really enjoy checking out your website!
Regards & greetings from Holland.
Ewoud
Have you shared your stash yet? Your hidden fridge? Come on, get involved.
Want to see the previous stashes? Check this link https://www.japancamerahunter.com/category/show-us-your-film/
Also, please make sure you submit your film through the link below, otherwise I might miss it (I get an awful lot of mail).
I would love to see your collections, so if you want to send them in feel free. Perhaps you can include a couple of shots taken with your favourite films, that would be fun. Click here to send your stash. Please make sure you send the submissions to this link, otherwise they will not be featured.
Thanks
JCH