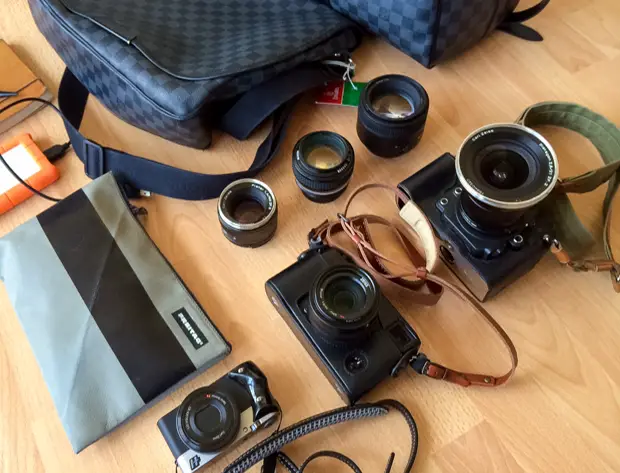 In your bag 1168, Sebastien Bey-Haut
Not often we see a digital only bag on the site, but here is a very fancy bag for you. Check it out.

Here are 2 pics of my cameras and bags. Ma main interest is travel photography and the my set up for most of my trips.
These pictures really show the actual content of my bags, they have been taken right before packing everything to attend a Magnum workshop mentored by Stuart Franklin and held in Panjim (small city in Goa state, India).
I like to travel light in order to avoid check-in luggage. I use a LV Keepall 45 for my clothes and computer, and the LV messenger bag for my cameras and lenses. These 2 bags are sufficient for a one week trip, but each cubic centimeter counts! The main advantages of these bags are their robustness (I have had the messenger bag for almost 10 years now, still fresh), good water resistance and " stealth" look: "Stealth" and LV my sound funny, but I usually go to places where nobody ever heard of the brand, and it does not scream "camera bag with expensive stuff inside". I also like the patriotic side of it: I'm a French national and let's be honest, selling overpriced plastic bags is one of the things we do best!
My cameras are:
– Nikon Df with Gariz half case, Nikon soft release, Roberu canvas strap and a piece of black tap to hide the big "Nikon" lettering. I match it with the Zeiss 21mm 2.8, Zeiss 50mm 1.4, Nikkor 50mm 1.2 and Nikon 85mm 1.8. The 21mm and 50 1.2 are by far my favorite, image quality is impressive and the manual focus fits perfectly with the Df philosophy.
– Fuji X-Pro1 with Fuji leather half case and Roberu leather strap. I use it with the Zeiss Touit 32mm as a back-up to the Nikon. I really like my small Fuji but image quality can not compete with the Df, it is sadly not seeing much use the days…
– Hasselblad Stellar. Yes, I know, it's not a real camera… :) But I could not resist that cute carbon grip. I actually had a very nice deal at B&H and use it for the social and "backstage" shots.
Other stuff I always take with me:
– Mac book Air (already in the bag, thus not visible here)
– LaCie Rugged HD
– Notebook and Pen
– Freitag (I live in German speaking Switzerland; that's another local brand I support :) pouch to keep all my spare batteries, memory cards, etc…
Of course the pleasure of owning some sexy gear is a good part of the hobby, but the most important aspect remains to use it!
You can see more of my work here: https://500px.com/Sebastien_Bey_Haut
Regards,
Sebastien
Thanks for sharing your bag with us, Sebastien. In Japan LV is stealth, as absolutely everyone has it.
Check out the links and make sure you come and comment.
Keep them coming folks, we need more submissions, so get your bag on Japancamerahunter.com. Send me a hi resolution image of the bag. Optimum size is 620×473. Please ensure there is a bag in the shot, unless you don't use one. The more you can write about yourself the better, make it appealing and tell us a story. Oh and don't forget your contact details (twitter, flickr, tumbler et al). Send the bag shots here. Please understand that there is a long wait now as there is a backlog of submissions. Not all make the cut, so make sure yours is funny/interesting/quirky. And please make sure the shot is of good quality, as the ones that are not do not go up.
Cheers
Japancamerahunter