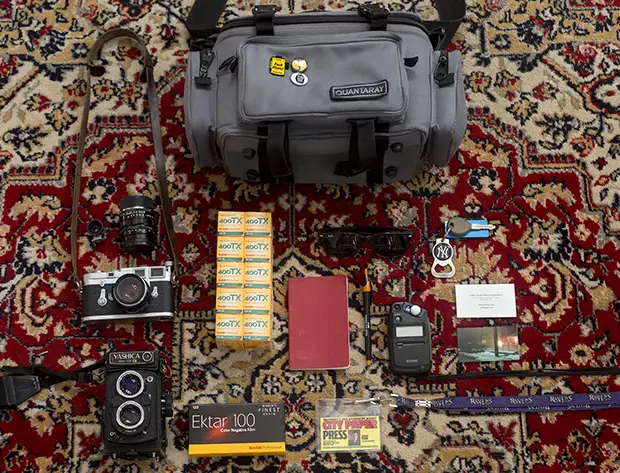 In your bag 1167, Josh Sinn
Josh shares with some lovely cameras, a bag, great film and a delightful carpet. Check it out.

I a€™m Josh, a 23 year old freelance photographer living outside of Baltimore, MD and I've been shooting photos for about 9 years now. I'm a recent grad from the University of Maryland Baltimore County'€™s photography program, but my plan is to go back to school to be able to eventually teach high school photo.
I shoot a lot of different stuff, but street photography is what I really love. People really interest me and photography allows me to experience a lot of things I otherwise wouldn'€™t. I'€™ve met a ton of incredible people through photography.
This setup is my usual go-to for when I go out in the streets of Baltimore.
– A nice ratty Quantaray camera bag with enough pockets to keep me happy. The bag comes equipped with a €œFuck Pixels€ pin (just for laughs – I shot this photo with my Canon 5D Mark III), a Pine Island Press pin, and the necessary Wu-Tang Clan pin.
– Leica M3 with Voigtlander Nokton 40mm f/1.4, Voigtlander 28mm f/1.9, and Voigtlander 28mm viewfinder
– Yashica Mat 124G
– Cheap cable release
– Plenty of 35mm rolls of Kodak Tri-X 400
– Enough 120 rolls of Kodak Ektar
– Little red Moleskin for notes and stuff
– Pen (blue ink)
– Press badge because you never know
– Ray Bans
– Sekonic L-308BII light meter
– Car keys with Yankees bottle opener
– Business cards to convince people I'm not a total weirdo
Website: http://joshsinn.com/
Flickr: https://www.flickr.com/photos/joshoriginalsinn/
Tumblr: http://cadillacranchdressing.tumblr.com/
Instagram: https://instagram.com/cadillacranchdressing/
Thanks for sharing your bag with us, Josh. Nice little setup you have going on there.
Check out the links and make sure you come and comment.
Keep them coming folks, we need more submissions, so get your bag on Japancamerahunter.com. Send me a hi resolution image of the bag. Optimum size is 620×473. Please ensure there is a bag in the shot, unless you don't use one. The more you can write about yourself the better, make it appealing and tell us a story. Oh and don't forget your contact details (twitter, flickr, tumbler et al). Send the bag shots here. Please understand that there is a long wait now as there is a backlog of submissions. Not all make the cut, so make sure yours is funny/interesting/quirky. And please make sure the shot is of good quality, as the ones that are not do not go up.
Cheers
Japancamerahunter