In your bag No: 1646 – Gregory Rejniak
Gregory is always ready and neatly displays the carefully curated contents of his daily kit.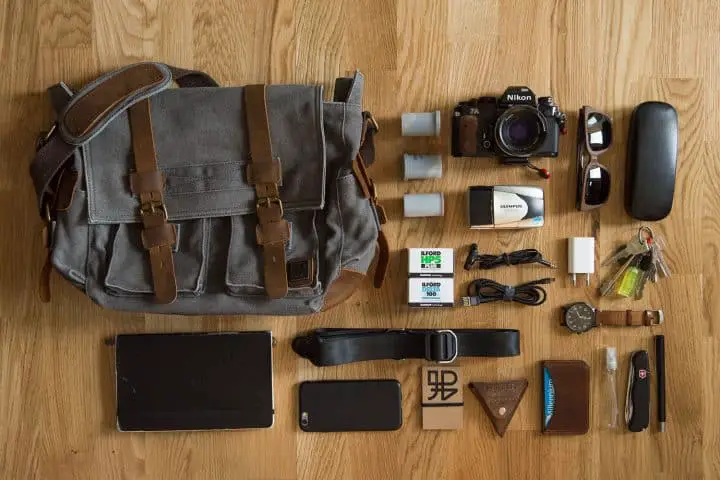 Hello. I'm Gregory Rejniak. I was born and I'm living in Warsaw, Poland. I'm landscape architect.
I've started taking photos about 15 years ago with my dad's Praktica VLC3. Then was a digital age in my photography journey. Few years back I've started to be bored of this perfection of digital photos, so I went back to my roots and buy my first "my own" analog camera. It was Nikon FM2. I still have it. Bumped and scratched but with a lot of history for sure. I love used cameras. I'm always wondering who was using that camera and what kind of photos was taken by it.
My adventure with film photography evolved, I've started to develop BW films and make prints on my own. I've also started to teach analog photography and darkroom secrets in local Community Center, here in Warsaw.
Now I have three Nikon film cameras: FM2, FA and F90 (aka Tank). I'm still shooting digital but only occasionally, on gigs like concerts and events. I want analog photography to be my passion and pleasure so I don't want to make money of it. 
Professionally, I'm a landscape architect and graphic designer. Minimalist taste in my job continues in photos. I like clean compositions and spacious locations. My favourite topic is street photography and portraits.
U can see my analog photos on Instagram: @grzechowicz 
Here is what's on the photo:
some vintage style bag I bought online. I don't know the brand

my beloved Nikon FA with custom made (by me) wooden grip + Nikkor 50m f1.8 E + "Leica style" lenshood + PeakDesign anchors + red soft release button 

Olympus Stylus Epic (Mju II) with pealed off paint

some colour films like Kodak Portra 160 and 400

black and white classics ILFORD HP5+ (to shoot at night, pushed to 1600 ISO) and Delta 100 for smooth, low grain daylight portraits

sunglasses

earphones (Beats by DRE for iPhone)

iPhone charger

heavy duty Lightning cable

keys to my apartment, office etc.

Parker pen

Timex watch

Swiss army knife

perfume travel atomiser 

minimalistic leather wallet / card holder

leather coins holder

my business cards

iPhone 6s

Peak Design camera strap (best strap I've ever used)

old roughed up Moleskine soft cover blank notebook
Hope U like it
Cheers,
Gregory – Grzegorz Rejniak
Thanks for sharing with us your bag shot Gregory. Love the DIY approach to your grip.
Keep them coming folks, we need more submissions, so get your bag on Japancamerahunter.com
Send me a high resolution image of the bag. Optimum size is 1500px across. Please ensure there is a bag in the shot, unless you don't use one. The more you can write about yourself the better, make it appealing and tell us a story. Snapshots of your gear with a camera phone and no words will not be featured.
Oh and don't forget your contact details (twitter, flickr, tumbler et al). Send the bag shots here. Please understand that there is a long wait now as there is a backlog of submissions. Not all make the cut, so make sure yours is funny/interesting/quirky. And please make sure the shot is of good quality, as the ones that are not do not go up.
Cheers
Japancamerahunter