Photography: Ars-Imago Lab-Box + Monobath Review
Switzerland/Italy based analog photography equipment extraordinaire Ars-Imago caused quite the stir nearly 2 years ago when they announced a kickstarter campaign to produce the Lab-box. The long awaited release of the home developing kit has finally started making its ways to the eager little fingers of its backers.
With film use on the rise yet costs still high and rising, home developing manifested itself for many of us non-1%-ers as the only viable resolution to perpetuate our silver halide and color dye fixes. Now that it's actually here, does it live up to all the hype and ballyhoo?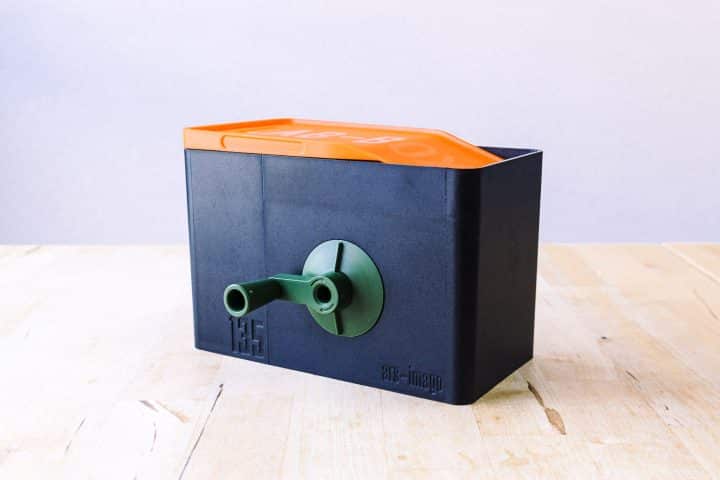 Deets
If you don't even know what the Ars-Imago Lab-box is, it is a plastic box that essentially combines everything you need for a home developing kit: a film tank, agitator, film reel, and other tools, minus the need for a changing bag to load your film. You don't even need scissors or a can opener!
The Lab-box is a multi-format tank that allows to develop film from start to end, in full day light, bypassing the need to load the rolls in the dark. This daylight loading tank promises to simplify DIY film developing for newbs and pros alike. Since it has a detachable 135 and 120 module, it's easy to switch between developing 35mm and medium format film when you need to.
I think it's a cool idea that it has interchangeable modules to swap between 35mm and 120 format. It will certainly save on space for those of us living in tiny boxes they call apartments in the big cities. It's small enough that if you really wanted to, you could just throw it in a backpack and take it out with you.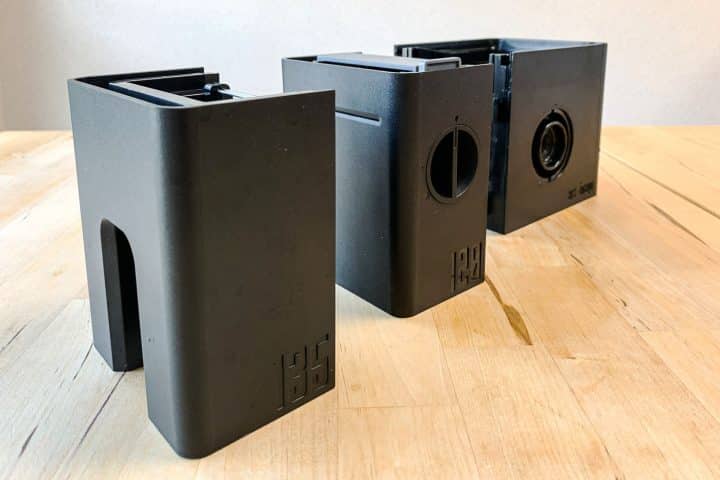 Check out the official video below to see it in action.
LAB-BOX, HOW IT WORKS from ars-imago on Vimeo.
Agfa Rondinax vs. Ars-Imago Lab-box
Haters will quickly point out "That ain't nothing new! It's just a total rip off of the Agfa Rondinax!" Indeed, they are quite similar in design and mechanics and no doubt the Rondinax was the inspiration for the Lab-box. The OG Rondinax was made from the 1930s until the 1970s and designed for 120 and 35 mm film. Clones operating similarly or identically were also made in England in the 1950s (Essex, Kent) and the Soviet Union (Sputnik).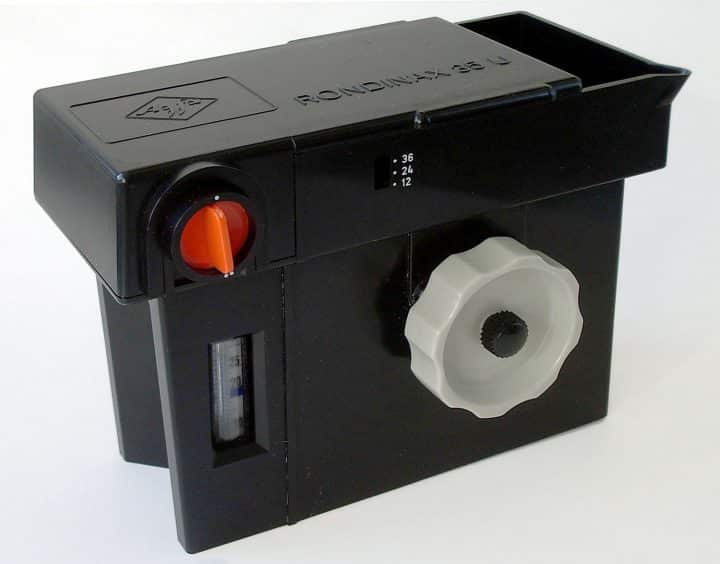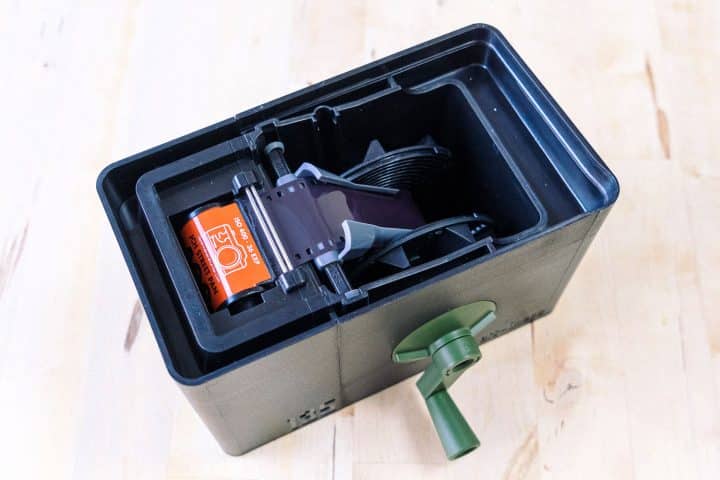 Rondinax tanks and their clones are now only available from such sources as eBay. A quick peek will reveal that 35 mm film tanks (Rondinax 35, Essex 35) can be had for roughly $100 USD and the 120 version(Rondinax 60, Kent 20) fetch higher prices at almost $200 USD. That's for used plastic that's anywhere from 40-80 years old. For about $150 USD, a brand new Ars Imago Lab-box that can do both 35mm and 120 film can be had. Though not revolutionary, the Lab-box combining two formats into one unit is a nice revolutionary touch and hits a reasonable price point.
The Lab-Box is designed with multiple options for balancing agitation frequency and chemical waste. As little as 250 ml can fill half of the tank, but will require constant agitation by turning the green crank that rotates the film reel. Alternatively, 500 ml of developer will fill the entire tank and submerge the entire roll, which requires less agitation but obviously requires using more chemicals.
Developing with the Ars-Imago Monobath
The Ars-Imago Lab-Box is also designed to be used with simple all-in-one develop-and-fix chemicals such as Ars-Imago's own Monobath. Our first go at this will be with this simple solution.
Ars-imago offers this film retriever tool to pull out the lead from film canisters but I found it to be completely useless. After about 15 minutes of trying and many expletives, I had to resort to the tried and true spit trick to get started. Old school rules! If anyone else out there knows a better solution, I'm all ears.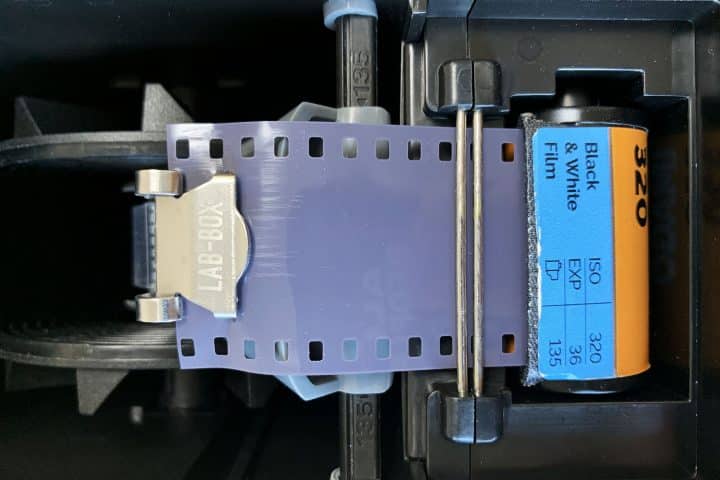 Other than getting the leader pulled out, everything was pretty straightforward and hassle free. There are just a couple things to be careful with. Don't forget to slip the film under those metal bars, otherwise you won't be able to cut the film at the end. Also make sure that the clip snaps on to the film well. Otherwise you risk it slipping mid spool onto the developing reel.
Mixing Parts A and B of the Monobath together will yield you 600ml of solution but the Lab-box itself only fits 500ml. I learned that the hard way. So be careful to pour in no more than 500ml if you want to fully submerge the reel to agitate less. I pretty much followed the online demo, agitating for the first minute then 30 secs every minute after.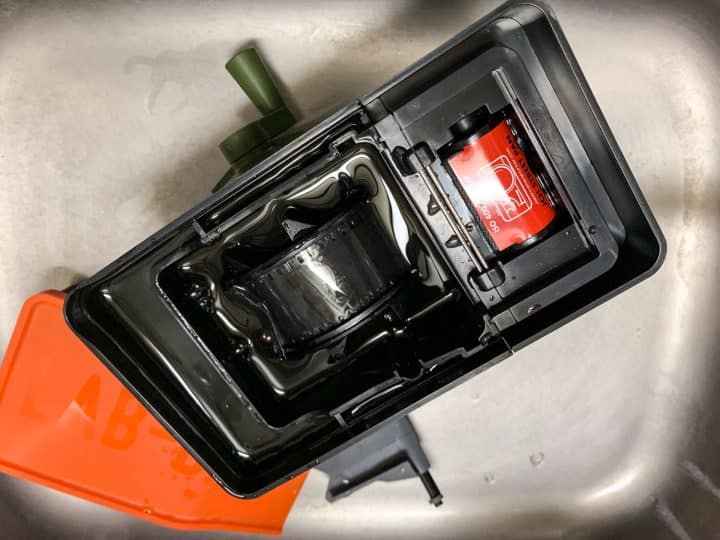 After the 8 minutes are up, pour out the solution back into a container for reuse and rinse the box thoroughly with water. Take a deep breath and hope something shows up as you pull your film out. Ars-Imago claims the solution can be used up to 15 times.
Sample Images (35mm)
The below images were taken on JCH Streetpan 400, shot normally on a Leica M6 + Summicron 50mm and developed for 8 minutes with the Ars-Imago Monobath in the Lab-box. Scans are from a Plustek Opticfilm 8200i.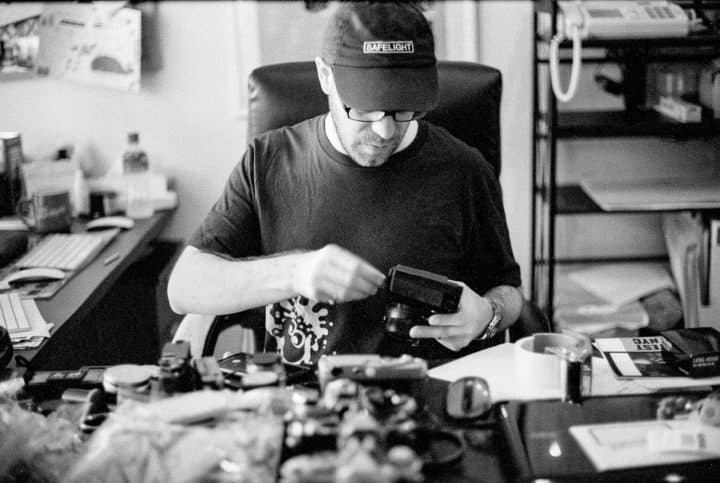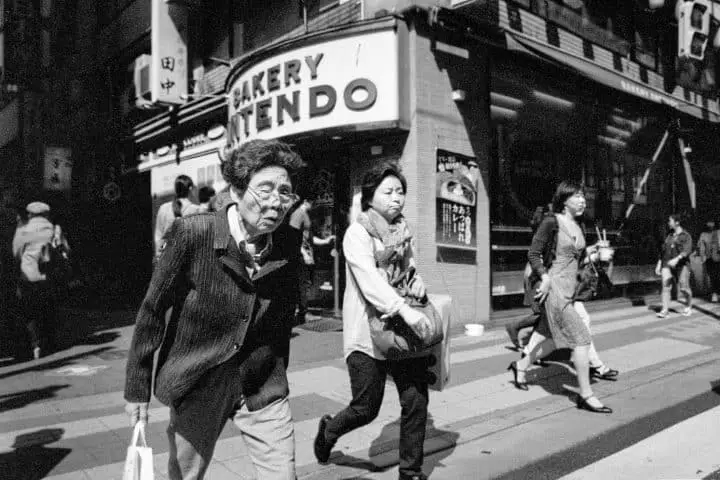 I did find some weird streaks and scratches on random frames such as in the shots below. The midtones are mild and balanced but shadows appear grainier and has a weird dusty looking layer over it which leads me to think the film was not spooled evenly onto the developing reel.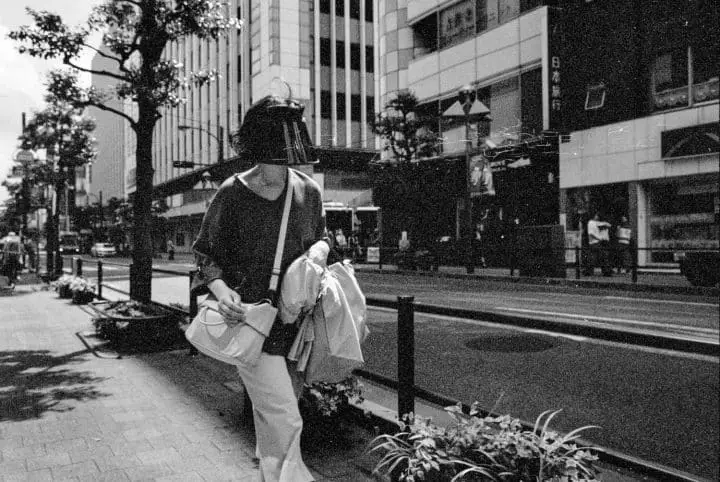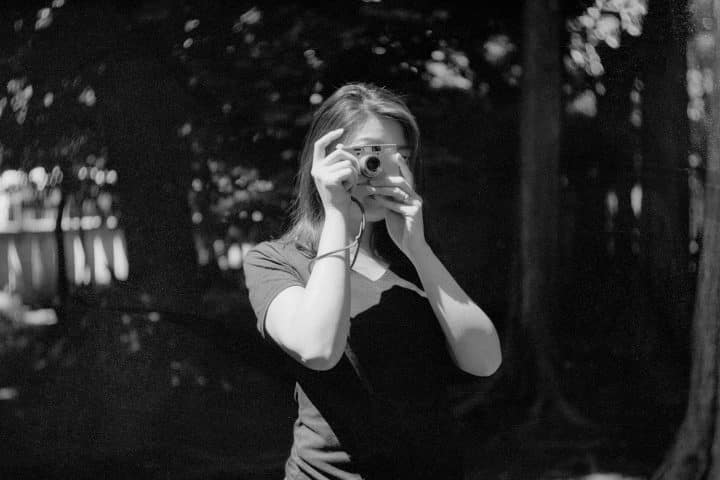 Sample Images (120)
The below images were taken on JCH Streetpan 400, shot normally on a Pentax67 + Takumar SMC 105mm and developed for 8 minutes with the Ars-Imago Monobath in the Lab-box.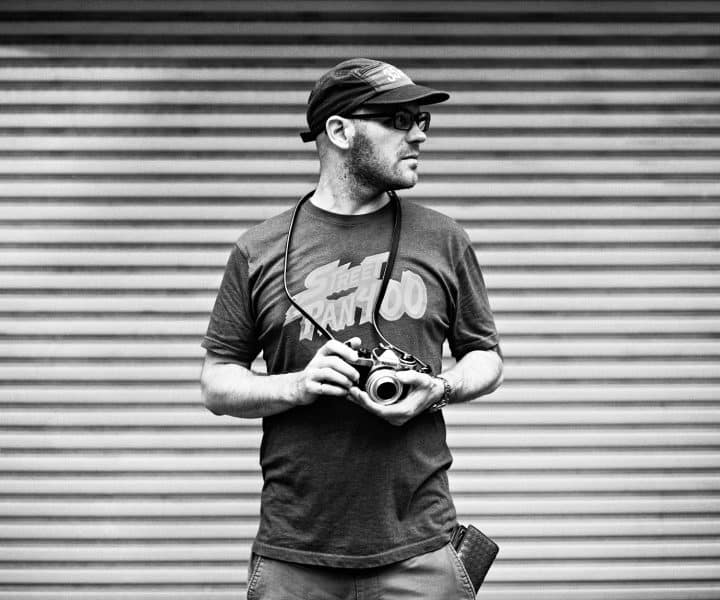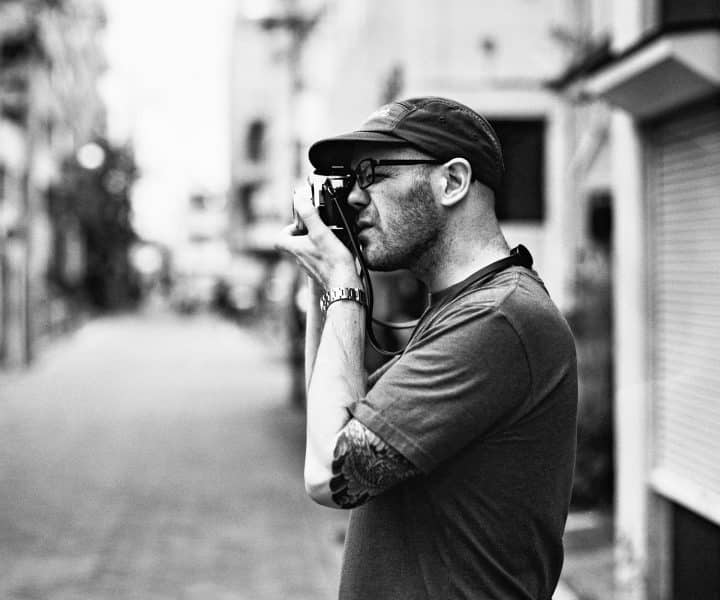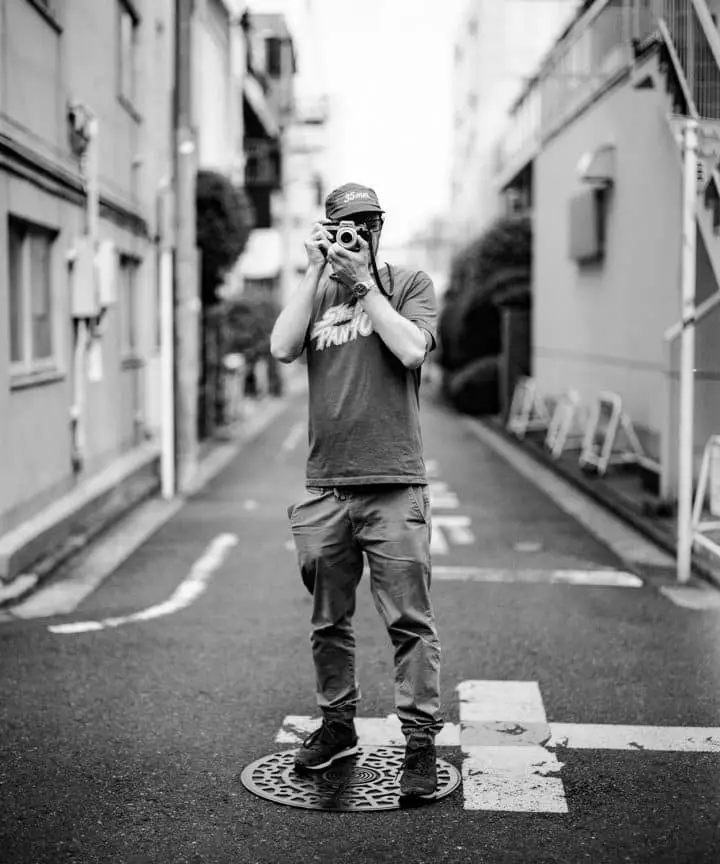 Streetpan is traditionally quite a contrasty film but the midtones are well balanced and there is more detail in the shadows and highlights.
We hope to do more testing with other solutions in the near future so stay tuned. We're also eager to try some home color development with this bad boy in the near future. We will also report back on the longevity of the monobath. So far after 5 rolls with the same solution we've only encountered the weird scratches as stated above.
Purists probably won't be ditching their Jobos and Patersons but if you're new to self developing or looking for a simple developing tank that can easily switch between 135 and 120, the Ars-Imago Lab-box warrants a better investment over older variants such as Agfa's antiquated offerings. Would love to hear about others' experiences with this or something similar and as always, comments are encouraged and welcome.
MN