In your bag No: 1647 – Alberto Ferrero
Alberto is in Tokyo putting in the final touches of his upcoming book and this is the minimal daily setup to get the job done.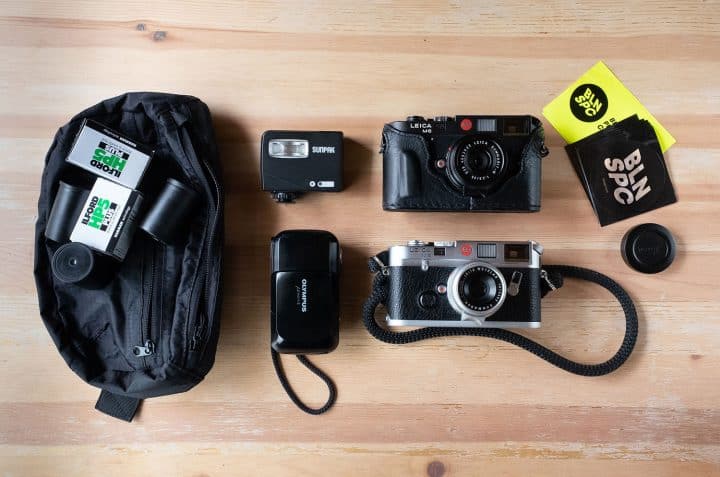 Hello everyone, my name is Alberto. I am Italian and I live in Berlin. Today I am sharing with you what is in my bag:
I usually don't like to bring too much stuff with me, I prefer to be light and be able to walk all day long without getting my legs wobbling. That's why I prefer a large fanny pack on my waist and my Leica wrapped around my wrist. Most of the times I shot with my Leica M6 and 35mm Summaron, which I adore. In case of rain or bad weather, I use my Olympus Mju1, as I am not afraid of getting it wet and I can keep hitting the street.
I always bring a small Sunpack flash with me. It's very light and what I love about it is that it never goes on standby mode, and it is always ready to shoot. I shoot with flash only at night though. If you are wondering why I have stickers in my bag is because I come from a graffiti background. I really think graffiti is for painting what street photography is for photography and this is one of the main reasons why I am a street photographer. I like to get my name out there and I always bring with me stickers of my Berlin's street photography club, BLNSPC (blnspc.com), to stick around the city.
Berlin
Berlin Street Photography Club was founded in early 2019. It consists of 12 photographers who live in Berlin. We are powered by Safelight Berlin (safelightberlin.com), an online shop for analogue cameras that from May 2019 opened a physical shop in Berlin, also known as "Home of BLNSPC".
I am currently in Tokyo for 2 months because I am working on a book that I will launch in September 2019. In the photo you see my set up for my everyday work. For this project I am shooting Ilford HP5+ pushed to 1600.
What I love about Tokyo is the people. At first, Japanese people may look very introverted and, especially in the day, they don't really seem to look for human interactions. My book reveals a contrast between day and night: on one side the rules and the order that society dictates and on the other the absolute craziness of parties and nighttime. If you want updates about my book please follow me on Instagram (link below)
IG: https://www.instagram.com/albertoferrero_/
Website: www.albertoferrero.de
Thanks for sharing with us your bag shot Alberto. Looking forward to seeing that book!
Keep them coming folks, we need more submissions, so get your bag on Japancamerahunter.com
Send me a high resolution image of the bag. Optimum size is 1500px across. Please ensure there is a bag in the shot, unless you don't use one. The more you can write about yourself the better, make it appealing and tell us a story. Snapshots of your gear with a camera phone and no words will not be featured.
Oh and don't forget your contact details (twitter, flickr, tumbler et al). Send the bag shots here. Please understand that there is a long wait now as there is a backlog of submissions. Not all make the cut, so make sure yours is funny/interesting/quirky. And please make sure the shot is of good quality, as the ones that are not do not go up.
Cheers
Japancamerahunter