HPRC X JCH Limited Edition Hard Case
HPRC and I have teamed up to make a special limited edition hard case for my (and your) precious cameras. I have quite fancied my own hard case for a while and when I got talking to Plaber/HPRC I was able to make it a reality.
I met the lovely people at Plaber/HPRC during Photokina, and was cheeky enough to try and blag a free case. They instead suggested we collaborate on a case that has a touch of the JCH flavour. This is how the HPRC X JCH Limited Edition case was born. It looks great and makes sure your gear and film is as safe as can be. Plus, you can always find your bag at the airport, which is a bonus. I hope you like yours as much as I like mine.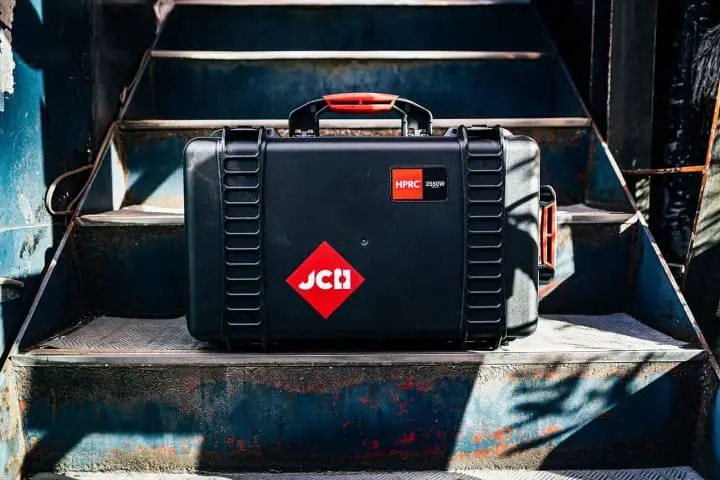 Over to Plaber/HPRC for the official press release:
HPRC and Japan Camera Hunter partner on new limited edition camera case for film photographers
June marks HPRC's 13th Anniversary. In occasion of this celebration, HPRC is pleased to announce its limited edition partnership with Bellamy Hunt, the camera collector who runs the website Japan Camera Hunter. Based in Tokyo, Hunt focuses on vintage film cameras for photographers around the world and manages his online hub for imaging lovers.
HPRC has recently partnered with JCH to release a limited-edition camera case specially designed for photographers. Thanks to the collaboration with JCH, HPRC has revisited its flagship model, the HPRC2550W, to realize a unique case with the film street photography in mind: the JCH2550W-01.
As the whole HPRC collection, the HPRC2550W x JCH is a waterproof and impact resistant case designed to protect the photography gear inside and to prevent it from any damages. This limited version of the case features the unmistakable touch of JCH: the shell is characterised by his red logo and the interior layout is made with a special double-color foam in red and black that helps keep everything in its proper place.
The case has been designed to hold the Leica MP-6 and its accessories: the perfect solution to keep and transport the photographic stuff. The trolley is well-padded and the easy glide and shock- absorbing wheels allow to move smoothly through streets and airports.
This limited edition case represents the beginning of a successful collaboration between the English photographer and blogger and the Italian company: the two iconic brands collide on this simple but remarkable case, which looks at the photo imaging world with a fresh touch.
Only a limited number of units have been produced worldwide, available exclusively through hprc.it. The HPRC2550W x JCH (JCH2550W-01) will officially be launched on Thursday, June 13, 2019.
About Plaber srl / HPRC Cases
Plaber srl is an Italian manufacturer of advanced protective hard cases, sold under the brand HPRC | High Performance Resin Cases. The HPRC product line is the result of a singular focus to use innovative materials and design to deliver improved solutions for users to protect, transport and access their equipment. This focus on innovation first produced HPRC's patented TTX01® ultralight hard case shell, and can now be found in every detail of an HPRC case. Innovation, tradition and service are the strategic words for PLABER.
You can swipe one now though their site:
https://www.hprc.it/en/hprc2550w-x-jch-limited-edition_jch2550w01.html
I hope you like it as much as I do.
JCH