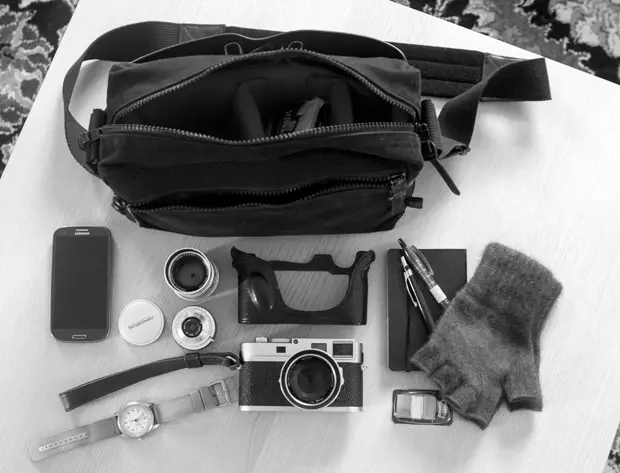 In your bag No: 621, Alistair Noble
A delightful monochrome bag for you all today. Alistair shares with us a simple and to the point digital Leica bag and a clutch of MS Optical lenses too. check it out.

I'm usually a bit shy about my camera gear, sneaking around with it half under my arm, but as I was packing my bag to go for a walk this afternoon I thought it made a nice snapshot.
My name is Alistair, and I'm a musician, academic, and enthusiastic photographer. Currently living in Canberra, but maybe not for much longer…
A lot of the time I carry only one lens, but if I think I might want a bit of variety I often take these three because of their light weight. I quite like the 28/50/75 lens combination. As a glasses wearer, 28 is pushing at the boundary of what I can frame without an external finder. 75 is like a nice 'long standard' – I find it a comfortable focal length.
The bag is artisan and artist.
M9-P, I've had it for about 6 months now and loving it. I have a few 'serious' camera straps, but find that this cheap Chinese-made one works best. Lovely soft leather, and it fits my hand just right. I was a bit worried that the packaging said it was 'fashionable and surprising' – but so far, no surprises!
On the camera is the lovely MS Optical Sonnetar 50/1.1 – I love fast lenses and this is so small and light and does interesting things :-)
MS Optical Super Triplet 28/4 – another unique and interesting lens. despite being slow, it always surprises me with lovely rendering.
Voigtlander 75/2.5 – so small and light, feels great on the camera.
Luigi half-case
automatic Seiko 5 watch
note-book, pen, pencil, post-it notes.
Gloves – because it's winter here in Australia, and it's been snowing nearby this week.
You can see some of my photos at http://500px.com/alistairnoble
If you'd like to see what I do when I'm not taking photos, you can check out my new book http://www.ashgate.com/isbn/9781409451648
Best,
Alistair
Thanks for sharing your bag with us Alistair. Those MS lenses look great on the M9-P, glad to hear you are enjoying them.
Check out the links and make sure you come and comment.
Keep them coming folks, we need more submissions, so get your bag on Japancamerahunter.com. Send me a hi resolution image of the bag (please make sure it is horizontal) and its contents, with some details about yourself and what you shoot. Oh and don't forget your contact details (twitter, flickr, tumbler et al). Send the bag shots here. Please understand that there is a long wait now as there is a backlog of submissions. Not all make the cut, so make sure yours is funny/interesting/quirky. And please make sure the shot is of good quality, as the ones that are not do not go up.
Cheers
Japancamerahunter