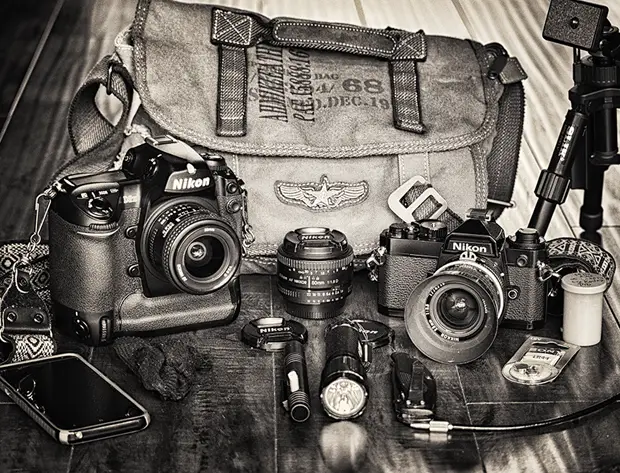 In your bag No: 622, Ani Tone
Now you are only going to see this once. An HDR type shot on JCH. But, I will allow this one as it is of a great Nikon bag, which I have a particular weakness for. Ani shares her bag with us today. Come and check it out.

My name is Ani, I am a passionate photo maker. It started out as a hobby over 16 years ago to keep in touch with family when my husband and I moved away after getting married.
I don't have a particular subject I like shooting more than the next. In fact, since I'm out in the boonies, I tend to shoot whatever and whenever I can. My subjects include, my horses, my 3lb yorkie, family, friends and a very patient husband. A couple landscape photos are thrown in here and there as well.
My gear is antiquated in comparison to others that submit, but I really love my Nikon D2H. To me it is the best digital camera I own. I carry it with me everywhere. Normally with the 50mm.
My other camera that's been tucked in my bag lately, that I haul around is my Nikon FE. I started shooting film again after many years and like most I have fallen in love with it all over again.
The bag is a very inexpensive canvas bag. There is nothing but dusty trails around here when it's not pouring down rain…so I stash my gear inside this bag. Once I saddle up on my horse it fits inside my saddle packs nicely. Yup, you guessed it, I'm pretty country J
Working from home and working a small farm takes up a lot of my time but photography is a great escape I love to indulge in. I've never aspired to be a famous photographer, I just love seeing the world around me and sharing my own with others. It is the least expensive way I know to travel the world.
I also have a collection of Nikon cameras that I use on a regular basis as well…D200 and a D2X, a Nikon FTN, had to get it after I saw Full Metal Jacket for the first time and a Nikon F2. My collection also includes a Zorki4 [I'm planning on painting it camouflage…I picked it up for next to nothing but the paint is like a really obscene color I hate it] a Kodak Retina 1b and a Yashica A.
Some of my favorite photographers are Edward Sheriff Curtis, Adam Jahiel and Joe McNally. If I could assist or get the chance to study with any one of the three it would be Edward Curtis, of course that would require time travel, but hey I'm up for that…Curtis' photographs are truly compelling works of art.
If anyone cares to take a looksee at the world I live in, they can find me at my personal site www.anitrone.com/blog or www.indyrain.com
Ciao Bellas!
Thanks for the shot Ani, and for sharing your passion with us. Working on a farm is sure to bring up some interesting photo opportunities.
Check out the links and make sure you come and comment.
Keep them coming folks, we need more submissions, so get your bag on Japancamerahunter.com. Send me a hi resolution image of the bag (please make sure it is horizontal) and its contents, with some details about yourself and what you shoot. Oh and don't forget your contact details (twitter, flickr, tumbler et al). Send the bag shots here. Please understand that there is a long wait now as there is a backlog of submissions. Not all make the cut, so make sure yours is funny/interesting/quirky. And please make sure the shot is of good quality, as the ones that are not do not go up.
Cheers
Japancamerahunter