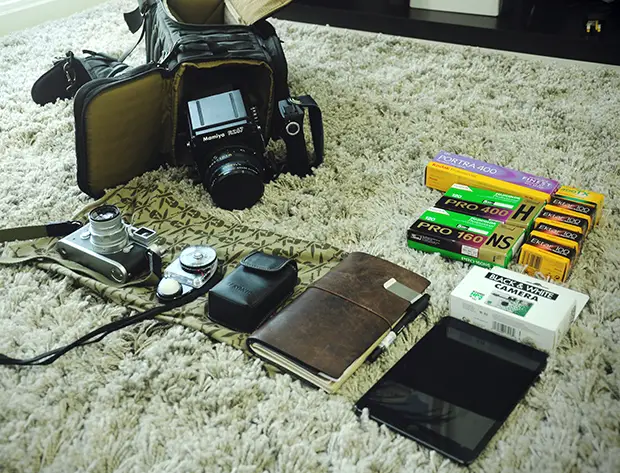 In your bag 1012, Danny Kai
Todays bag is rather sultry, splayed out on the deep pile rug…contents spilling out of the bag like a 1980's "art" photoshoot. Check it out.

Hi Japan camera hunter ,
Here's a quick peek Into my bag , The bag that i'm using is a Hazard 4 Evac Plan B 
and here's the link to the specification .
And behold my "products"!!
Leica M3 Single stroke
Leica Summicron 50mm 50/2 Dual range Leitz lens w / Finder 
Mamiya RZ 67 Professional  (Have the Prism Finder but i find it too heavy for a day-to-day use)
Mamiya RZ 67 Left Hand Grip with Strap
Sekonic L-398A Studio DeluxeIII Light meter (Recently got this and man this is so manual )
Artisan Khaki Green camera strap (Light and comfortable)
IPad Mini
Midori Traveler's Notebook (Here is where all the magic happens , all my notes and plans . I spend more time using this than the IPad)
A Disposable Ilford Black & White Camera for the missus (She's with art background just that she don't shoot on the day-to-day basis)
A mil-spec-monkey shemagh when i'm sweating a lot on my forehead
http://milspecmonkey.com/store/head-gear/327-msm-logo-multi-wrap.html
Some films
Will be sticking to these films for quite sometime
Fujifilm color PRO 160 NS
Fujifilm color PRO 400 H
Ektar 100
Portra 400 (Just to test ) 
TriX400 For my street photography 
Danny Kai
Kuala Lumpur , Malaysia
Film dedicated site ( dwhiskers.tumblr.com )
My flickr account ( www.flickr.com/dwhiskers )
Sorry to sound like a war junkie!! I have more actually lol!
Converted myself from digital photography to Film photography with a help of a friend
Here's the link to his movement
https://www.facebook.com/36Xposures
Thanks for sharing your bag with us Danny. Nice to see one of the Ilford disposables in your bag.
Check out the links and make sure you come and comment.
Keep them coming folks, we need more submissions, so get your bag on Japancamerahunter.com. Send me a hi resolution image of the bag (please make sure it is horizontal, 720px across is optimal) and its contents, with some details about yourself and what you shoot. Oh and don't forget your contact details (twitter, flickr, tumbler et al). Send the bag shots here. Please understand that there is a long wait now as there is a backlog of submissions. Not all make the cut, so make sure yours is funny/interesting/quirky. And please make sure the shot is of good quality, as the ones that are not do not go up.
Cheers
Japancamerahunter