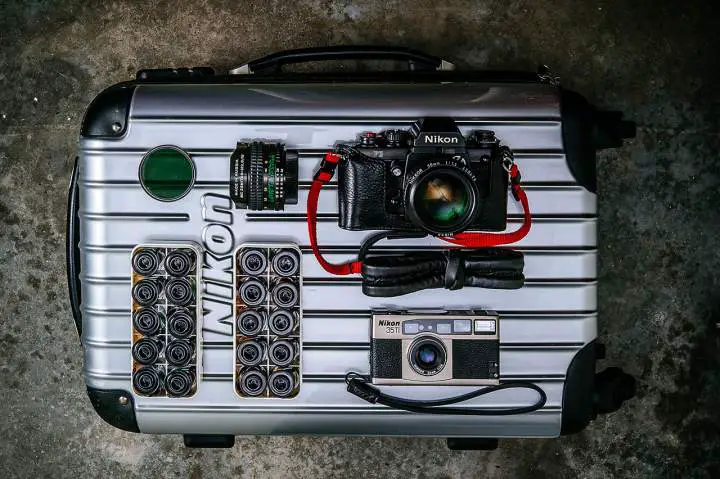 In your bag No: 1448, Richard Wong
A lovely looking bag today. Some really awesome Nikon gear and a very cool Nikon suitcase. Now I want one. Come anc check it out.
My name is Richard Wong and I'm from New Zealand.  
I do weddings, portraits using my full frame Nikon DSLRs and I also do camera reviews for magazines and my blog so always have a chance to play with some of the latest digital cameras. But I also love shooting with film cameras and have quite a few of them in my camera cabinet. As someone who has probably too many cameras, digital and film combined, choosing which camera(s) to bring to a holiday trip is always a big (first world) problem.
For my last few trips, I've experimented carrying 2 full frame DSLRs, one DSLR + an iphone, micro four third camera, or even just some random loan cameras I got for review. But I found myself enjoy photography the most when shooting with film cameras, so naturally I want to carry film camera for my next trip. But the problem is, should I completely rely on these old film cameras to document the precious moments with my family and knowing that my film will have to go through multiple x-ray machines at various airports, or should I go for a more conservative hybrid digital + film combo?
The later is definitely the safer option but the problem is that I know I'll most likely end up repeat shooting the same/similar photo on both my film and digital camera as a safety measure and that would just defeat the point of carrying a film camera. So I decided to go with this combo for my next trip. A Nikon F3 with Nikon 50mm f/1.2 AIS and a Zenitar 16mm fisheye lens, and a Nikon 35Ti.  The film I use are Kodak Portra 400 and Ilford HP5+ (push to 1600).  And I also have a ND8 filter in my bag so I can still get those pretty bokeh on a bright sunny day.
My Nikon DSLRs will stay at home but I'm still shooting Nikon after all ;)
My website is: www.photobyrichard.com and you can find some of my camera reviews at: www.photobyrichard.com/reviewbyrichard/Oh and I use flickr too: https://www.flickr.com/photos/photobyrichard/
p.s. I still haven't decide which camera bag I want to take so the Nikon suitcase is just a place holder for now.
Thanks
Richard
Thanks for sharing your bag with us, Richard. That Nikon suitcase is awesome.
Keep them coming folks, we need more submissions, so get your bag on Japancamerahunter.com
Send me a high resolution image of the bag. Optimum size is 1500px across. Please ensure there is a bag in the shot, unless you don't use one. The more you can write about yourself the better, make it appealing and tell us a story. Snapshots of your gear with a camera phone and no words will not be featured.
Oh and don't forget your contact details (twitter, flickr, tumbler et al). Send the bag shots here. Please understand that there is a long wait now as there is a backlog of submissions. Not all make the cut, so make sure yours is funny/interesting/quirky. And please make sure the shot is of good quality, as the ones that are not do not go up.
Cheers
Japancamerahunter