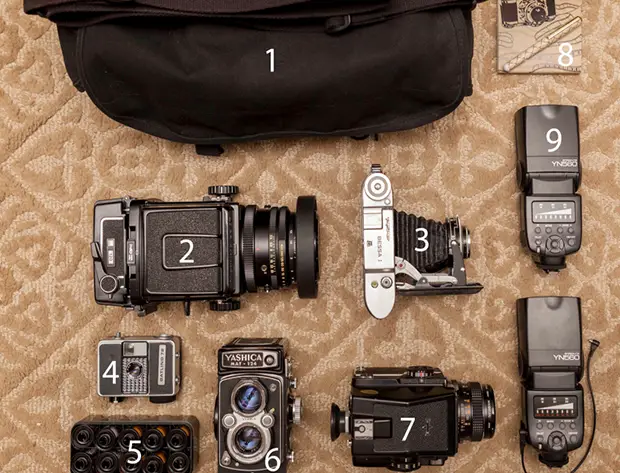 In your bag 802, Christopher Sartain
Another day, another Chris. This time the bag is a bit different though. I say a bit, as it still has the numbering that has become commonplace lately. Check this one out.

My name is Chris and I've been an avid follower while my brother was living in Japan for the past three years. I started collecting cameras a few years ago and just can't stop. I will shoot anything that works. Pictured below is my usual medium format bag. I tend to over pack (understatement of the century) and find it difficult to leave a camera behind. My preferences lean towards medium format, but love shooting film in general. As far as film, I enjoy shooting Portra/Ektar for people shots and TMax/Arista for street shooting. I'm still learning a lot and have a long way to go, but the joy of shooting such a wide variety of cameras is what makes it fun for me…..and that's what it's all about, right?
This is a great forum and I find it quite helpful to see what others are shooting and carrying. It has given me new ideas and continues to entertain. Thanks Bellamy.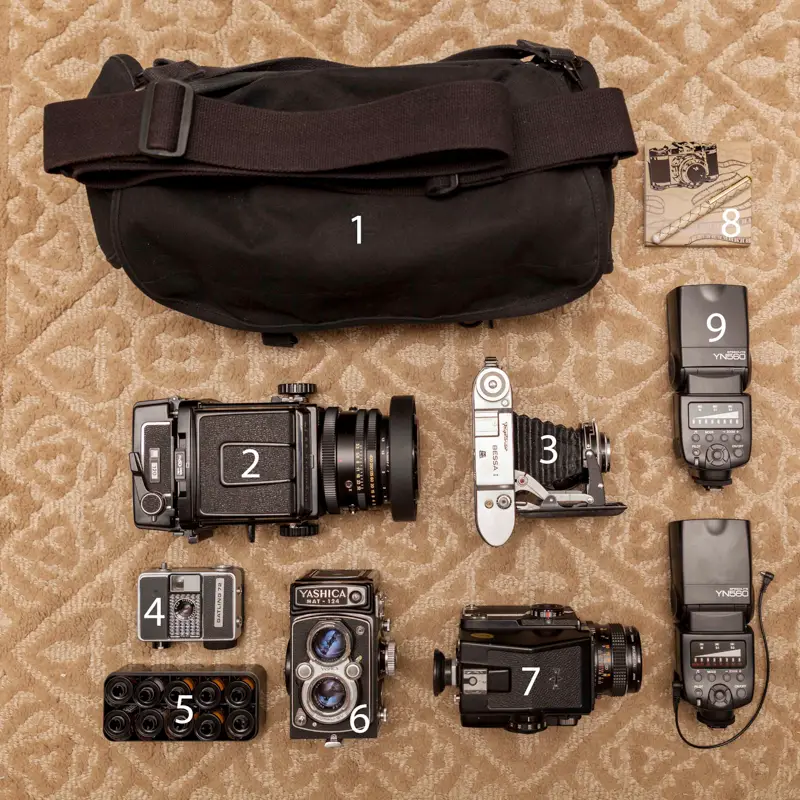 1. Domke F-2 bag
– Awesome bag for this amount of gear. It usually carries my more "robust" pieces.
2. Mamiya RB67 / Mamiya 127mm f3.5
– My go-to portrait camera/lens combo. The best thing about this camera is its ability to focus close…real close.           The downside….it's size. But that won't stop me from lugging it around.
3. Voigtlander Bessa I
– Picked up this beauty from an estate sale. Nice, big negatives (6×9). Great for landscapes. But a bit tricky to use.
4. Ricoh Gatling 72 (Just for fun)
– As stated, I put this in just for fun. Funny little camera.
5. JCH Film Case
– Nothing but the best goes in this bag.
6. Yashica MAT-124
– Possibly my favorite to shoot. Easy to carry around on long trips, takes tack sharp photos every time, and it's just        one of those cameras you can count on to produce when you need it to.
7. Mamiya 645 1000s / Sekkor 80mm f2.8
– My other portrait camera/lens combo. This one travels a bit easier than the RB67 understandably.
8. Notepad
9. Yongnuo YN560 (2) full manual flashes
– Cheap yet dependable. Never had issues with these flashes. Easy to use and adjust on the fly.
Good stuff Christopher, thanks for sharing. Shame you didn't share any links as I am sure people want to see how you use this lot.
Keep them coming folks, we need more submissions, so get your bag on Japancamerahunter.com. Send me a hi resolution image of the bag (please make sure it is horizontal) and its contents, with some details about yourself and what you shoot. Oh and don't forget your contact details (twitter, flickr, tumbler et al). Send the bag shots here. Please understand that there is a long wait now as there is a backlog of submissions. Not all make the cut, so make sure yours is funny/interesting/quirky. And please make sure the shot is of good quality, as the ones that are not do not go up.
Cheers
Japancamerahunter