Jesse's book review, Le Corbusier & Lucien Herve: A Dialogue between Architect and Photographer
Jesse has been hard at work and has given us another fantastic review. And this one is going for the longest book title award too. Come and read this thoughtful and well considered review.

Not sure who to quote, but in the documentary Visual Acoustics on pioneering architectural photographer Julius Shulman (can't wait to review one of his books) it was pointed out that an architect lives and dies by the images of his or her buildings. Thinking about it; it is more than one of those mere exaggerations in the first five minutes of a documentary that a filmmaker will employ to get you to invest the time to watch it. You see most works of architecture are rarely seen in person and it is in the form of images that the basis for an architect's identity is determined.
Before Le Corbusier there were no modern star architects and it is through images that he and the preceding stars were made. From this you can understand the importance of architectural photography and the understanding of the two mediums required to accurately express it. Le Corbusier & Lucien Herve: A Dialogue between Architect and Photographer does just that.
The book is of coffee table book size and includes text of the correspondence between the two and interpretations after a lengthy introduction. The format is set chronically on each of Le Corbusier projects he finished and Herve's photographic interpretations of them. This is displayed in the book exactly as Herve presented the photos to Le Corbusier himself that is in a sort of contact sheet style. I say sort of because they aren't really contact sheets in the manner that we see each photo as they were shot on the roll, instead they are all carefully edited as explained in the introduction. And this is where a bit of the intrigue comes in with Herve's photography.
Most of the major architectural photographers are precise and approach the medium with "a less is more" mentality. Watching Visual Acoustics one can easily understand in what I mean. The care that goes into one shot that for the most part was nearly exclusively done in large format is contrasted with Herve who would shoot six times as much as any other photographer. In addition he shot exclusively with a 6×6 Rolliflex and Leica for color. He displays this taste for abundance in which every façade of a building is scrutinized offering a sustained attention to detail. What his sheets then do is tell a visual story as your eyes roll across his rows of photos giving us a complete impression of the building. Also even more so, you see that some shots are under/over exposed, which I read for some years he didn't even use a light meter as it was entirely about the impression.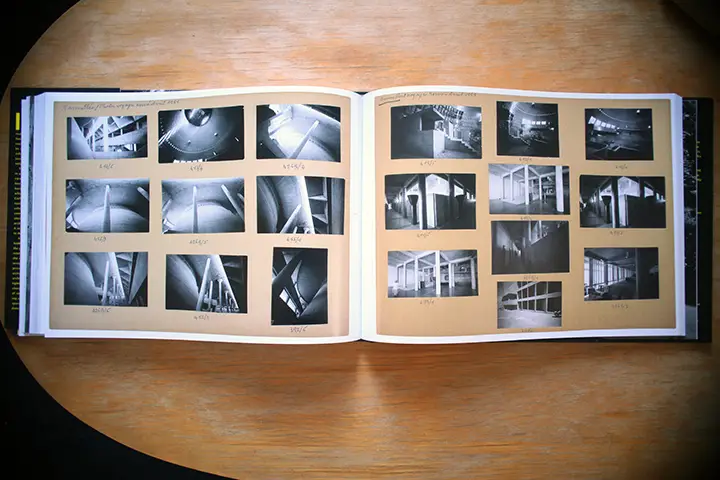 With all these imperfections in a genre of photography that is typically dominated by precision one has to wonder how did it work? And that becomes the beauty of the book with the correspondence that began with Corbusier writing, "You have the soul of an architect and you know how to see architecture." And really you can begin to see the mutual respect for each other's art. This is not to suggest that everything was perfect as their relationship was actually quite stormy. Le Corbusier often came off erratic in his demands and authoritative in his manner. Herve though patient would become assertive when demands were unreasonable and point out faults quite bluntly. Yet their relationship only ended because of Le Corbusier's death and really it was that level of respect that kept them together. I think the basis for this was in the undeniable fact that Herve's style complimented Corbusier in their modernist aesthetics. Both adored the effect of light and shadow and both wanted to do away with past notions of their medium (sorry more so architecture) and did so by reducing everything to form and structure.
Looking at a few images in particular I'd like to illustrate their modernist tendencies. The photo above illustrates modernism for many different reasons.  It is a photo of Corbusier's Villa Shodhan in India completed in 1956. It is entirely modernist and draws influences from the De Stijl movement and more particularly Piet Mondrian it terms of its compositional facade. This is something that could be seen in his other works like for example in the Mondrian squares in the façade of The Cloister. Herve then captures this façade and composes in way just as Mondrian would in his paintings. Yet he incorporates the buildings texture while utilizing the shadows perfectly. Then to break up the cold monotony he includes a person in the image, which is characteristic of his non architectural photos as well. Either way, people are often in his photos but are never the focus, but instead compositional figures that make up the greater whole.
The people themselves in his photos characteristic of modernism offer no ornamentation or decoration but instead are just mere forms. The same can be said for the picture below in terms of human figures being reduced to pieces of the composition. It is also important to understand that Herve was quite spontaneous in his shooting. He never staged photos and in the context of these architectural photos the human figures that occasional appear are "decisive moment" captures (for lack of a better worded cliché). Yet unlike Cartier-Bresson the photos still fit entirely within the confines of architectural photography. This photo is just good though, the vanishing point and the right wall that leads the eye through it. On the left side of the frame we get those diagonal lines of the staircase that lead us along the roofline and through the two figures in the photo. The shapes are emphasized by his attention to the shadows covering all tonal ranges. Flawless really.
Unlike The 1920s Expressionism book I reviewed earlier by Kitai Kazuo, this is much more accessible. A fan of photography can appreciate this just as much as a fan of architecture. The book is widely available; I got mine from the US Amazon for about 55 dollars. Well worth it since the text makes for a good read and we get to follow both artists in their progressions in their respective mediums. However, if you want to go more into the photography side, I'd recommend his book: Lucien Herve Building Images. Think he has all of three other books after that, his contact sheets of Le Corbusier's work, a Photofile compilation, and a really expensive book simply titled photographe. I am thankful to Nuno Moreira for putting me on to this one. Thank you for reading.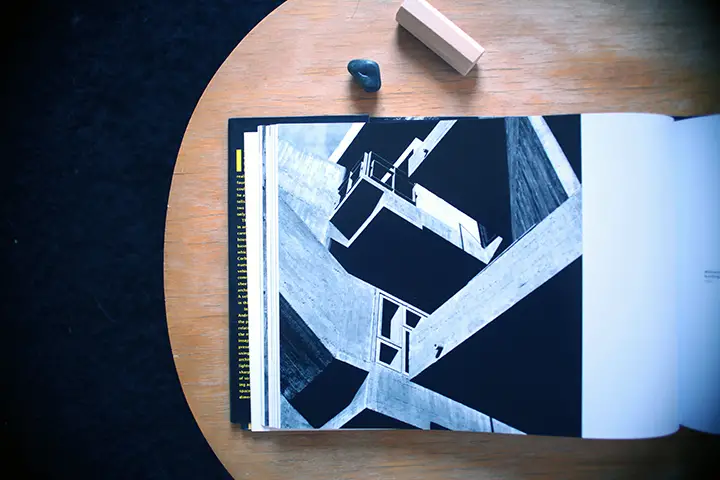 Jesse Freeman is a friend, photographer and movie buff. He has a great knowledge of photography books and classic cinema. He can also be relied upon for decent music recommendations.
You can more of his work and passions at the following places:
http://jessefreemanportfolio.tumblr.com/
http://www.flickr.com/photos/imnothinginparticular/
http://imnothinginparticular.tumblr.com/
Thanks Jesse, I had no idea this book existed. I am going to have to get a copy as this sort of work fascinates me. Beautifully written too. I honestly think these are the best photobook reviews on the internet.
Thanks
JCH