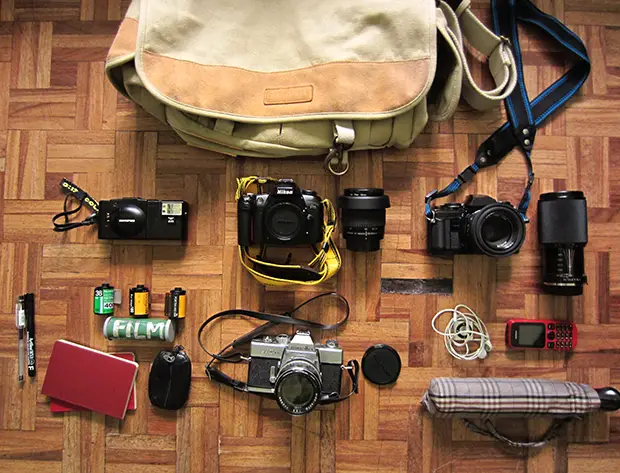 In your bag 803, Ronald Lajara
Finally I have managed to get this bag shot up. The server has been down and all sort, but it seems to be going strong again. So whilst it is here is a lovely bag from the Philippines. Check it out.

Hi JCH! I'm Ronald Lajara, 19, from the small city of Muntinlupa, Philippines. I started shooting film, 2 years ago and I'm loving it.
I am still practicing my eye in shooting, especially on the streets, so sometimes I walk alone to hunt and sometimes in a group, the group is called "Medium Rare" and the people there is really awesome and cool photographers. For now, my mission in photography is to practice, shoot and shoot more. And to find the decisive moment.
This is my bag, a godspeed bag and its contents are the following:
Olympus XA2 + A11 flash (my favorite, stealthy, easy to use and awesome)
Nikon F75 + Nikon Nikkor 28-80mm 3.5-5.6G 
– Minolta X-700 + Minolta MD 50mm 1.7 + Sologor 70-210mm 4.5
– Minolta SR-T 101 + Soligor AUTO 28mm 2.8
The films I use:
Kodak Portra 400
– Kodak Pro Image 100
– Fujifilm Neopan 400
with my DIY film case
– 2 small notebooks
– Pilot Gtec pen and Artline marker
small wallet
– Ipod nano
– Nokia phone
– Umbrella
I post my photos in my photoblog:
Tumblr: olracphotography.tumblr.com
Well this is my bag JCH, I hope you like it and thanks for sharing!
Cheers from the Philippines! Mabuhay JCH!
Thanks for sharing your bag with us Ronald. That is a pretty rad DIY case.
Check out the links and make sure you come and comment.
Keep them coming folks, we need more submissions, so get your bag on Japancamerahunter.com. Send me a hi resolution image of the bag (please make sure it is horizontal) and its contents, with some details about yourself and what you shoot. Oh and don't forget your contact details (twitter, flickr, tumbler et al). Send the bag shots here. Please understand that there is a long wait now as there is a backlog of submissions. Not all make the cut, so make sure yours is funny/interesting/quirky. And please make sure the shot is of good quality, as the ones that are not do not go up.
Cheers
Japancamerahunter