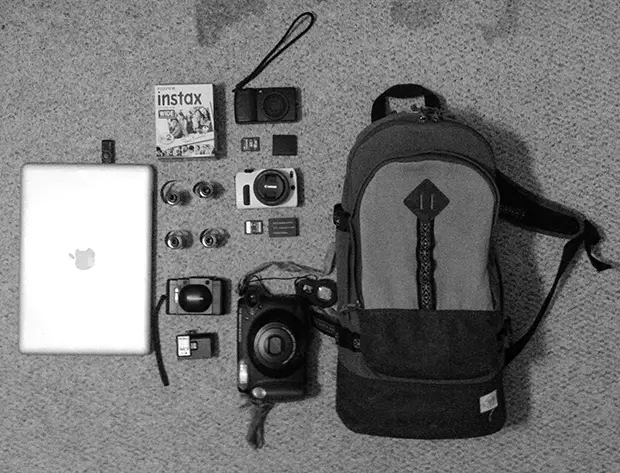 In your bag 804, Harley Friedman
Another young guys bag. This time we have a high school student! Harley shares with us his mix up bag from the windy city. Check it out.

My name is Harley Friedman, I'm an 18 year old high school student and I live in the northwest suburbs of Chicago. I've been interested in photography since I was about 13, shooting anything I thought was cool, but I didn't really start to try to create my own images until last february. I started to shoot film as of last september and it was a completely new and welcome experience for me. I now try to shoot exclusively film but digital is always there for me when film is not an option. I haven't really developed my own style yet, so I tend to shoot anything that I find interesting, any events or concerts that I go to, architecture or places that I explore, so on and so forth. I plan on double majoring in Photography and Computer Science when I head to college in August.
Bag – Spurling Lakes backpack that I got on sale for $20. It's not a dedicated camera bag, but hey, it was cheap, it's lightweight, and can fit all of my gear and some more. What's not to love?
Macbook – I only shoot RAW for digital and I need some way to process my digital images. I use Lightroom and VSCO which are a great combo for digital processing.
Digital – I shoot with a Canon EOS M with the pancake kit lens, and a Ricoh GR Digital II. The Canon pumps out some beautiful images for the price it's sold at lately. However, I hate composing using screens, so I eventually want to replace both cameras with a Fuji X100. Both cameras are gaffered up to keep them minimal in appearance and so I don't get the people asking me what kind of camera it is.
Analogue – I shoot with a Olympus XA that I won 2 months ago for $50. The focus knob was jammed however I fixed it after tearing it apart and putting it back together. I absolutely love shooting with it. It has all the manual settings you need, and is small enough to put in your pants pocket. For instant photography I shoot with a Fuji Instax 210. I'd love to get a Polaroid Land Camera in the near future to accommodate it.
Film – For color, I shoot whatever I can get my hands on to. I shoot a lot of Fuji Superia and was recently able to score some Fuji Pro 800z that I'll save for a special occasion. For black and white, I shoot exclusively Ilford HP5 and process it at school myself. I'm only limited to Instax Wide film for the 210 (obviously) but i'm not complaining. The quality of the images look great.
Extras –  8gb Extreme Pro SD card for the Canon, a 16gb gb card for the Ricoh. A 16gb flash drive for scanned negatives I scan at school. A11 Flash for the XA that's seen the light of day maybe a half dozen times. Some spare batteries for the digitals.
Thanks for checking my setup out! You check out and follow me on these social networks:
Website (still a WIP) – http://cargocollective.com/harleyfriedmanphoto
Flickr – http://www.flickr.com/photos/ridefixedforlife/
Instagram – http://instagram.com/harleyfriedman
Cheers
Thanks for sharing your bag with us Harley. Good to see you shooting film, keep it up.
Check out the links and make sure you come and comment.
Keep them coming folks, we need more submissions, so get your bag on Japancamerahunter.com. Send me a hi resolution image of the bag (please make sure it is horizontal) and its contents, with some details about yourself and what you shoot. Oh and don't forget your contact details (twitter, flickr, tumbler et al). Send the bag shots here. Please understand that there is a long wait now as there is a backlog of submissions. Not all make the cut, so make sure yours is funny/interesting/quirky. And please make sure the shot is of good quality, as the ones that are not do not go up.
Cheers
Japancamerahunter