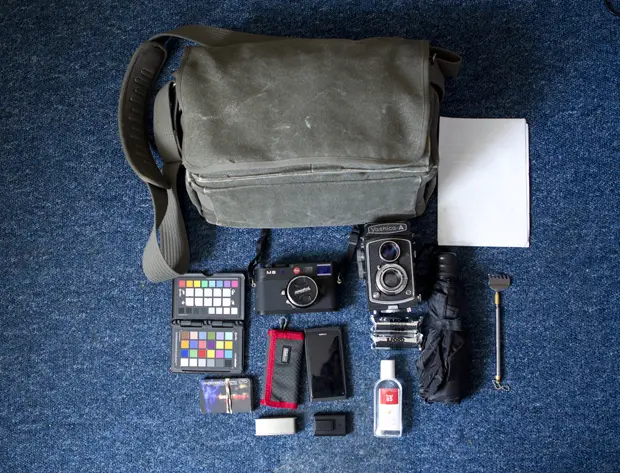 In your bag number 162, Orlando Andersson
We have a wonderful mix of a bag today. Orlando has a very interesting heritage and is now in Scotland of all places. Check out his wonderful bag…

Hi my name is Orlando Andersson, 22 year old photographer based in Aberdeen, Scotland but I originally am half Swedish and Taiwanese. And here I have my bag. My work is focused on urban scenes (architecture and street). I've been photographing for almost 7 years.
The Bag I use is a pinestone Think Tank Retrospective 30, its the only bag Im happy with. And it fits everything I need and is quite discreet.
The stuff I have with me. I have my trusty Leica M8 with a Voigtlander Nokton Classic 35mm and my Yashica A TLR with some rolls of film from Ilford. I got the Yashica A from my grandpa, it had been sitting in the basement for 50 years or so. And as for developing the films, I have my own darkroom in a basement. After owning the Leica M8 for awhile, I am also considering on getting a film Leica later on. Though before that Im trying to save some money for at least one Leica lens.
The white piece of paper is my photographic rights in the UK.
Though this isnt all my gear, I also shoot wildlife, events and still life. When it comes to that I use my Canon EOS 1D Mark IV and a couple of L lenses including my favorite 300mm 2.8L IS, 85mm 1.2L II and 24-70mm 2.8L.
When it comes to inspiration I'd say I got inspired by the works of Brutus Ostling, Andreas Gursky, Chase Jarvis, Henri Cartier Bresson and Eric Kim.
Other stuff:
– Think Tank Peeweepixelpocket
– Nokia N9
– Multi tool
– Extra M8 Battery
– Alcogel 85 (hand sanitizer)
– 2 Rolls of Ilford Delta 400
– Backscratcher
– ColorChecker Passport
– Small umbrella
Stuff inside the bag:
-Lenspen
-Rocket Blower
-Cleaning Kit
Well, that's all folks!
Here are some links to some of the portfolios / Sites.
Flickr: http://www.flickr.com/photos/62705468@N07/
Website: www.orlandoandersson.com
Best Regards
///Orlando Andersson
Thanks Orlando, the bag is great, it is noce to see someone rocking a Yashica. Check out Orlando's links and be sure to comment.
Keep them coming folks, we need more submissions, so get your bag on Japancamerahunter.com. Send me a hi resolution image of the bag (please make sure it is horizontal) and its contents, with some details about yourself and what you shoot. Oh and don't forget your contact details (twitter, flickr, tumbler et al). Send the bag shots here.
Cheers
Japancamerahunter