In your bag number 163, Sapphire St
Wow, today we have a lady bag, which is full of lomo, has a load of shots and comes from Malaysia. Super cool! And what a name too, Sapphire…Come and check out what she has in her bag.

Hello camera hunters,
My name is Sapphire from Kota Kinabalu. And I'm from the Rungus tribe of North Borneo (Sabah, Malaysia). I work for an Advertising & Marketing company under Los Angeles and I am currently handling the Cosmetic Division here in Sabah.I first had an interest in photography during my years in college and was using a Nikon D80. Long story short, I fell in love with analogue and had been collecting classic cameras ever since. Most of the time, I shoot in high/low angle.
I had this bag for over 2years now and it has been a very great companion wherever I go. It's a small comfortable sling that, although not waterproof from the outside, it's lined very thick on the inside with waterproof material. On the down side, it only has one compartment. Which is why I carry a zip-lock bag to contain most of my items apart from cameras so none of them would scratch or get scratch by my cameras; one way or another.
So what's in the bag?
A/ Zip-lock bag
– Lens wiper
– KOLA filters
– Notebook and pen (for scribbling and sketching impromptu musings)
– Emergency makeup kit (for au naturel look and quick touch ups)
B/ EOS hand pouch (to keep cash, coins, cards and phone)
c/ The bag itself
– Expired 35mm films (Ilford XP2, Kodak Gold and DNP Centuria)
– Lubitel 166U : I enjoy shooting on medium format but breaking the rules and loading my TLR with a 35mm has never disappointed me. Be it fresh or expired films, I always get the unexpected colors and results. So I am always eager to test different kinds of films to see what the outcomes might be. Plus, having control of apertures and shutter speeds under different light conditions keeps my mind fit on knowing my settings even though it has been a few years since I held a DSLR.

– Sakure SA22 : point-and-shoot compact which I had it since 2004. The soft lens filter mode that gives a very dreamy look to the shots. This compact is much more convenient for me to use day or night because of the auto flash. Most of my analogues with flash has to be manually switched on, which I forget to do sometimes and would result in very poorly exposed photos. SA22 will never upset me.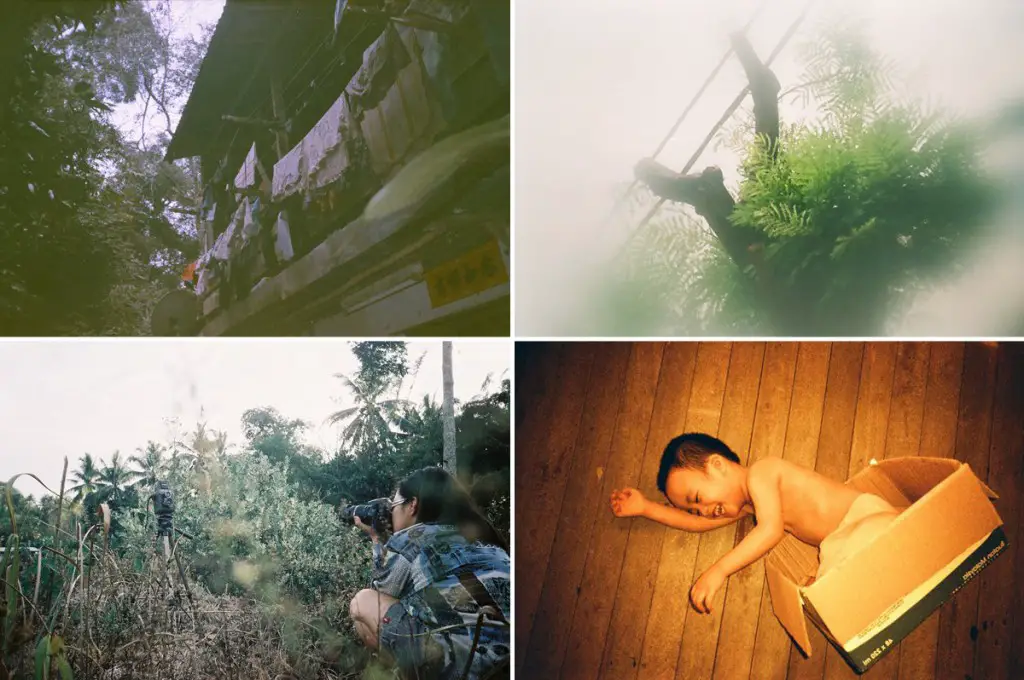 You can browse through my albums here – https://www.facebook.com/Santafire. And if you're ever in town, let's get in touch for some shooting frenzy, or film swaps.
Cheers :)
– Sapphire.
Thanks Sapphire, that is a fantastic bag and some very interesting shots. I love the style. Check out Sapphire's facebook page and come and comment.
Keep them coming folks, we need more submissions, so get your bag on Japancamerahunter.com. Send me a hi resolution image of the bag (please make sure it is horizontal) and its contents, with some details about yourself and what you shoot. Oh and don't forget your contact details (twitter, flickr, tumbler et al). Send the bag shots here.
Cheers
Japancamerahunter