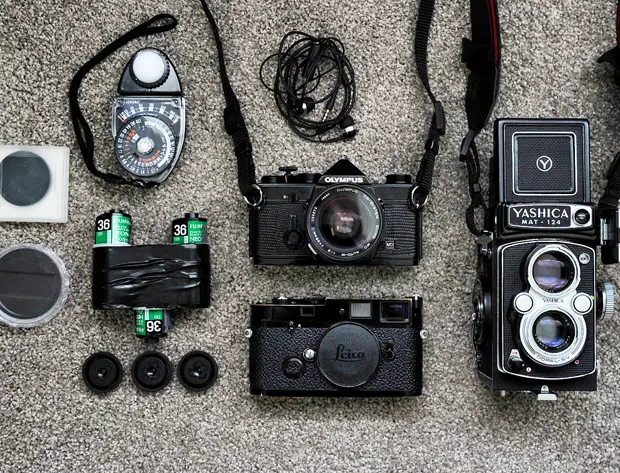 In your bag 320, Joe Hockley
This lovely set up comes as a three way shot. Joe has split the gear up into different layouts. The configurations are the same, but there are basically three different shots. I like this and I have decided to include it. Check out this cracking bag.

This is my camera bag which I take with me almost daily. It is a Domke F-5XC and I like it because of it's multiple customisable configurations, mainly the lower pocket which can be divided into 3 sections, for 3 lenses, and then another 3 sections in the main compartment up top, for 3 cameras. Good because it keeps all your gear from bumping together and being damaged. I also have a smaller Domke bag which I often take with just one camera and a few accessories.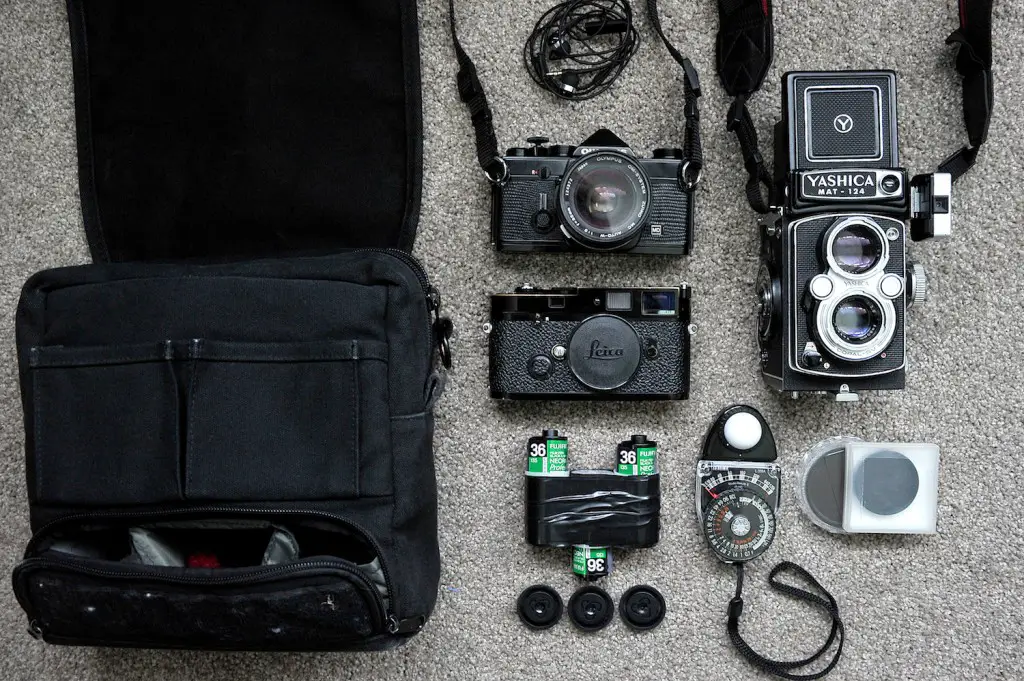 In my bag I have a Leica MP, with Aki Asahi's 4034 leather I put on it. It also has the MP Winder by Photo Equip on it. It is my dream camera and I'm lucky to have it. It usually has a Summilux 50mm f/1.4, version II attached to it, but I have leant that to a friend in exchange for an X100 for a few weeks.
There is also an Olympus OM-1N in there with a Zuiko 35mm f/2 and Aki Asahi's black lizard skin on it. I love mechanical cameras, and using the X100 for the short time that I have it has made me really appreciate their ability to keep shooting even without batteries. The viewfinder on this thing is just incredible, especially for its size, which is actually SMALLER than the Leica!


Also there is a Yashica 124. This isn't the G version, I hunted for a non G version as I like the chrome accents and it's classic look. I have a Voigtlander VC-Meter II attached to the side of it, since the meter on this one doesn't work. Haven't shot it much yet, but I plan to.
Lastly I have the accessories I usually bring, a silly little film container I made out of 3 normal film canisters duct taped together. It works really well, and 3 extra rolls is all I usually ever need for a day out. If I'm going on holiday or something I'll bring much more. A Sekonic L-398A meter, just in case, even though it hardly gets used as I have a meter on my iPhone, as well as in the cameras, although I often take the batteries out of my cameras as I find the in-finder meters distracting at times. Lastly I have ND8 filters, since I like shooting wide open. Oh, and theres my headphones in there, essential.
Thanks!
Joe Hockley
Photographer
www.joehockley.co.nz
Thanks for sharing your bag with us Joe, a very interesting film case hack there.
Check out Joe's links and make sure you come and comment.
Keep them coming folks, we need more submissions, so get your bag on Japancamerahunter.com. Send me a hi resolution image of the bag (please make sure it is horizontal) and its contents, with some details about yourself and what you shoot. Oh and don't forget your contact details (twitter, flickr, tumbler et al). Send the bag shots here.
Cheers
Japancamerahunter