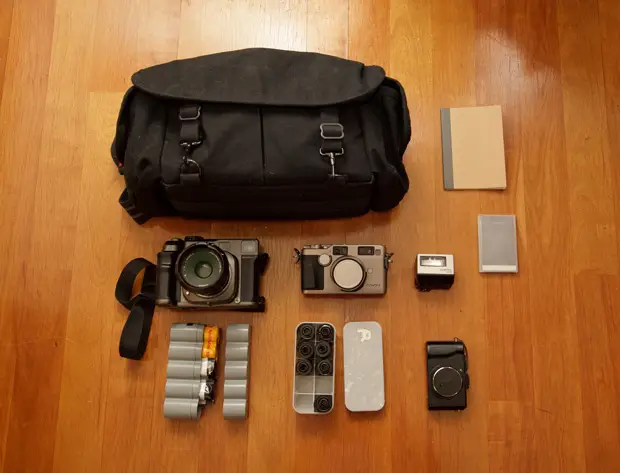 In your bag number 82, Luke Brown
Today we have a bag which includes a couple of my favorite cameras. And my personal favorite bag. I actually have a couple of these bags myself. So, lets have a look at what Luke has in his bag…

I'm Luke Brown
I've been photographing since I was at least 7. Unfortunately my parents never developed most of the films I shot. They still have 50 undeveloped canisters in a cupboard. At 17 I got kicked out of (asked to leave school). I thought long and hard and joined a photo/video college. I got sidetracked with the video side and ended up in an advertising production company making commercials for wholesome companies like Esso. Got out of that job after a few years and moved to Japan six years ago. Got back into film. Finally collecting some of the cameras I always wanted. I shoot for myself. Film and digital.
The Kit:
Domke F2 – Used for video too so a bit bigger than many carry. Pockets contain lens cloth, backup phone charger cable, usb card reader (I learned from March 11th that you need to submit pics fast to agencies these days). I usually keep some painkillers in there too for my shoulder.
Mamiya 7 and 80mm f2 – I wasn't planning to get this. I thought it was out of my price range but while I was looking for a Rolleiflex I came across it super cheap. Had to get it. It's my favourite camera.
Contax G2 and 45mm f2 – This is an upgrade from a Canonet G-III. It's also one of the cameras I wanted to buy since photography college. Just got it last week after I noticed how low the prices were. I still keep uming and ahing about getting a Leica. (the snobbery, the beauty, the cost, the craftsmanship). First I need a wider lens for the G2. There's also a small flash.
Notebook – ¥84 Muji notebook with nothing in it.
Business Cards – You need these to feel like a serious photographer. Also a Suica.
Fujifilm 35mm Hardcase – Becoming a collectors item. Right now it has a roll of Ilford Delta 3200 and Fuji Natura 1600 to try out. 2 rolls of Kodak Gold 100 to save money. An expired roll of Fuji Super 400 given by my mother in-law. My last roll of Kodak Portra VC for a special occasion and the rest is usually Presto 400 but I spent all my money on Kodak 220 film before the rumoured price rise.
Fujifilm 120 Hardcase – From the kindness of strangers. One of the last of it's kind. Loaded with Portra and Acros film.
Pocket Digital Camera – Censored with electrical tape. Not because it's digital but as a protest because the manufacturer restricts the camera to Japanese menus only.
Flickr
Half-made Website
Random Blog
Twitter
Thanks for sharing your bag Luke. A really well laid out bag and a really nice description. Especially love to see the hardcases. Keep on coming back, I am looking at Japancamerahunter branded ones coming soon.
Keep them coming folks, we need more submissions, so get your bag on Japancamerahunter.com. Send me a hi resolution image of the bag (please make sure it is horizontal) and its contents, with some details about yourself and what you shoot. Oh and don't forget your contact details (twitter, flickr, tumbler et al). Send the bag shots here.
Cheers
Japancamerahunter