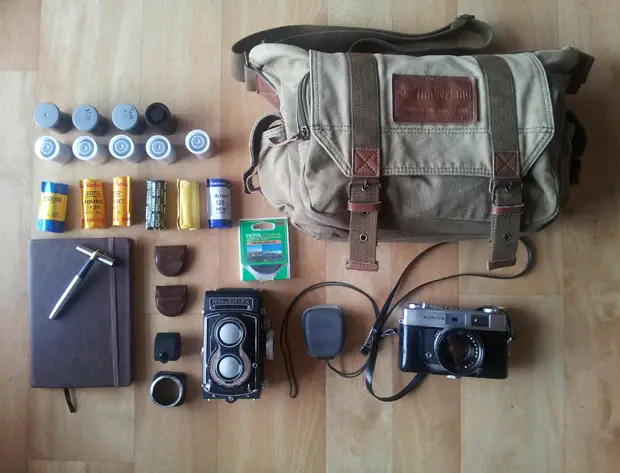 In your bag number 83, Neal Thorley
Hello there baglovers, we have another bag from Townsville in Australia for you. How about that then? The world is smaller that it seems. But this bag isn't, it's a whopper….

My name is Neal Thorley, I'm from tropical "North Queensland" in Australia, in a lovely city called Townsville. I'm 28 years old and work a day job dealing with technology in libraries. My real passion is for photography, I've been shooting since the age of 12 and can't get enough of it.
In many ways I consider myself a traditionalist, I dislike many of the modern conveniences and tend to take a diy approach to many aspects of my life, this is one of the main reasons that I prefer shooting film. I love the workflow and I process all my own colour and black and white film in my darkroom as well as print on silver gelatin papers, I'm looking to soon start some ra4 printing (colour darkroom)
my equally obsessed brother and I blog on our website dedicated to traditional photography, www.thorleyphotographics.com here we write reviews and tech articles relating to all things photography!
Now onto the gear, The bag is a Timberland canvas/denim bag that I picked up on eBay for a steal. It has a removable padded insert that I can ditch when I am travelling light, it has plenty of room for a couple of cameras and film and I can lug it around all day no problems.
Here I've shown my most common gear that tags along with me everywhere, My beloved Rolleiflex T and Konica Auto S1.6. these cameras are just about perfect for what they do. I have an assortment of film for both on hand and usually load a type based on what mood I'm in. I also carry my leather bound notepad and fountain pen for note taking, a selection of filters for the Rollei and a Gossen hand held light meter.
Different days call for different cameras. between my brother and I we have well over 40 cameras and growing, I try to get them all out from time to time for some use. obviously some get used more than others and I'm always on the lookout for cameras to repair, it's become a bit of a hobby too!
Hope this little slice of my life has been interesting enough and thanks for the blog post!
Cheers
Neal.
Thanks for sharing your great bag and you interesting websites Neal. It is very nice to see brothers getting along in a shared passion.
Keep them coming folks, we need more submissions, so get your bag on Japancamerahunter.com. Send me a hi resolution image of the bag (please make sure it is horizontal) and its contents, with some details about yourself and what you shoot. Oh and don't forget your contact details (twitter, flickr, tumbler et al). Send the bag shots here.
Cheers
Japancamerahunter