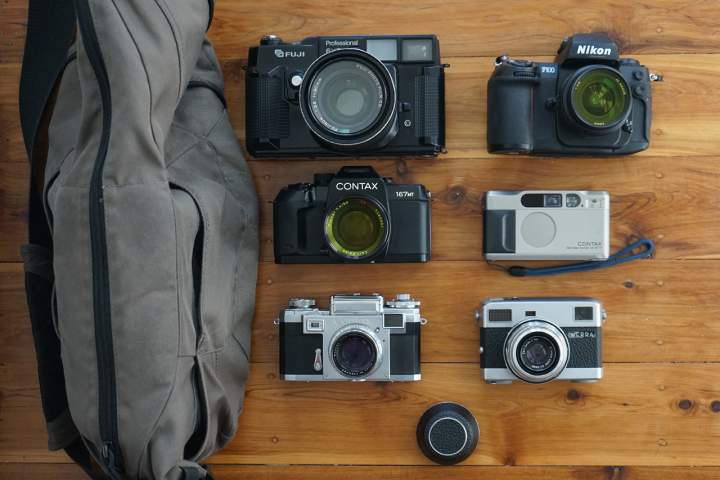 In your bag No: 1433, Mina Saleeb
You could say that Mina is rather fond of Contax cameras. Or cameras in general really as he seems to have been able to stuff an awful lot of them into his bag. Check it out.
My name is Mina and I'm a film camera enthusiast based in Sydney, Australia. 
I'd been umming and arring about submitting a bag shot for quite some time because cutting down to what I really enjoy using day-to-day was such a tedious task. I thoroughly enjoy using almost all types of cameras (bar TLRs – kudos to those who can use them as I can't get my head around going left to look right etc).
My start with film photography started with a hand-me-down from my dad (a Canon AV-1 that I still have); the GAS bug bit shortly thereafter when I discovered rangefinders after my grandfather showed me his Werra. The Werra started the collection for me, and after researching its somewhat murky history, I took the plunge and bought one for myself. After marveling at the lack of automation, I took the journey that all film photographers take to learn the relationship between ISO, shutter speed and aperture. 
So here we are with a photo of gear I most love working with:
* Fuji GW670II – My first foray into medium format was a Holga, after which I chose to continue in 6×6 land for a while with a Seagull 203 folding rangefinder before finding the Fuji online while travelling in Canada. Regretfully, I didn't have the chance to use it while overseas as it was being shipped back home to Sydney from Hawaii. I came back to an aptly named 'Texan Leica' though I can't vouch for how Leica this camera may be, it is indeed a medium format with formidable glass. The Fujinon is very crisp and while it isn't the most stealthy camera given the steroidal size, it always gives me a great deal of pleasure. It is currently loaded with my first roll of Ilford HP5+. 
* Nikon F100 – A recently acquired body to replace my old F4, this Nikon F100 was bought as a recommendation from a friend of mine to use my AF-D lenses. I've only had it for a few weeks so far but it is a really nice SLR from Nikon, easy to pick up for a song nowadays and is compatible with Ai, AiS, AF-D and AF-S lenses so if you're a digital Nikon user, you have no excuses! Its flawless meter is a great tool to learn spot-metering skills that I'm currently using to experiment on one of my favourite films; Agfa APX 100.
* Contax 167MT – I'm going to be honest and say that this was a purchase I did not need to make, using a Yashica body would have more than sufficed to mount the Carl Zeiss lenses I'm privileged to be using. But that black body and Contax font was way too sexy to be ignored. So I sold a few bits and bobs, saved up for a few weeks and managed to source this body. The user interface is VERY 80s but the camera is a joy to use especially in crowded places where the name of the camera doesn't rustle up a lot of attention. In my humble opinion, the Carl Zeiss lenses do great with both Agfa and Fomapan films.
* Contax T2 – Shhhhhh – I know, I'm a little obsessed with Contax but given it keeps me away from big wide world of Leica, in a way I'm saving money?! Hahaha, let me self justify! There are many reviews of this cult camera (one of which lives on the JCH site) so I won't repeat any of its many virtues here. All I'll say is, go get one. 
* Contax IIIa – This was my "garage/boot sale find"; a very fuzzy photo of what looked like an old german rangefinder came up online, poorly described and was within a 10km drive of where I live. The auction went for 5 days with no bids up until the last few hours when someone put in for the starting bid; I took the chance and put in another $5 bid and came out as the winner. I couldn't wait to find out what my "chance" purchase would be so I drove to the seller's place and picked it up. Lo and behold, a fully functional Contax IIIa with Sonnar 50mm f/1.5 lens was in my hands. The camera is heavy, not the easiest to handle and winding on is slow and tedious but jeez, it is simply beautiful. 
* Werramatic – The camera itself is not spectacular in terms of specifications, sure it has a rangefinder and some of its models had selenium meters but what really stands out is its minimalist design and unique history. I've written a humble review on my tumblr should anyone be interested (http://minasaleeb.tumblr.com/post/111848335094/sprockets-glass-and-circuitspart-1) This is the camera that no-one should really be in love with, but here I am with three of them in tow as well as their Carl Zeiss Jena Cardinar 100mm f/4 and Flektogon 35mm f/2.8 lens that accompanied the standard Tessar 50mm f/2.8.
These cameras or a combination of them and my lunch, beanie, gloves, bits of paper and receipts are often stuffed into a Lowepro sling that's been around the world with me from Australia to Canada, through the USA, North Africa and Europe. It's bruised, beaten, faded in places, sports a rogue cigarette burn and still gets thrown into the wash every few weeks yet has survived! 
Hope you've enjoyed this little collection and keep up the great work at JCH.
Instagram: www.instagram.com/crookandflail/
Tumblr: www.minasaleeb.tumblr.com/
Website: www.minasaleeb.com
Thanks for sharing your bag, Mina. That is a very interesting selection.
Check out the links and please come and comment.
Keep them coming folks, we need more submissions, so get your bag on Japancamerahunter.com
Send me a high resolution image of the bag. Optimum size is 1500px across. Please ensure there is a bag in the shot, unless you don't use one. The more you can write about yourself the better, make it appealing and tell us a story. Snapshots of your gear with a camera phone and no words will not be featured.
Oh and don't forget your contact details (twitter, flickr, tumbler et al). Send the bag shots here. Please understand that there is a long wait now as there is a backlog of submissions. Not all make the cut, so make sure yours is funny/interesting/quirky. And please make sure the shot is of good quality, as the ones that are not do not go up.
Cheers
Japancamerahunter