In your bag No: 1432, Guy Wheater
Guy has an interesting submission for us. His bag is appealingly simple, but it is what is on the bottom of his camera that intrigues me. Come and find out what it is.
Greetings All,
I've been on the move for the last 25 years, currently in the Hashemite Kingdom of Jordan. My late Aunty introduced me to photography in 1978 (as a teenager, in Yorkshire) and I've enjoyed shooting film ever since then. I often use a digital camera as part of my work but I still prefer film for personal use (reasons below):
· Film is tactile: it feels valuable, authentic, exclusive
· Film has a unique capacity for capturing emotion and atmosphere
· Film does not clutter your day nor detract from the moment: you can see more & shoot less
· Film is low maintenance: no charger, no cards, no backups, and no incessant need for a power socket (part of the digital doctrine I can do without)
· The full analogue process takes physical effort but is hugely gratifying because of it
· Optical storage has clear advantages – long term
In the words of Thatcher Hullerman Cook: "There is something profound and real about having a little canister and only 36 chances."
After many years as an itinerant worker I am firmly a "bag within a bag" man. I generally use a back-pack when working & travelling, unless I'm on my motorbike – then it's a tank-bag. I didn't choose this particular camera bag but it does its job well. I do not care so much about bag style – function is far more important (I like bubble-wrap a lot – a great way of packing things together).
My travel kit is:
· Leica M6
· Voightlander 15 mm
· Leica Summicron 35 mm
· Zeiss ZM 50 mm
· IR shutter release (notes below) – if I am carrying my mini-tripod.
Film wise I really like Fuji Provia 100F. Acros 100 is my regular B&W film but FP4+ is a close second. I have the slide film developed in London (when in country) and process the B&W myself. I don't generally use 400 ISO or above.
I love my M6 classic. It's a pleasure to use and highly addictive (over time its value has increased way more than its physical worth). The 35 mm Summicron was my first M-lens and I can strongly recommend it (caveat lector: I have never tried any other Leica glass but the results have been a delight – to my eye). The next lens I would like (and probably the last for the M) is a Zeiss ZM 25 mm.
To me, my bag carries my freedom as well as my gear – I was driven towards less and I seem to have gained a lot more in the process (I encourage folks to give it a try). There are loads of great film options out there – for sure Bellamy can advise.
Best wishes – Guy
PS: Yes, I do have a JCH film canister but I keep that in the darkroom as an organizer – the individual film cans are more useful on the road, for toll booth change and wee nuts and bolts.
PPS: For the shutter release I've often found myself as an observer (rather than participant) in some special moments, especially in far off places. Although you can buy a mechanical timer that option did not meet my needs – plus it's always interesting to create something new for yourself (as you want it). This unit does four things: a) Allows remote shutter release; b) Provides a stable (central) tripod mount; c) Has a levelling sensor built in; d) Permits shutter hold for long exposures. It started off as a billet of aluminum (3 1/8" square) and I tackled it from there.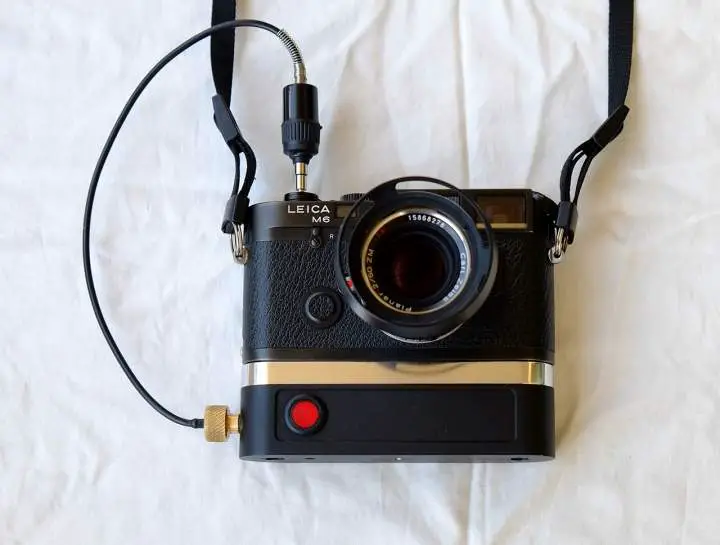 Thanks for sharing your bag with us, Guy. That is a very cool winder.
Check out the links and please come and comment.
Keep them coming folks, we need more submissions, so get your bag on Japancamerahunter.com
Send me a high resolution image of the bag. Optimum size is 1500px across. Please ensure there is a bag in the shot, unless you don't use one. The more you can write about yourself the better, make it appealing and tell us a story. Snapshots of your gear with a camera phone and no words will not be featured.
Oh and don't forget your contact details (twitter, flickr, tumbler et al). Send the bag shots here. Please understand that there is a long wait now as there is a backlog of submissions. Not all make the cut, so make sure yours is funny/interesting/quirky. And please make sure the shot is of good quality, as the ones that are not do not go up.
Cheers
Japancamerahunter