In Your Bag: 1713 – Ragnar Gulin
My name is Ragnar and I'm a hobby photographer located in Sweden. My main occupation is studying UX-design. My photographic style is somewhat leaning towards nature, portraits and the surreal. 
Here's the cameras I have in constant rotation. The bag itself is a cheap fanny-pack. I usually just carry my cameras around my neck, but whenever I bring several cameras, rolls of film or my tripod, I'll put them in the fanny-pack. I prefer a fanny-pack to a backpack or a shoulder bag because it allows me to have everything in front of me, within easy reach. Another perk is that it doesn't move around a lot the way a shoulder bag does. Now, to my cameras: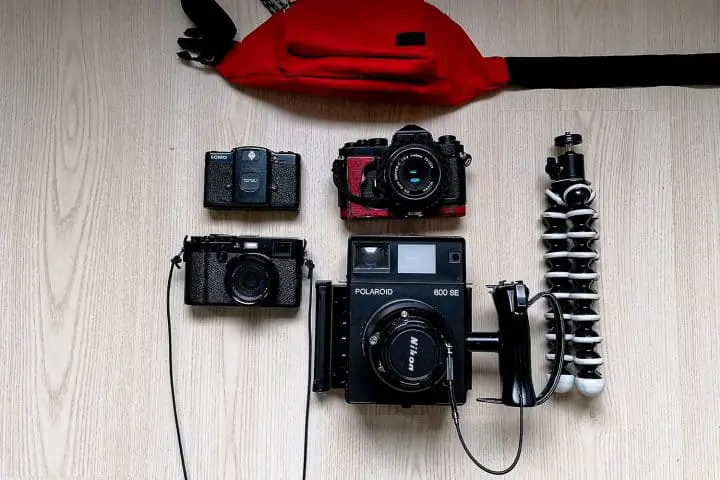 Lomo LC-A: This is the camera I use whenever I feel like I wont need to bring a camera. It comes with me on small errands, shorter trips or in my backpack when I'm in school. It's so small that I can easily bring it and forget about it. It really comes in handy for those candid moments that happen in day-to-day life.
Nikon FE2: This is my workhorse. Whenever I go out with the intention of photographing, this is the camera I'll bring. I've put countless rolls of film through it and it just keeps working flawlessly. The aperture priority mode is a huge plus as it speeds things up whenever I'm shooting my friends and want to stay in the moment, not worrying about calculating exposure.
Fuji X100F: A bit of a sin perhaps, to post a digital camera to this website. I bought this camera recently, to help me get out of a rut. I guess a lot of photographers have felt a loss of inspiration during the pandemic, and I'm no exception. I love film as a medium, but I felt I needed the instant gratification that digital offers, to help me get my motivation back. So far, it's worked out great! I've fallen in love with photography all over again. I'm very happy with this camera, and I love it's retro design. I think it blends in well with my film cameras. I've also attached a DIY mist filter to smoothen out the images a bit and give them more of a film-like quality. 
Polaroid GOOSE: My most recent purchase. I've been eyeing this camera for a long time. I'm currently scouring ebay and local marketplace to find some peel-apart film. My goal with this camera is to find a fuji instax back for it. 
Thanks for taking the time to look at my bag! My instagram is https://www.instagram.com/grainwashd/
Keep them coming folks, we need more submissions, so get your bag on Japancamerahunter.com
Send me a high resolution image of the bag. Optimum size is 1500px across. Please ensure there is a bag in the shot, unless you don't use one. The more you can write about yourself the better, make it appealing and tell us a story. Snapshots of your gear with a camera phone and no words will not be featured.
Oh and don't forget your contact details (twitter, flickr, tumbler et al). Send the bag shots here. Not all make the cut, so make sure yours is funny/interesting/quirky. And please make sure the shot is of good quality, you are a photographer after all. 
Cheers
Japancamerahunter