In your bag 270, Joe Aguirre
Today we have a bag that I have been meaning to feature for a while. Joe is a top guy with a passion for cameras and cats. I am really glad to be able to feature this bag. Check it out!

Hey there Bellamy and friends,
My name is Joe Aguirre and I am a 28 year old Street Photographer from San Francisco, California. What I carry and why depends on the weather and the mood I am in that day. It's usually a combination of film and digital gear in various formats, and almost always a flask of bourbon. I work as a Photographer and also for Lomography here in SF, but that's not really anything interesting unless minimum wage and alcoholism excites you.
To start, I have two bags: one is a Lowepro AW 220 Sling back that fits two camera systems, a 15-inch Macbook, flash and accessories, and a two-and-a-half foot long hybrid wild cat.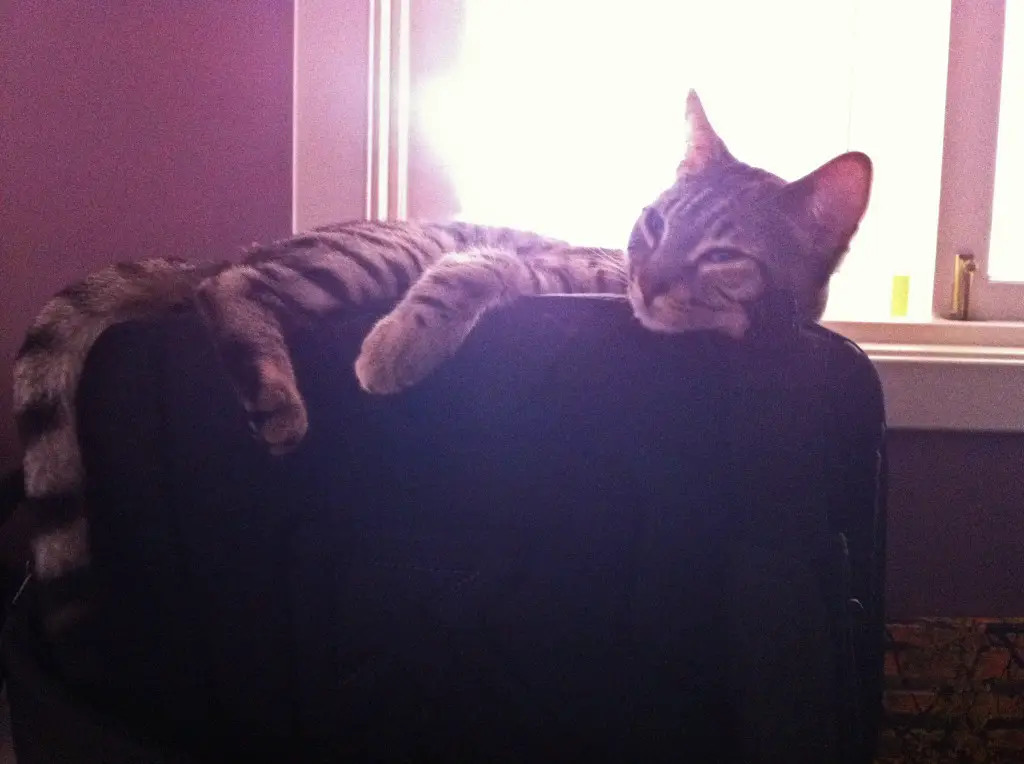 The other bag is my daily driver, so to speak. It is a Think Tank Retrospective 5 and it fits everything I need for a busy day shooting the streets.
I have my Olympus E-P3 with 12mm F2 lens— this was my daily street shooter until I got bit by the film bug again. I usually use it now in tandem with my YN 560 flash for flash street portraits now.
My two zone finders: Lomo LC-A+ and Braun Paxette. The LC-A has a 32mm 2.8 lens and auto exposure— it is perfect for walks. The Paxette has a 45mm 2.8 lens and has a leaf shutter so flash syncs at all speeds. It's a pretty awesome camera— small but has good weight.
Up next is my Nikkormat FTN with 50mm F2. This was given to me as a gift along with the Gossen Luna Pro light meter you see in the photograph (thanks Wilson Craig).
Next, the Lubitel 166+ from Lomography is my medium format representative for the shot because my Holga is en route to Randy from Holgamods.com to replace the shutter (if you find a good Holga lens, hold on to it and spend the 8 bucks replacing the shutter).
The black Diana flash you see is used on my LC-A, Paxette (via PC cable), Nikkormat, Holga and Lubitel. Very utilitarian.
In continuing with the tradition of being in a Nikon household, I present my work camera: a Nikon D300S and 50mm 1.8, and 24mm 2.8 lens. This combined with my SB700 is pretty much all I care to own…the rest I can rent.
Sometimes making a guest appearance is my Nikon L35 AF point and shoot: a fast lens with good glass, bought for 5 dollars at a garage sale and it hasn't stopped making me proud.
Last but not least, in keeping with hipster tradition, my Fuji Instax Mini— good for bar photographs of friends and washed out faces.
The accessories you see:
Film: Mostly I shoot Fuji Neopan and Fuji Superia, but I do Like Kodak Portra and Slide film.
iPod: I like to listen to music for a little while before shooting to get me going. Whiskey does that faster and better, but sometimes I like a little Portishead on a cloudy San Francisco afternoon.
Sample Photographs: Sometimes people don't understand what I am doing so I carry examples along with some business cards. Thanks Jack Simon for that tip.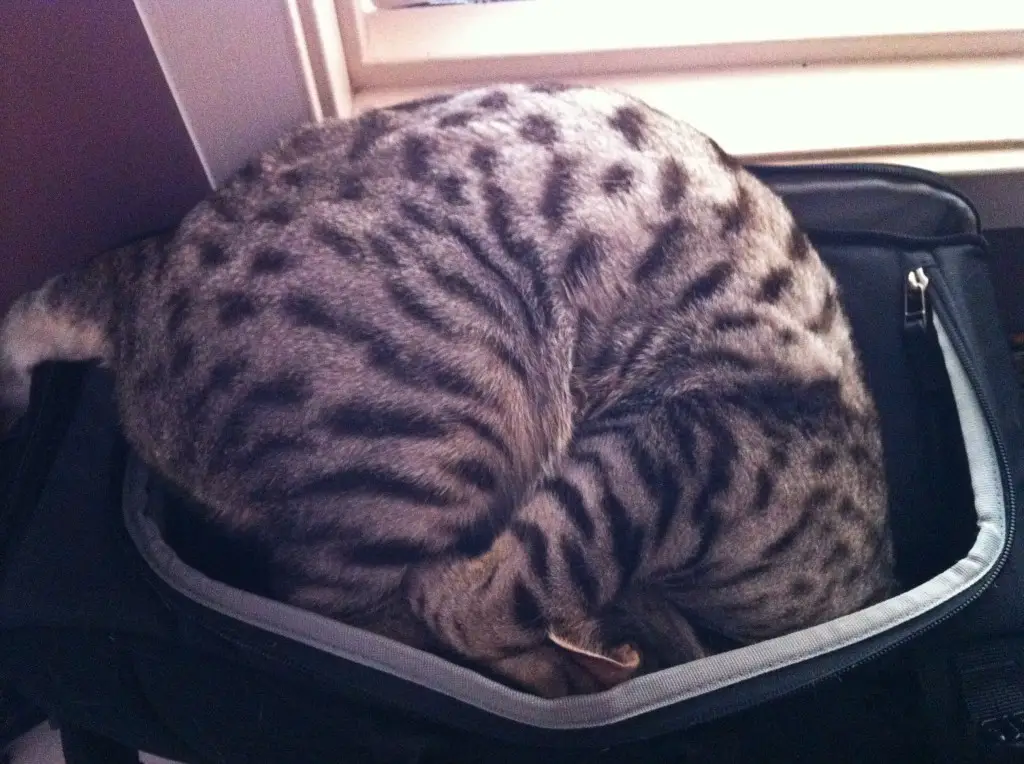 Other than what you see here I own very little else. My cat and my cameras are number one in my life. I shoot everyday hoping that someday I will master my craft— I don't care for much else. Photography has changed my life and I hope to keep it up as long as my hand can hold a camera and my finger can trip the shutter.
If you care to see my work, or simply tell me how many street shooters I'm ripping off currently, please find me at:
Tumblr: http://thoughtlesshero.com
Flickr: http://www.flickr.com/photos/thoughtlesshero
You can also add me on Facebook by searching "thoughtlesshero".
The bag shot was taken on my kitchen table with my iPhone (I normally rent a studio for shots like this but decided against it this time). Thanks for looking at photos of my bags/gear/cat.
BOOM, back to you Bellamy.
-thoughtlesshero.
Thanks for sharing with us Joe, I love the bag and the cat is epic. If only it could be trained to assist on shoots, that would be awesome.
Check out Joe's links and make sure you come and comment.
Keep them coming folks, we need more submissions, so get your bag on Japancamerahunter.com. Send me a hi resolution image of the bag (please make sure it is horizontal) and its contents, with some details about yourself and what you shoot. Oh and don't forget your contact details (twitter, flickr, tumbler et al). Send the bag shots here.
Cheers
Japancamerahunter