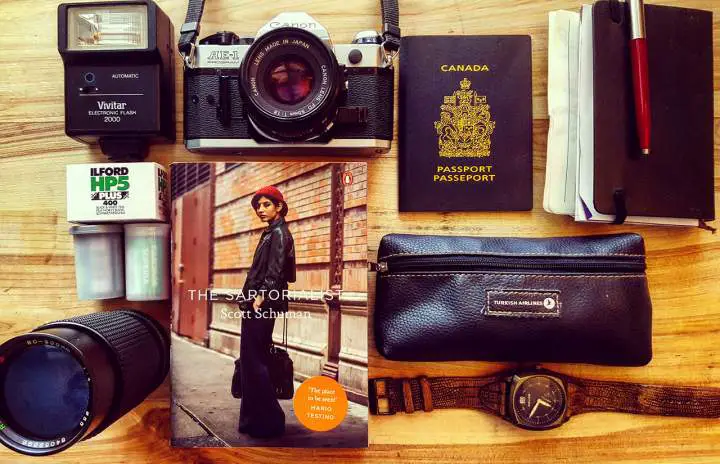 In your bag No: 1362, Evgeniy
A short and sweet bag shot for the start of the weekend. Which suits me just fine as it is springtime in Tokyo and I want to get out there and look at the sakura. But before I do, check out this superb bag.
Hi my name is Evgeniy. I live in Toronto, Canada I work at the Royal Bank of Canada as as a corporate financial advisor. Photography has always been the biggest passion for me ever since my grade 9 teacher handed me a Nikon FM of hers and taught me to develop film at the school dark room.
I use a Canon AE1 Program which i bought while ago for a steal of a price , I always use it with a Canon FD 50mm 1.8 lens and a backup camera is my Galaxy S6 for those Instagram shots. For night time shots I use the vivitar flash. I do wide range of street, nature and landscape photography.
You can check out my Instagram @eugeneshvetsov
Thanks for sharing your bag with us, Evgeniy. I love the simplicity of this one.
Keep them coming folks, we need more submissions, so get your bag on Japancamerahunter.com
Send me a high resolution image of the bag. Optimum size is 1500px across. Please ensure there is a bag in the shot, unless you don't use one. The more you can write about yourself the better, make it appealing and tell us a story. Snapshots of your gear with a camera phone and no words will not be featured.
Oh and don't forget your contact details (twitter, flickr, tumbler et al). Send the bag shots here. Please understand that there is a long wait now as there is a backlog of submissions. Not all make the cut, so make sure yours is funny/interesting/quirky. And please make sure the shot is of good quality, as the ones that are not do not go up.
Cheers
Japancamerahunter