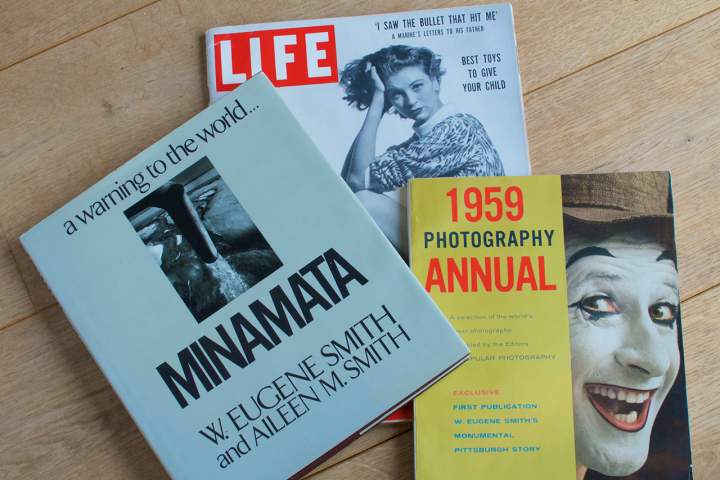 Extreme Armchair Photography – W. Eugene Smith by Paul Schofield
Paul is back with the second in his 'extreme armchair photography' series. The last one was a fair while back though. This time taking on the work of W. Eugene Smith. Check it out.
In the bag:
On the set of Charlie Chaplin's "Limelight" in 1952, Smith described his basic equipment as six Leicas mounted with one 28mm, two 35mm, one 50mm f1.5, an 85mm f2 and a 135mm f3.5. He also used something called a [Bell & Howell] Foton rapid sequence camera, a 4×5 view camera and a Rolleiflex but said, "90 percent of my visual coverage is done with the Leica with the 35mm f2.8." He carried two so that he "wouldn't be caught without film at a crucial moment." Seems fair enough.
W Eugene Smith was arguably one of the greatest photojournalists of all time and reputedly one of the hardest to get along with too.
He pursued his vision of photojournalism with ferocious determination and obsessive attention to detail. At a time when photographers were expected to hand over their negatives and leave the rest to the editors, Smith fought tooth and nail for control over his own work. His refusal to compromise ended up curtailing his career and ruining his family life, reducing him to an emotional and financial wreck in the process.
Smith first gained public recognition as a war photographer in the Pacific during WWII, spending three years on the front line before being badly wounded covering the advance of US Marines in Okinawa in May 1945. He was hospitalised for more than a year with head and arm injuries that nearly finished his photographic career. According to Smith, the now famous picture of his children, 'The Walk to Paradise Garden', was the first photograph he took when he picked up a camera again for the first time.
After his long convalescence, Smith joined LIFE magazine as a staff photographer in 1946. During the pre-television era, photo news magazines were hugely influential and LIFE was the biggest of them all with a circulation of over five million. Smith carried out more than fifty assignments during his eight years there and produced some of his best-known work.
Photo essays such as the 'Country Doctor', 'Spanish Village' and 'Nurse-Mid Wife' broke new ground because Smith not only depicted what his subjects did but also hinted at who they were and how they felt. He presented the 'truth' of the situation as he saw it and his empathy for the people he photographed shone through. The readership loved it and he quickly acquired legendary status.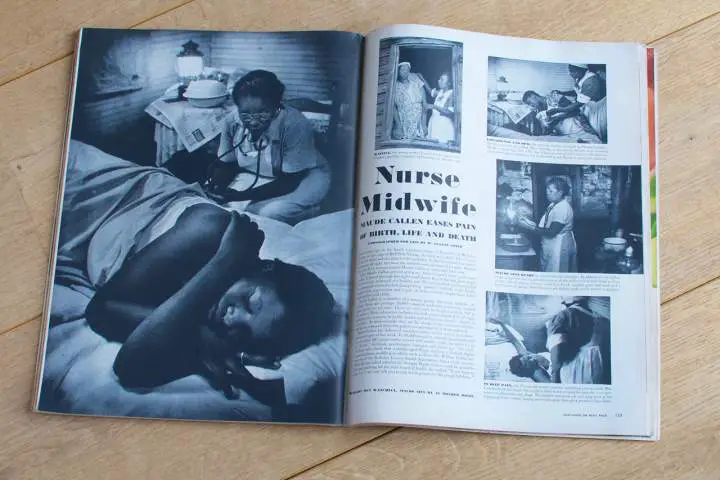 From 'Nurse-Mid Wife' (LIFE, December 1951)
Smith once said that although it was the potential for excitement that initially attracted him to photography, he soon realized that it could be used to convey important truths about the human condition. "I frequently have sought out those who were in the least position to speak for themselves," he wrote. "I can comment for them, if I believe in their cause, with a voice they do not possess."
Ignoring the journalistic conventions of the time, Smith's aim was to get to know his subjects intimately and then blend into the background so they were hardly aware of being photographed. His research and preparation sometimes went on for weeks and he would often shoot with no film in his camera until people got used to his presence.
Smith was often criticized for getting too close to his subjects and lacking objectivity, sometimes stage managing situations and going far beyond the photographer's usual role as impartial observer.
'Spanish Wake' (1951) captures mourners at the bedside of an elderly male relative. When the picture was taken, two of the women were looking at the photographer but Smith used his signature ferrocyanide to bleach in new whites, redirecting their gaze downward and towards the corpe lying before them and in the process creating a picture with incredible dramatic impact.
Smith was very open about how he worked and didn't care what others thought. He felt that it was legitimate to arrange, modify and re-touch his pictures as long as it did not change the fundamental 'truth' of a situation. "The honesty," he said, "lies in my — the photographer's — ability to understand". Some were outraged by his attitude but nowadays images are routinely manipulated with much less justification.
His public standing remained high despite criticism but all was not well behind the scenes. Each essay that appeared in LIFE was preceded by an increasingly bitter stand-off between Smith and his employer over editorial control. Smith was determined to follow his own creative vision and wanted to be in control of the entire process. He took as much time as he wanted on each assignment and usually submitted far more pictures than were required, yet he expected editors to publish his essays exactly as submitted, refusing to recognize limitations imposed by deadlines and editorial space.
He became known for being 'difficult' and the reputation stuck for the rest of his career. Smith genuinely felt himself to be on a different artistic plane to other photographers and some regarded him as a megalomaniac. He once wrote to a London magazine editor, "I know of no photographer working or thinking in photography as I do. I wonder why I continually apologise that others do not understand."
Smith's heated relationship with LIFE finally came to a head in 1955 when he walked out and signed up with the Magnum Photo Agency. His first assignment was to produce a hundred pictures for a book about the history Pittsburgh. Smith immediately saw it as an opportunity to produce his magnum opus – a groundbreaking mega-essay that would capture the spirit of an entire city and show his former employers at LIFE how wrong they had been.
After the best part of a year, Smith left Pittsburgh with 17,000 negatives and spent the next two years producing 2,000 working prints and 600 final prints, far exceeding the original brief and as usual falling out bitterly with his employer. Sustained by whisky and amphetamines, he worked impossibly long hours and experimented endlessly with layouts for an essay that was to include around 200 pictures. James Karales, his darkroom assistant, describes the period here
http://www.theparisreview.org/blog/2013/11/20/in-the-darkroom-with-w-eugene-smith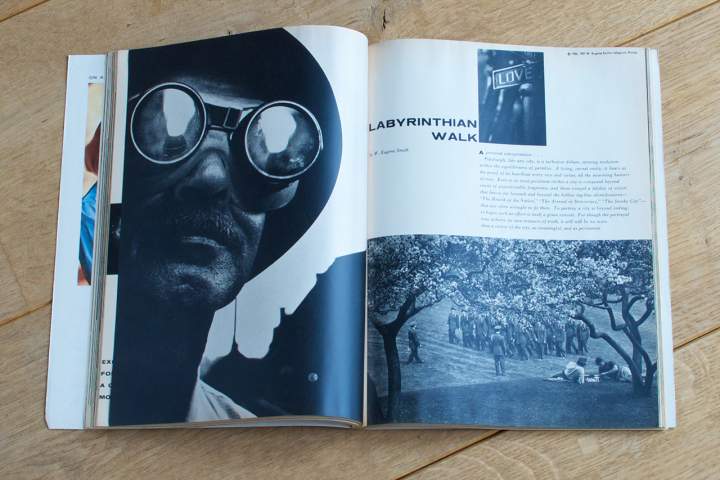 From 'Pittsburgh' (1951 Photography Annual)
The project finally ran out of steam in 1957 leaving Smith and his family practically penniless. There had been plenty of interest from potential publishers but Smith had turned them all down because none would grant him the editorial control he demanded. In despair, he retreated to a dilapidated loft on Sixth Avenue in New York's flower district and spent the next seven years photographing the jazz musicians that frequented the building as well as the view out of his window.
In late 1958, Popular Photography agreed to give Smith full editorial control for a partial layout of the Pittsburgh essay but by this time he was so drained by the whole experience that he couldn't quite pull it off. Writing to his friend Ansel Adams, he described the result as a 'debacle'.
Professionally, the 60s was more or less a lost decade for Smith but his compulsion to document the world around him wasn't blunted. Between 1957 and 1965, he documented life both inside and outside 821 Sixth Avenue with 1,457 rolls of film (more than 40,000 exposures) and, wiring the whole building from the pavement to the top floor, recorded 1,740 reels of audio tape. It was the largest body of work of his career and is preserved by The Jazz Loft Project (www.jazzloftproject.org).
Sometime in the late 80s, I went to see a W Eugene Smith retrospective in London and even as a clueless sixth former, the power of those amazing images all in one place made a big impression on me. Over the years, I've seen exhibitions by other great photographers but none has quite matched up to that experience. Compositionally, his pictures are always just right with dramatic foreground / background relationships and the high contrast printing style that creates a kind of epic cinematic quality. Most of all, though, his pictures capture the drama of ordinary lives as well as anyone has ever managed it.
Reading about his life, one thing that stands out clearly is Smith's complete dedication to the photographic essay as an art form in its own right and the enormous effort he put into mastering every aspect of it, from preparation to final layout. It's hard to believe now just how important the printed photo essay was in shaping people's view of the world. By the end of the 70s, television had more or less killed the format but in the 50s it was still cutting edge.
There are a number of books about Smith's work but none present his great LIFE essays in complete form with the pictures in the order he intended, a shame given that the final edit seems to have been almost as important to him as the photographs themselves. It made me wonder what a Smith essay actually looked like to a reader in the 50s, so I tracked down an issue of LIFE from December 1951 containing 'Nurse-Mid Wife' and a copy of the 1959 Photography Annual with Smith's partial Pittsburgh layout.
Opening these items for the first time left me slightly awe struck, especially seeing 'Nurse-Mid Wife' as it's originally form looking as if the pages had barely been turned. Smith's essay about a nurse from South Carolina called Maude Callen so moved people when it appeared that readers donated more than $20,000 to support her work. As a result, the Maude E. Callen Clinic opened its doors in 1953. Smith called the assignment "in many ways, the most rewarding experience photography has allowed me" and regarded his subject as "probably the greatest person I have been privileged to know."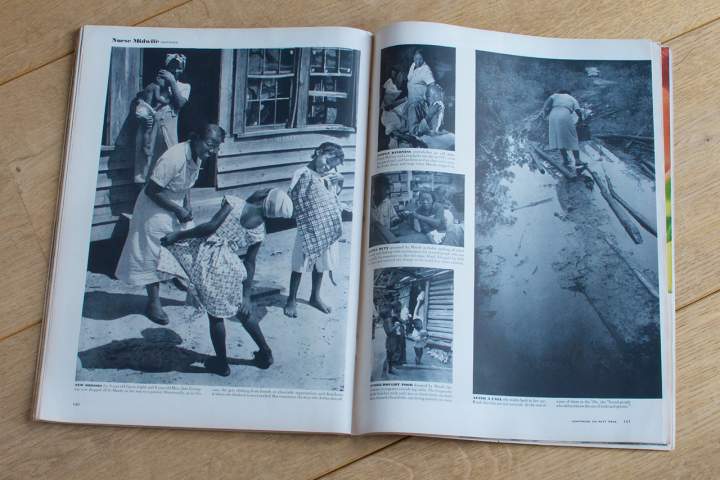 From 'Nurse-Mid Wife' (LIFE, December 1951)
'Nurse-Mid Wife' conveys with great control and finesse both Maude Callen's dedication and the grinding poverty of the Pineville community that she served. Smith's aim was to tell the story with maximum impact and he knew exactly what he was doing. The level of intimacy he achieves is staggering; he is right there with his camera(s) conveying the most personal moments and each image is realized with great precision but never to the point of feeling clinical or contrived.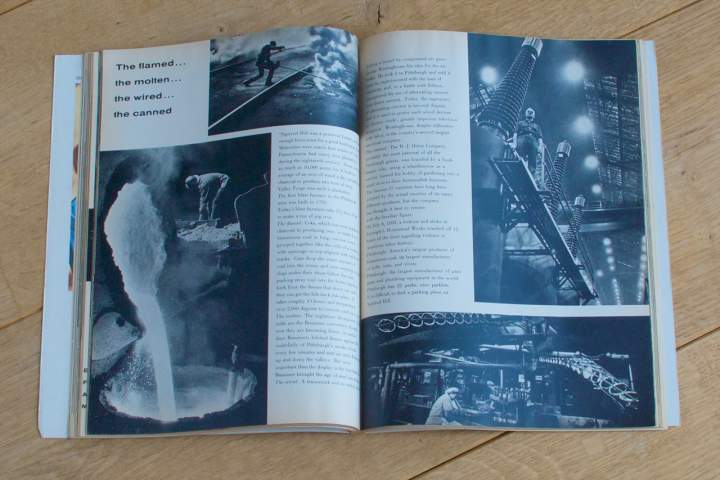 From 'Pittsburgh' (1951 Photography Annual)
Seeing Smith's only published layout for the Pittsburgh essay is a mixed experience. The pictures themselves are breathtaking – particularly his portrayal of working people and the epic townscapes – but its hard not to feel a little sad knowing how painful the whole experience was for him. It's hard to judge the layout, too; no one knows precisely what Smith intended although 'Dream Street' published in 2003 tries to piece together what could have been.
The Pittsburgh project was huge in its scope and would have been an obvious candidate for a book if it had appeared 20 years later. From today's perspective, the main source of Smith's frustration was that his chosen medium – the magazine photo essay – could not accommodate the sheer size and audacity of his vision. Maybe nothing could.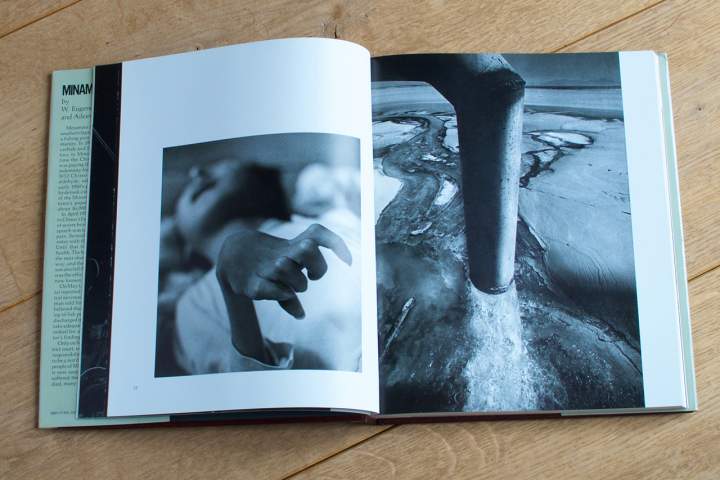 From 'Minamata' (1975)
Smith's last major project was the book 'Minamata – a warning to the world', published in 1975, depicting the plight of victims of mercury poisoning in a Japanese fishing village. It's a passionate collection of pictures with accompanying text in which Smith seems to bring together all his strengths. It stands as a wonderful example of how good he was in book form and for once, of course, he had full control over the contents.
According to his friend and contemporary Ben Maddow, Smith claimed that his vocation was "to do nothing less than record, by word and photograph, the human condition. No one could really succeed at such a job, yet Smith almost did. During his relatively brief and often painful life, he created at least fifty images so powerful that they have changed the perception of our history".
Smith's mastery of his craft was hard won but his pictures communicate a warmth and compassion for his fellow human beings that still shines through today.
He said:
"I didn't make the rules so why should I follow them?"
"What use is having a great depth of field, if there is not an adequate depth of feeling?"
"My cameras [are] note takers for my mind, so I may place evidence before others…telling them why I am seldom bored."
They said:
"To me, this image represents Smith's unique ability to combine the eye of a photographer and the attitude of an artist with raw honesty and uncompromising integrity. All photographers, in one sense or another, are heirs to his legacy."
Steve McCurry on Smith's famous image "Tomoko Uemura in Her Bath" from Minamata (1975).
Paul Schofield
March 2016