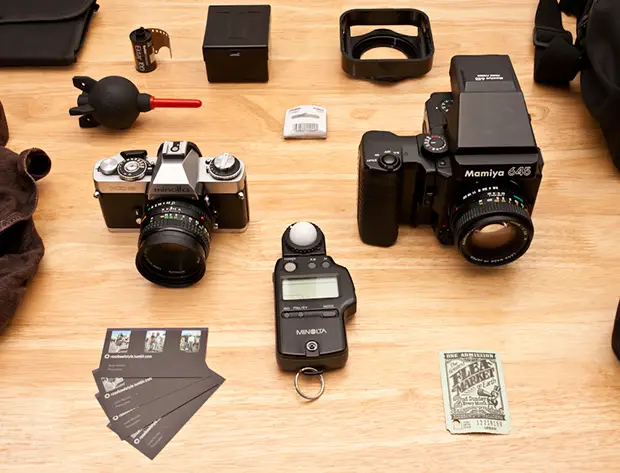 In your bag 782, Foster Kerrison
Not only does Foster have a beautifully presented bag-shot for us, he has a couple of great cameras which seem to work very well together. Come and see what I mean.

I've been an avid reader of "in your bag" since my son was born last summer. It's been a great way to relax between diaper changing and feedings, and I've learned a lot about the photo hardware that folks are carrying around. Here is my project-specific submission.
I am a part-time photographer in Pasadena, California (20 minutes north of downtown Los Angeles). My new year's resolution for 2013 was to take more pictures of people, and also to begin organizing my photography into projects. In 2012 I saw Joel Sartore speak, and his advice for better photographs was "put more interesting stuff in front of your camera." I thought about where I could find some interesting people to photograph, and decided on the folks at the Rose Bowl flea market – held every month right here in Pasadena. To enhance the "vintagey" theme of the flea market, I decided to shoot the project exclusively on film.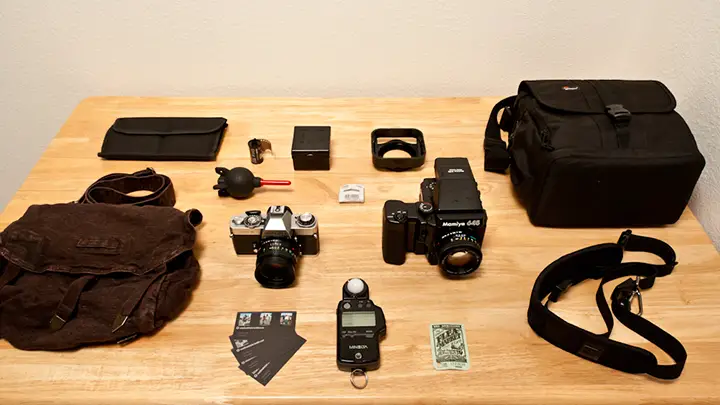 Here is a picture of what I found to be the optimal setup by about midway through the year (starting at top right):
-Lowepro bag. This is likely intended for a video camera as it is quite boxy, but it holds the Mamiya with winder grip very well. I use this bag to store/transport the Mamiya – once I get to the Rose Bowl I wear the camera and leave the bag in my car.
-BlackRapid strap. I love how quickly and easily I can bring the camera to my eye with this strap. I cannot deal with traditional straps anymore.
-Flea market ticket. The Rose Bowl flea market is held the second Sunday of every month, and is one of the biggest in the world. International shippers set up booths there because so many folks come from overseas to buy vintage items.
-Minolta IVF flashmeter. This meter has been a huge help getting the exposure right in tricky lighting situations. During one of my outings the dome fell off and was lost, and I got a bit panicked. I used the LightMeter app on my iphone as a stopgap, and then went out and bought a replacement dome asap.
-Business cards. I had been using my regular cards the first couple of months, but then I used some of my early images to make this card which also lists the project's tumblr site. After that I noticed a big difference in the proportion of people who agreed to let me take their picture, so it would seem that having project-specific cards can really help increase your ability to find willing subjects.
-Vintage military surplus bag. I picked up this bag at the flea market when I got sick of stuffing various things into my pockets. It is very light and unobtrusive, absolutely no padding but has a couple of little pockets that hold things the way I need it to. This holds everything you see here except the Mamiya and the BlackRapid strap, which I wear crosswise to this bag.
-Filter wallet. I shot the project as wide open as I could, to isolate the subjects from the often busy backgrounds. In sunny southern California, that often meant using an ND filter to hold back the exposure (these are old cameras – the fastest shutter speeds are 1/1000th).
-Spare roll of Kodak Ektar 100 for the Minolta.
-Spare film cartridge for the Mamiya, pre-loaded with Kodak Portra 160.
-Filter holder with screw-in adapter and hood (fits both cameras).
-Giottos rocketblower.
-Spare battery for the Mamiya.
-Mamiya 645 Super with winder grip and 80mm f2.8 lens. This camera is such a joy to use in the digital age – I love adjusting all the various knobs and levers. As the camera is fully manual (no metering, no autofocus), I find that I'm much more engaged in the photographic process. However, shooting manual focus wide open is a massive challenge, probably the biggest one I faced during the project. A constant frustration was when shots were useless because focus was off by a couple of inches. I got better over the year, but it is still amazingly difficult. I appreciate autofocus a whole lot more now!
-Minolta XD5 with 50mm f1.7 lens. This camera was my backup for the project. Basically I would shoot with the Mamiya until the film ran out, then shoot with the Minolta as I worked my way back to the exit (quite a long distance, with many potential subjects along the way). While this camera has a meter, I'm more comfortable keeping it on manual and hand-metering. If it wasn't for the need to shoot at high shutter speeds wide open I would even take out the batteries and rely on the mechanical shutter (1/100th). The results from the camera and lens have been wonderful, and the images compete strongly with those from the Mamiya, which helps to keep the project visually unified.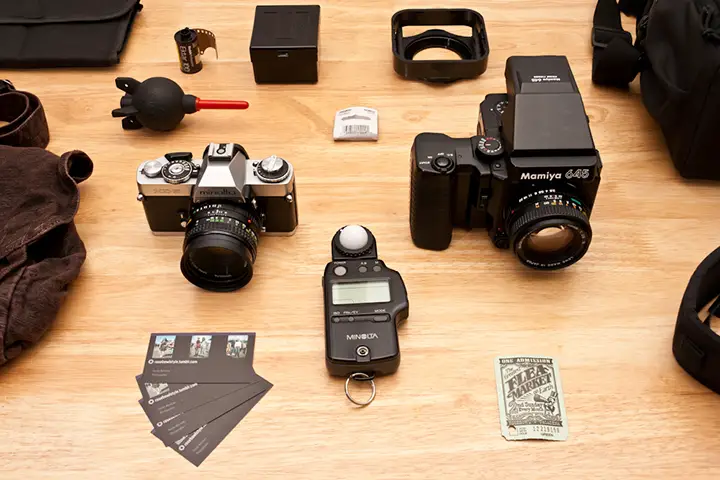 The project's website is: http://rosebowlstyle.tumblr.com/. Please check it out as I will be self-publishing a magazine with photographs from the project, and will post details on how to get a copy.
I also have another tumblr (http://www.tumblr.com/blog/wstofwst), and a website (http://fosterkerrison.photoshelter.com).
Thanks Bellamy for running a wonderful site. It is really amazing how many bags have been shared for the rest of us to enjoy!
Thanks for sharing your bag with us Foster. Nice to see the XD5 getting a workout.
Check out the links and make sure you come and comment.
Keep them coming folks, we need more submissions, so get your bag on Japancamerahunter.com. Send me a hi resolution image of the bag (please make sure it is horizontal) and its contents, with some details about yourself and what you shoot. Oh and don't forget your contact details (twitter, flickr, tumbler et al). Send the bag shots here. Please understand that there is a long wait now as there is a backlog of submissions. Not all make the cut, so make sure yours is funny/interesting/quirky. And please make sure the shot is of good quality, as the ones that are not do not go up.
Cheers
Japancamerahunter