In your bag No: 1431, Dank Spangle
Dank Spangle (best name ever IMO) has been on the site before. And now Dank is back. This time he might have been a bit overly ambitious in the packing of his bag for a trip through the woods. A totally loaded bag of goodies. Check it out.
I went for a walk in the woods today and ended up taking an ambitious bag full.
I had a couple of trees in mind for 360 degree tunnels (1DS Mark III, memory cards, spare battery, remote) and a view I wanted to get on film (Bronica SQ-A, spare film, lens hood). The Ricoh GR was on light meter duty.
Because it's summer and I'm in the UK I had a coat in there as well.
It all went in a Domke F1 X with a bit of room to spare. I had a couple of peperami (peperamis?) and a bottle of water in one of the side pockets, but they got consumed.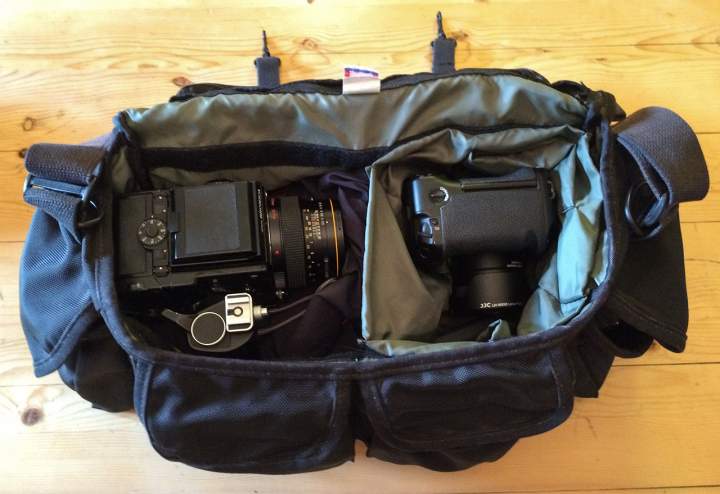 Since I was taking panoramas, I also had to carry a substantial tripod with a Nodal Ninja head on it.
Ambitious, but achievable. I walked a couple of miles with no ill effect. That said, I wouldn't want to carry this sort of load in this bag without the padding on the strap (it's from a Timbuk2 messenger bag).
I took 135 shots with the Canon (5 panoramas) and 3 with the Bronica.
You can see some of my panoramas here: https://www.flickr.com/photos/dank_spangle/albums/72157667777445885
The pics from the Bronica will be in my Flickr photostream when I get them back from the lab (if they are any good): https://www.flickr.com/photos/dank_spangle/
I've written articles about the Bronica, photostitching and other stuff here: http://www.dankspangle.com/
Dank
Thanks for coming back to us, Dank. I do hope your shoulder survived.
Check out the links and please come and comment.
Keep them coming folks, we need more submissions, so get your bag on Japancamerahunter.com
Send me a high resolution image of the bag. Optimum size is 1500px across. Please ensure there is a bag in the shot, unless you don't use one. The more you can write about yourself the better, make it appealing and tell us a story. Snapshots of your gear with a camera phone and no words will not be featured.
Oh and don't forget your contact details (twitter, flickr, tumbler et al). Send the bag shots here. Please understand that there is a long wait now as there is a backlog of submissions. Not all make the cut, so make sure yours is funny/interesting/quirky. And please make sure the shot is of good quality, as the ones that are not do not go up.
Cheers
Japancamerahunter