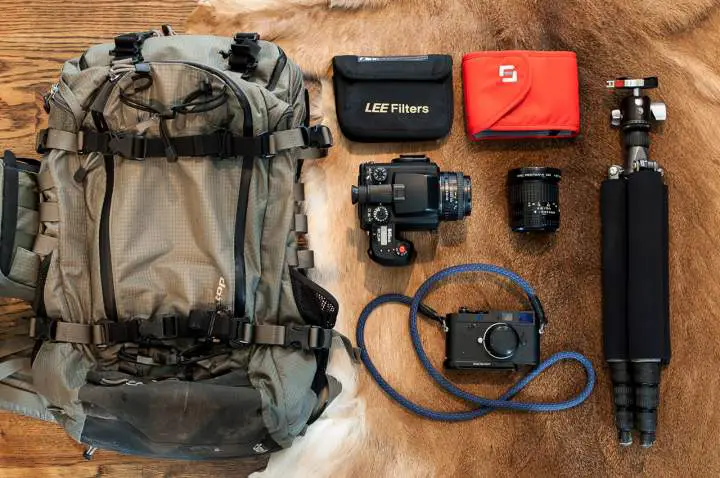 In your bag No: 1434, Jake Horn
Todays bag is a real adventurers bag. Jake gets this lot on his back and hauls it around the wilderness looking for those perfect landscape shots. Come and check this lot out.
My name is Jake Horn and I'm a mechanical engineer living in Nashville, Tennessee. I have an insatiable passion for landscape photography (preferably shot on film). I submitted my walk around bag last year, but this time, I'd like to share my hiking kit from my recent trip to Great Basin National Park. In addition to my camera equipment, I had three nights worth of camping gear, food, and clothes.
GEAR
F Stop Gear Satori EXP – For travel and day hikes, I use the large ICU. For backpacking, I use the medium shallow ICU with a chest pack. The medium shallow also fits into the Domke-808 like a glove!
Pentax 645Nii: Not much to say other than it's a near perfect camera for outdoor photography.
Pentax 645 35mm F3.5 A: New addition to the starting line-up.
Pentax 645 75mm F2.8 FA: A great all-purpose lens on the 645. Always with me on hiking trips.
Leica M-A: An outstanding second, light weight body. Also, my first M camera.
MS Optics Apoqualia 35mm 1.4 F MC: Lens handled itself brilliantly on the trip. So far the scans are turning out pretty good.
EPM Yosemite Camera Strap: Doesn't mind getting rolled up into a backpack.
Gitzo GT1542T with a Really Right Stuff BH-30 head. RRS plates for both cameras.
Various grad filters and a 105mm Singh-Ray Polarizer for my Lee filter holder.
NOT SHOWN
Plenty of Ektar and Portra 400. I also took a roll of Fuji Provia 400x for the stunning night skies in Great Basin. Happened to be a new moon on one of our nights in the backcountry, so I decided to push a roll to 1600.
Digital voice recorder
Shutter release cable
Cleaning Gear – Zeiss Wet Wipes, Lens Tissue, and a MagicFiber Cloth
CONTACT
Please check out my work at jakehornphotography.com.
Instagram Feed https://www.instagram.com/jakehorn_photography/.
Feel free to drop me a line.
-Jake Horn
Thanks for sharing your bag with us, Jake. It must be a great deal of fun hiking backcountry, especially with this setup.
Check out the links and please come and comment.
Keep them coming folks, we need more submissions, so get your bag on Japancamerahunter.com
Send me a high resolution image of the bag. Optimum size is 1500px across. Please ensure there is a bag in the shot, unless you don't use one. The more you can write about yourself the better, make it appealing and tell us a story. Snapshots of your gear with a camera phone and no words will not be featured.
Oh and don't forget your contact details (twitter, flickr, tumbler et al). Send the bag shots here. Please understand that there is a long wait now as there is a backlog of submissions. Not all make the cut, so make sure yours is funny/interesting/quirky. And please make sure the shot is of good quality, as the ones that are not do not go up.
Cheers
Japancamerahunter