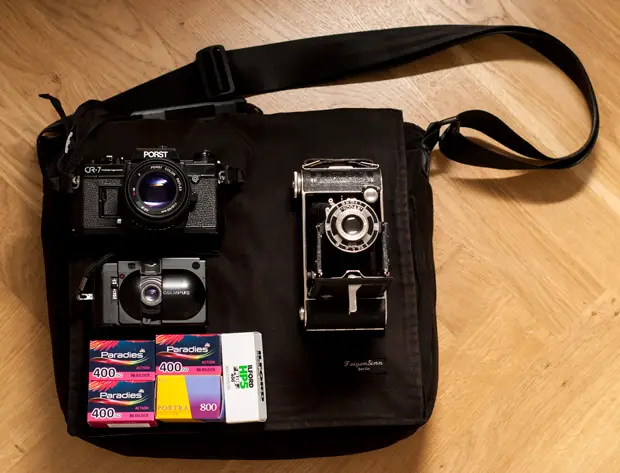 In your bag 1169, Robert Waehlt
A brace of classic cameras in todays bag, including a delightful hacked Kodak camera. Check it out.

Dear JCH people, dear Bellamy,
I am a great Fan of JCH for a while now and today I would like to share my bag with you all. I packed it for
a trip to the beautiful city of Budapest,Hungary with my better half. Working professionally only digitally, I went all
analog for this vacation.
I use the cheap drugstore film DM400 for colour; sometimes also Portras and Ektars. I stock up on the drugstore film whenever I am in Germany or Slovakia. For b&w I use HP5+ (120 and 135) which I develop in Adonal.
So what about the cameras? The SLR on top is a Porst CR-7 aka Fujica AX-5 with the 50 1.6. I like the very sharp and contrasty lens. I have a winder for it as well but it adds unnessary weight to the camera when traveling. I feed it mostly with color negative film.
Then there is the Olympus XA which resides in the pocket of my jacket. It is usually loaded with HP5+ or DM400. I really enjoy shooting with it. Everybody thinks it is a toy. I have little section on my personal blog which I call XA-Tales, where I post images which I shot exclusively with this little gem.
And finally there is the 620 folder; a Kodak Junior 620 (6×9) from the 1930ies. When I got it, it had dust, dirt and fungus. I took it apart and cleaned it. I put it back together and to my surprise it was still working. It is a pain to load it with film. Since there is no 620 film produced anymore, it is necessary to modify 120 film with a scissor and sandpaper. It produces nice sharp images on HP5+ though. The camera features a 105mm f7.7 Kodak-Anastigmat lens, three different shutter speeds and scale focusing. Using Adonal is critical to get (consistent) results.
The bag is a T.eigenSinn Berlin bag that has been custom made for me. It is made of a soft yet durable material. It is unobstrusive and extremely versatile.
You can find me here: http://robertrealizes.tumblr.com
and on fb here: http://fb.com/robertrealizes
and on twitter here: https://twitter.com/robert_wae
Thanks, for reading. Thanks for creating JCH Bellamy!
Cheers,
Robert
Thanks for sharing your bag with us, Robert. Nice to hear you are hacking the kodak to keep on shooting it.
Check out the links and make sure you come and comment.
Keep them coming folks, we need more submissions, so get your bag on Japancamerahunter.com. Send me a hi resolution image of the bag. Optimum size is 620×473. Please ensure there is a bag in the shot, unless you don't use one. The more you can write about yourself the better, make it appealing and tell us a story. Oh and don't forget your contact details (twitter, flickr, tumbler et al). Send the bag shots here. Please understand that there is a long wait now as there is a backlog of submissions. Not all make the cut, so make sure yours is funny/interesting/quirky. And please make sure the shot is of good quality, as the ones that are not do not go up.
Cheers
Japancamerahunter