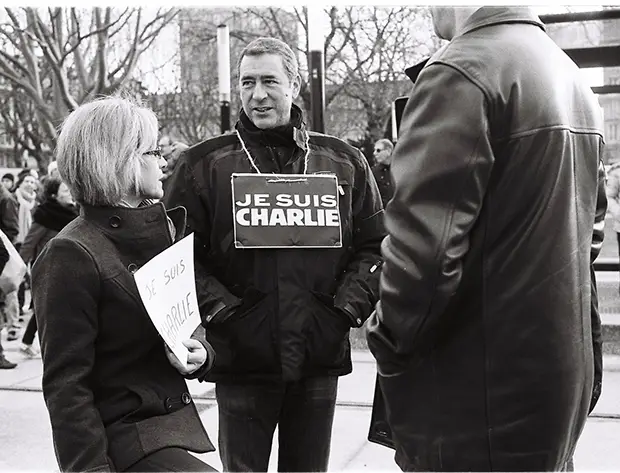 Get Featured: Fabien Lefevre
Fabien shares with us his work and his thoughts on the recent Charlie Hebdo massacre in Paris, and the protests that followed in its wake.

It takes time for me to think about that stuff and what i could say about it… but here we are, a little contribution…
I'm Fabien Lefevre, 28 y/o from Le havre, France.
I'm not that much into street photography, but sometimes when big things happen, i have to take one of my camera in order to show my vision on such events…this times it was my Xpan.
I was truly sad, disapointed, revolted and upset after the CHARLIE HEBDO Attack. And i was not alone.
At first i was scared by the amalgam people can do about such things, but what I saw was encouraging.
I heard a lot about French people: Lazy, dirty, cocky, haughty and aging and we all have all sorts of Stereotypes, Exaggerated and justified but I like to think that We are lions managed by donkeys.
Maybe i'm to optimistic but we show what we really are in this kind of situation. And i was glad to see so many people walking together against cruelty, the cowardice and the nonsense.
But yes we live in a world where men and women are killed to have drawn.
Why can't we just get along?
Fabien
You can check some of my film work here :
http://fabienlefevre.heritage.io
And a Mix here :
http://yordaphotography.tumblr.com
You can find me on Instagram too:
Envoyé de mon iPhone
Thanks for sharing your work with us, Fabien. A truly sobering moment in French history. I think there is a lot we can learn from the solidarity shown by the French people in the aftermath of this horrific event.
Come on, share with us what you have and get yourself featured.
Click on this link and send in your project/work: Get Featured. *I am looking for mainly projects, not individual images*
Oh, and click here to see a few of the photographers that have been on the site before https://www.japancamerahunter.com/?s=featured
Please make sure you come and comment, polite and constructive critique is welcome.
Thanks
JCH