PHOTOGRAPHY ZINES AND BOOKS NO: 47
16 Coat Racks in the Bank by Richard Myers
Who?
Richard Myers is greater Philadelphia based… photographer.
What?
16 Coat Racks in the Bank is literally that…16 photos of coat racks in a bank. Extremely minimal the only writing in the book is the embossed title then 16 photos all along the right side pages. All images are in digital color and shot deadpan. Certainly an exercise in minimalism.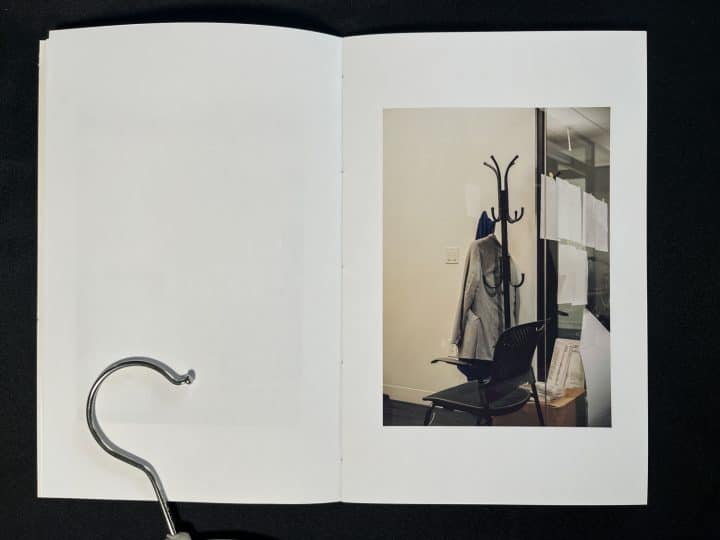 Why?
Perhaps the whole point of the zine is to force the viewer to ask just this…why? Just passing it around the office was fun to gauge the reaction. Certainly entirely about the concept, I appreciate how it doesn't do anymore. It is not film, it isn't made more interesting through varying compositions…it just is. You learn more about your own artistic inclinations or imagination than anything that of the photographer's. You will either love it or hate it. I found myself going toward the former.      
Where?
You can mail Rick for a copy here
18 pages, 8¼ inch x 5½ inch full color
Inkjet printed on Red River Paper 32lb Premium Matte
Cover by Revival Letterpress on French Paper Co Speckletone 80lb Starch White
Hand sewn saddle stitch binding
Includes one additional 5×7 inch bonus print on Red River Paper Palo Duro Softgloss Rag
Open Edition
2022
Xpan Your Mind by PLC
Who?
PLC is Japan based photographer in the Kansai region. He shoots  with a Fuji TX-1 for his one instagram @xpanjapan alternating between color and black & white film. He shoots a Leica M6 for everything else on his other account 50_shades_of_japan.
What?
"Xpan Your Mind is a collection of panoramic street photographs of Japan. Each image is completely unedited, showing the attribute of the film stock used." The first half of the zine is shot in color while the second half is in black & white. Almost characteristically I found the second half much more compositional highlighting the camera's quirk of exposing two frames as one.
Why?
The Fuji TX-1 / Hasselblad Xpan are certainly unique cameras with their true panorama feature… so why not shoot Japanese streets with it? The potential for these cameras has been explored but could still be played with to a larger extent.
Where?
You can DM him directly through his Instagram, @xpanjapan for a copy for domestic orders. International orders will be coming soon.

———————————————————————————
Thanks to our two guests for their submissions, it is a really cool thing to be able to share them all with you. And remember, this is open to everyone. If you would like to have your zines or books featured then all you have to do is mail me. Hopefully there will be plenty more of you who want to get your books and zines out there to the world. Another installment will be coming soon.
Thanks
-JF