IN YOUR BAG 1752 – ERMANNO FISSORE
For this week's "In Your Bag" we have Ermanno and his rangefinders!
I'm Ermanno, a Product Designer based in London. I fell in love with rangefinders back in 2012 when I acquired a Zorky4 at the Tokyo Camera Fair (although the camera had different light leaks based on how you handle it).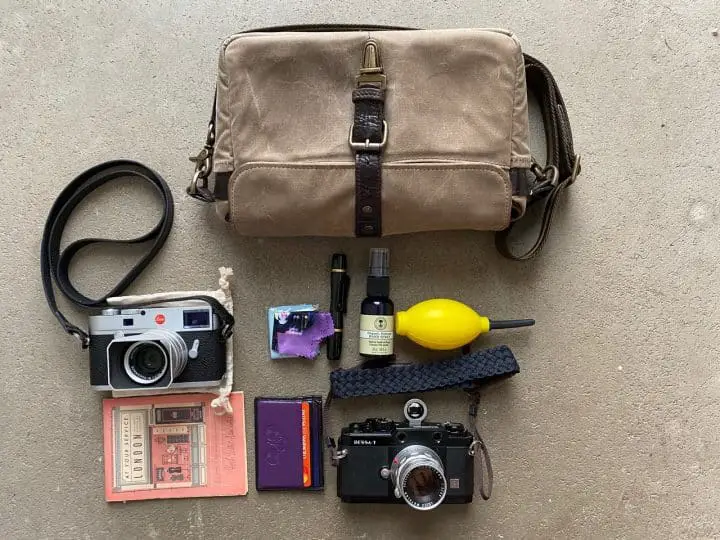 Since then I tried different other rangefinders and I landed on my preferred combo with the M6 (not showed here) and Bessa T.Lately I added a digital M as well to the family.I really love 50mm focal lens, I bought and sold different ones out of curiosity and for now I'm enjoying this Summicron rigid.
My go to kit evolves year by year, having a 50mm always with me and changing the second lens.
I'm really enjoying this journey of personal discovery.
Instagram: @ermess_
Glass: @ermess
––––––––––––––––––––––––––––––––––––
Send me a high resolution image of the bag. Optimum size is 1500px across. Please ensure there is a bag in the shot, unless you don't use one. The more you can write about yourself the better, make it appealing and tell us a story. Snapshots of your gear with a camera phone and no words will not be featured.
Oh and don't forget your contact details (Instagram, Twitter, Flickr, Grainery et al). Send the bag shots here. Not all make the cut, so make sure yours is funny/interesting/quirky. And please make sure the shot is of good quality, you are a photographer after all. 
Cheers
-JF