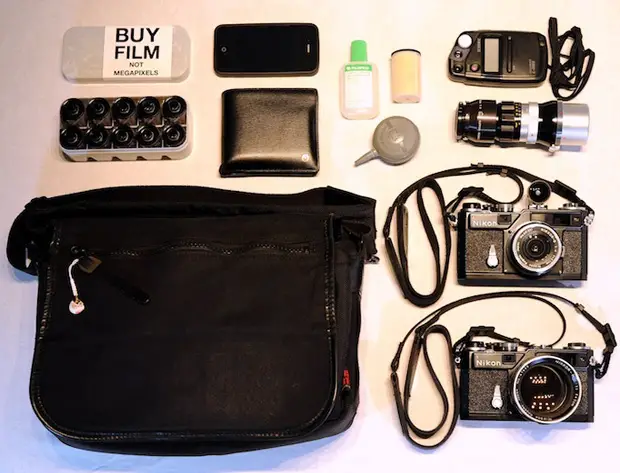 In your bag number 66, Jon Mitchell
Well well well, we have a special treat in store for you today. Hot on the heels of the interview I did last week, Jon has submitted a bag-shot for us. And what a bag-shot it is. They don't get much better than this. So, let's see what is 'in the bag'…

Ok, following on from my recent interview, here's an "in your bag" shot from me. Its my "June 1959" kit (just thought of that name now after checking the release dates of the three pictured lenses :D), and I often use it on day trips in and around Tokyo or overnight trips a little further afield. It consists of gear that would be almost impossible to replace if lost or stolen, and should probably be in a museum, so I treat it very carefully. But I still use it because I just can't help it. Its too beautiful not to use.
* First up, the two cameras are Nikon SP 2005 rangefinder bodies. Nikon released these reissues of the classic 1950s Nikon SP camera in 2005 as a limited edition of just 2,500 cameras numbered in sequence from No. 0001 to No. 2500. No. 0001 was donated to the Tokyo Camera Museum, so only 2,499 were available to the general public. So smooth to shoot with. I feel very lucky to have two of these beauties.
* Next, an external mount Nikkor-N 5cm f/1.1 lens is attached to the lower Nikon SP 2005 body. According to factory records, Nikon made just 1,547 of these lenses starting from June 1959 up until the early 1960s, so its quite a rare lens. As far as I know, this is the fastest production Nikkor lens for a Nikon camera ever made in the 5cm/50mm focal length. It has an IMO undeserved reputation for being soft. I find that its actually a really good lens. However, to get the most out of it, like every fast RF lens, it is essential that the lens is well matched to the camera's rangefinder for accurate focusing. Wide open you get funky swirly bokeh with decent sharpness at the point of focus, and stopped down a few stops, it is very sharp across the entire field.
* On the other Nikon SP 2005 body, is a very special lens for Nikon RF fans. Its an extremely rare Nikkor-O 2.1cm f/4 lens (with CV 21/25mm viewfinder here because I'd never risk using the very valuable original vintage finder). According to factory records, Nikon only made 298 of these lenses and released it in June 1959 right at the end of the Nikon RF era. It is the widest Nikkor ever made for Nikon rangefinders and gives a classic 1960's superwide look to images but with very little falloff in the corners compared to other lenses of the same period. The pictured lens is especially rare because of the dozen or so samples I've seen for sale in Tokyo, this is the only one I've ever seen with a distance scale in meters rather than feet.
* Next up is a Nikkor-T 10.5cm f/4 lens. This lens is also quite rare, and according to factory records Nikon only made 1,426 of them, and again released it in June 1959. I don't use this lens that often, but its so light and compact that its no trouble to include in the bag. It's very sharp when stopped down a bit and has nice gentle swirly bokeh wide open. A very decent performer for when I want a little extra reach.
Ok, that's the cameras and lenses, so now to the other stuff in the bag. I try to keep the load as light as possible so carry a bare minimum with me. If I need anything else while out and about, I'm in the Kanto region after all so a convenience store is never far away.
* Sekonic L-308S light meter – the best handheld compact light meter there is IMO!
* Lens and viewfinder cleaning kit (cleaning fluid, blower, microfibre cloth)
* Phone and wallet. Can't leave home without 'em. Got cash, got credit card, got phone, good to go.
* Lots of film! Pictured is 8 rolls of Legacy Pro 400 B&W and 2 rolls of Delta 3200 B&W film in a Fujifilm case.
* Black Artisan & Artist ACAM-7000 camera bag to stuff all this gear into.
* And lastly, a good luck charm from Hachiman-gu Shrine in Kamakura City on the bag!
A brilliant bag from Jon, I have been wanting to see this one for a while, so I am very happy to have this on the site now.
You can see Jon's interview here.
Cheers Jon.
This is the sort of submission that I like, details about the gear and about why and where it is used. In the future if I get sent a gear list then the submission will not make it. Please take the time to share your world with us.
Keep them coming folks, we need more submissions, so get your bag on Japancamerahunter.com. Send me a hi resolution image of the bag (please make sure it is horizontal) and its contents, with some details about yourself and what you shoot. Oh and don't forget your contact details (twitter, flickr, tumbler et al). Send the bag shots here.
Cheers
Japancamerahunter