Show us your film: Fantastic Film
It is awesome to see so many people sharing their film and getting involved. Here are a few more for you. I hope this series helps people to connect and maybe even trade film with one another. That would be really cool.
Ben Krohn
I'm really enjoying your site, and decided to share my film stash. It recently had an influx of expired and discontinued film. The left side is new stuff and the right side is the old stuff. I've only recently rediscovered the joy of photography after a few decades and really like film. Digital kind of bores me and seems a little utilitarian. Film just feels a little more natural to me.
Shooting medium format on my Pentax 645 is what I really enjoy. I really do try to force my self to go out with an 35mm SLR and a prime to keep the challenge going. I see a 4×5 pinhole camera in my near future now that I have film and a stack of holders. Anyway thanks for making such a cool site for all us film nerds.
https://www.flickr.com/photos/130880751@N05/
Amélien Bayle
Hello from France !
As you can see, I shoot very different kinds of film: 135, 120, instant… Sometimes, I feel like a squirrel, when looking at auction websites, always wanting more film ! I really like my little treasures, such as Reala, FP3000b and Neopan 400…
But i love them all !
Having a Crown Graflex on the way to its new home, some 4*5 will soon be added :)
Cheers !
Amélien Bayle
Links:
https://www.flickr.com/photos/amelien/
http://amelienbayle.tumblr.com/
Thomas Cierzo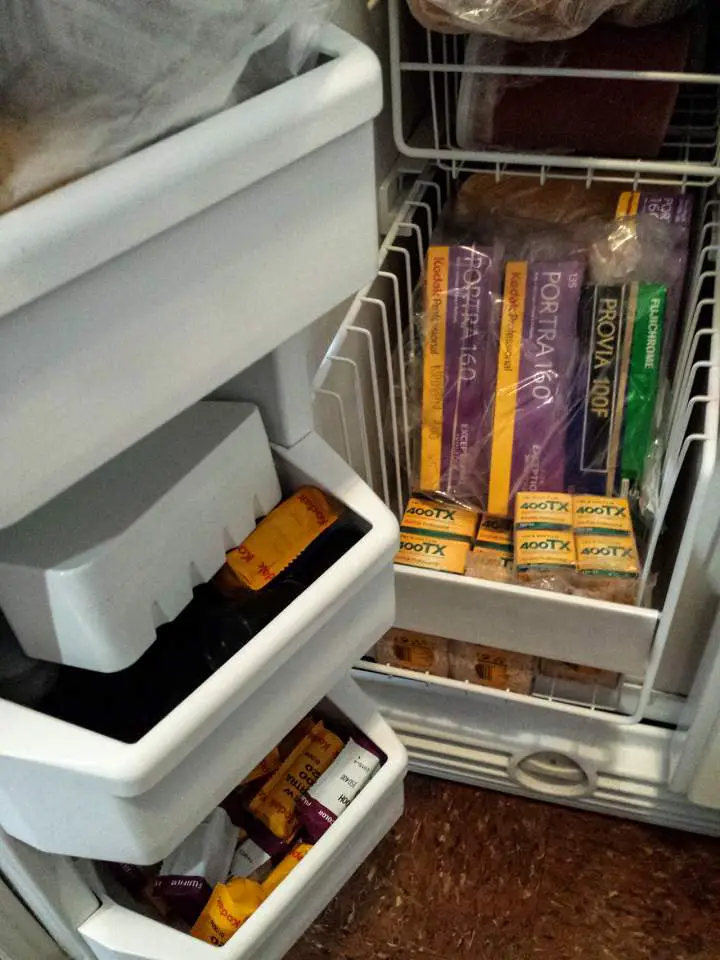 Attached is a poorly composed camera phone photo of my small stash. Mostly 35mm TRI-X with some assorted orphans mixed in. A JCH film case and some frozen homemade tomato sauce are also included. I have included a few photos, each of which was taken with TRI-X at 1600.
More can be seen at thomascierzo.photography, but not many more; I have only recently started to add to the site.
Thomas Cierzo
Have you shared your stash yet? Your hidden fridge? Come on, get involved.
Want to see the previous stashes? Check this link https://www.japancamerahunter.com/category/show-us-your-film/
Also, please make sure you submit your film through the link below, otherwise I might miss it (I get an awful lot of mail).
I would love to see your collections, so if you want to send them in feel free. Perhaps you can include a couple of shots taken with your favourite films, that would be fun. Click here to send your stash. Please make sure you send the submissions to this link, otherwise they will not be featured.
Thanks
JCH