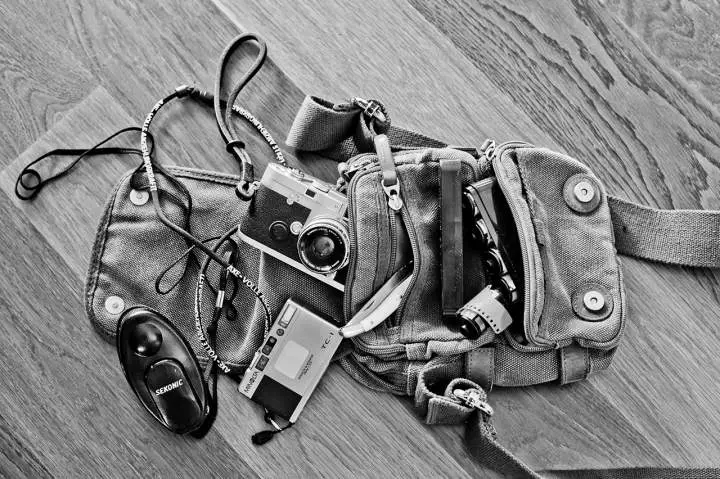 In your bag No: 1244, Marc Wick
Mark shares with us a very simple bag. Basically all you need for a day shooting on the streets of wherever you may be. Check it out.
Hi Bellamy and JCH fans,
my name is Marc and this "bag section" is really one of my favorite sites, you always see a lot of different but beautiful cameras. Photography is my passion and after years of digital photography I have almost totally changed to analog. Of course it does not mean that analog is better, but I like this kind of photography much more, that's all.
When I do street photography I do not like to drag heavy equipment therefore I use one camera and one lens in most cases.
I found this bag on a flea market years ago in Bangkok, Thailand and I really like it because it has a lot of different pockets for my equipment and – most important thing – it does not look like a photo bag. As you can see my fav camera is a Leica M6J with a Canon 1.8/35 lens. It took me a long time to find this special M6 for a reasonable price and I use it as often as I can. The Canon lens is perfect because of its small size (and very good quality).
Furthermore the small but powerful Minolta TC-1 is my "always with me camera" in most cases loaded with a Tmax 400 or Portra 400. One half case for films is always in the bag as well as a Seconic L-398. An old Laguiole knife which was a gift from my wife fits perfect in one of the small pockets. As you see the equipment is relatively light so I can walk around the whole day long.
Thank you very much, I hope you like it.
best regards
Marc
Under: www.marcwick.500px.com you can see more of my photos
Thanks for sharing your bag with us, Marc. That is a pretty cool M6J, you don't see people shooting them often.
Check out the links and please make sure you come and comment.
Keep them coming folks, we need more submissions, so get your bag on Japancamerahunter.com.
Send me a hi resolution image of the bag. Optimum size is 1500 across. Please ensure there is a bag in the shot, unless you don't use one. The more you can write about yourself the better, make it appealing and tell us a story.
Oh and don't forget your contact details (twitter, flickr, tumbler et al). Send the bag shots here. Please understand that there is a long wait now as there is a backlog of submissions. Not all make the cut, so make sure yours is funny/interesting/quirky. And please make sure the shot is of good quality, as the ones that are not do not go up.
Cheers
Japancamerahunter