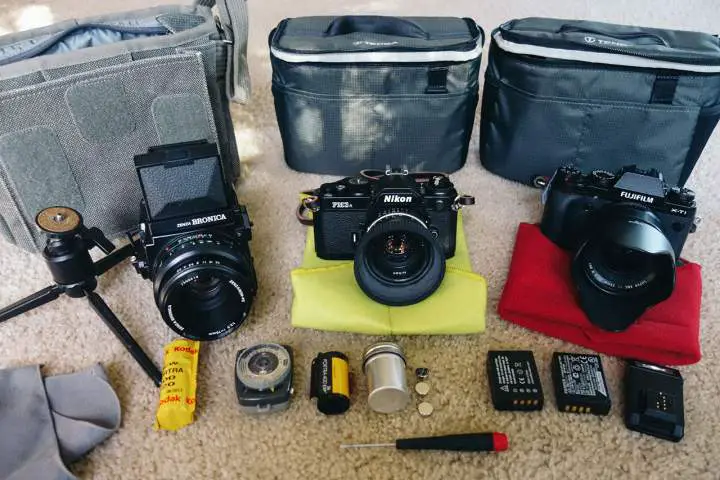 In your bag No: 1245, Marcus Kazmierczak
Marcus has a pretty neat idea. A modular camera bag system, so he can grab the setup he wants for that particular day. Pretty neat. Come and check it out.
My name is Marcus Kazmierczak, I started in photography back in 1999 shooting film, black and white, darkroom work, the whole shebang. I even converted my kitchen to a darkroom for printing. With so much invested in film, I was a pretty late switch to digital and it wasn't until 2007 that I started shooting in digital. It didn't take long to switch completely, the faster turn around and no scanning and dust removal, I was sold.
However, I didn't really like digital post processing. Photography was supposed to be my time away from a computer and it ends up sucking you back in. Now with the million presets and filters, all to get the same film look, I picked up my film cameras a few months ago and getting back into film both 35mm and medium format. I find that I'm shooting about 50/50 between film and digital, and much prefer film overall, just wish it was cheaper.
I'm working on a couple of different projects and series and want to use the same camera throughout, so on any given week I'll shoot all three 35mm, medium format and digital. So heading out the door I have a couple of options to choose from and switching camera and accessories in and out of bags each time got annoying.
So I developed a modular system for my gear allowing me to quickly grab a specific camera/format based on project or mood. My system is based on the Tenba Bring-Your-Own-Bag inserts, which are the padded innards of a camera bag, without the bag. Using them, I can switch between formats easily and always have what I need, since I can keep each camera's accessories always together.
The Tenba BYOB 9 fits perfectly in a ThinkTank Retrospective 5, which is my everyday bag. I also love that the insert provides extra padding and protection. I wish the back outer pocket of the ThinkTank was a little bigger so it could fit a large Moleskine notebook, but otherwise it is close to a perfect bag for me.
My two Tenba inserts include:
For 35mm: Nikon FM3a, 50mm f/1.8, extra film (Portra 400), extra batteries and attached an extra long Gordy neck strap
For digital: Fuji X-T1, 23mm /f1.4, extra batteries, flash and a Gordy hand strap
I will soon be buying my third Tenba insert for my medium format Bronica ETRSi, with 75mm lens, waist-level viewfinder and the basic prism viewfinder so I can take portrait shots. I'm trying to track down a 135 wide film back but tough and expensive to find.
Extras include Gossen Pilot-2 light meter, Manfrotto 3009 table tripod, micro-fiber cloth, screwdriver which comes in handy with older manual cameras. I use the Domke 11" wraps for protecting extra lenses or accessories I might carry with me. I prefer going out with just a single lens, but depending on the circumstances I might bring extras. For example, I have a Nikon 28mm attached to a tilt/shift adapter for the X-T1 which I can get some nice tilt/shift blur.
For going big, I carry a GoRuck GR0 which is a large backpack and itself a great modular system. It fits a 15" laptop in a special slot in the back, plus I can pack two of the Tenba inserts inside, easy to carry two formats. GoRuck sells multiple extra bags and pouches which can be strapped inside or to the exterior of the bag to expand further.
You can find me at:
My personal site: https://mkaz.com/
An on-going project: http://siliconvalley.town/
I recently started the Tiny Photography Newsletter a weekly digest of various photography bits, you can see the archives and subscribe at https://tinyletter.com/mkaz
Thanks for sharing your bag with us, Marcus. That is a very cool idea.
Check out the links and please make sure you come and comment.
Keep them coming folks, we need more submissions, so get your bag on Japancamerahunter.com.
Send me a hi resolution image of the bag. Optimum size is 1500 across. Please ensure there is a bag in the shot, unless you don't use one. The more you can write about yourself the better, make it appealing and tell us a story.
Oh and don't forget your contact details (twitter, flickr, tumbler et al). Send the bag shots here. Please understand that there is a long wait now as there is a backlog of submissions. Not all make the cut, so make sure yours is funny/interesting/quirky. And please make sure the shot is of good quality, as the ones that are not do not go up.
Cheers
Japancamerahunter