Brady Gelderburn: The Grandfather of Modern Camera Bags By Cheyenne Morrison
Cheyenne shares with us a bit of a history lesson. But not your usual one, this is a history lesson on how we came to have what we consider to be modern 'classic style' camera bag. There is also a bit of a bag review too. Check it out.
Portrait of the Photographer Emile-Henri t'Serstevens, 1890-1892. Glass plate, 18×13 cm. Brussels: Royal Institute for Cultural Heritage. © KIK-IRPA, Brussels, A144531. Right: Weegee and his Diamond Gadg-It" Bag, Popular Photography Magazine, 1948
The modern camera bag typified has become a whole fashion genre with vociferous arguments between devotees of different brands as to which is best, and a plethora of websites and blogs devoted camera bags. My favourite of course being Japan Camera Hunter's "What's in my Bag?" However, there are a lot of myths and misinformation perpetuated about camera bags, and the definition of what makes a "Classic" camera bag; so I thought I'd write brief history to set the record straight.
From the 1880s right up until the 1970s the typical camera bag often called an "Ever ready" bag was a hard shelled leather bag usually made of cowhide, rectangular in format with a flap over lid and leather strap and buckle closure. These bags started out as quite simple bags large enough to carry a glass plate field camera and a few plates, one of the earliest examples I have found is the image showing Belgian photographer Emile-Henri t'Serstevens, circa. 1890-1892, shown above.
This type of bag remained popular until the 1970s, and were manufactured in a variety of shapes and sizes, some with internal leather partitions specifically designed for certain cameras and lenses. One of the most famous being the bags designed for Leica cameras by Walter Benser, colloquially known as "Benser" bags. In the United States famous brands such as Diamond's "Gadg-It" bag, or the Kam-Ra bag retained the same designs from the 1920s until the 1960s. The image above shows the famous Weegee with the soft sided Gadg-It bag, which also came in rectangular shape with double buckles.
What is popularly defined today as a classic camera bag typified by Billingham's camera bags, only achieved popularity in the late 1960s and early 1970s with the growth of reportage photography, when photographers abandoned older "Press" cameras and adopted smaller 35mm cameras. Reporters of this era carried a camera, three or four lenses and film with them wherever they travelled; so they needed a smaller, more comfortable bag to carry their equipment, but at the time no such thing existed.
Fifty years ago men didn't carry the modern equivalent of an over the shoulder "Man Bag", in fact such a thing was widely deemed effeminate as late as the 1990s. The only bag's deemed masculine enough for men to carry were briefcases for office papers, luggage for travel, gym or duffel bags, or hunting and trout fishing bags; and it's the latter that photographers turned to fulfil their needs.
In the early 1970s photojournalists from America stopping over in London searched around for a suitable bag to carry their gear and discovered trout fishing bags made by companies such as Hardy, Barbour, Liddesdale and Brady, the most popular at the time. The Brady Gelderburn, designed in 1951, was the first Brady bag to incorporate Lightning zips. Famed photojournalist Bill Pierce wrote of visiting Queen's Fishery in London to pick up a Brady Gelderburn Bag.

Vintage Brady Gelderburn. Right advertisement from Hunting World Magazine, 1968
"A long time ago, professional camera bags were made of leather. Then the best of the leather bag makers found that there was much more money and prestige in making top of the line golf bags. In the interim between cowhide and the canvas gadget bags of Domke and Billingham, photographers turned to fishing bags.
Premier among these were the Brady bags sold in London. For a great many foreign assignments, you flew to London and transferred to a flight to your final destination. Staying in London for a day could minimize the effects of jet lag and, more important, give you time to buy a new Brady Bag. When you would buy a bag, usually the Gelderburne, and the clerk would realize you were an American photographer off to an assignment, he would say, "Yes, Mr. McCullin was in here a few days ago, just before he departed." – firmly establishing the Yankee rebels were following behind the English photojournalists."
The bags favoured by photographers at the time were Brady's Ariel Trout and Barbour's Tarras Bag, both designed in the 1930s, and the predecessor of the Billingham Hadley Pro; but the most popular was the Brady Gelderburn, the ancestor of the Billingham Packington. Martin Billingham, who started Billingham camera bags in 1973, was formerly the chief cutter for Brady. Billingham originally manufactured fishing bags, and it was only after Martin Billingham Sr. went to a football match and noticed that many photographers were using fishing bags to carry their cameras around, that they made the move to being a dedicated camera bag manufacturer.
Although not conceived as camera bags, trout fishing and shooter's cartridge bags made a good choice because were expertly constructed of quality materials, such as English bridle leather, cotton webbing, solid brass hardware, and waterproof wax canvas. They were tough, waterproof and had a masculine look reminiscent of trout fishing adventures, or African hunting safaris. They were tough, long lasting, yet were soft enough to fit the body, and in terms of shape and size similar to the modern day Messenger bag; wide yet thin enough not to be bulky. Although there are an amazing array of bag inserts available now nothing suitable existed at this time, so photographers would use clothes, socks and magazines to arrange their equipment within their bags.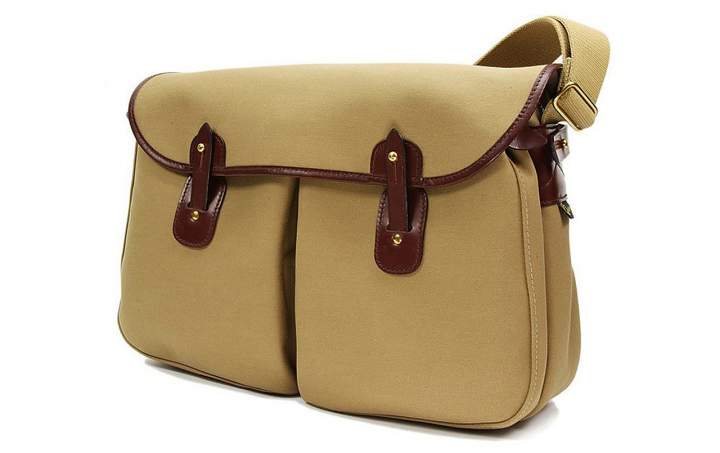 New Brady Gelderburn Bag
HISTORY OF BRADY BAGS
Brady is one of oldest manufacturers of bags in Britain. Brothers John and Albert Brady started their company in Birmingham in 1870 making leather gun cases. Over the years their range grew to include a range of sporting leather goods, most notably their fishing and game bags.
Brady rarely produced catalogues in the past, as their product range did not change from season to season – they had their staple products, and stuck with them. Brady's styles introduced in the 1930s and 40s are still made to original patterns and remain some of the most popular Brady styles.
Today Brady is world renowned as makers of the finest quality sporting leather goods. Every Brady bag is hand-made from the best materials at their factor in Walsall, England. Drill Canvas from Italy, Harris Tweed from Scotland or Milled Cruiser leather from England. All hardware such as buckles, pression studs and slides made from solid brass. Shoulder straps and handles are made from military grade cotton webbing.
BRADY CAMERA BAG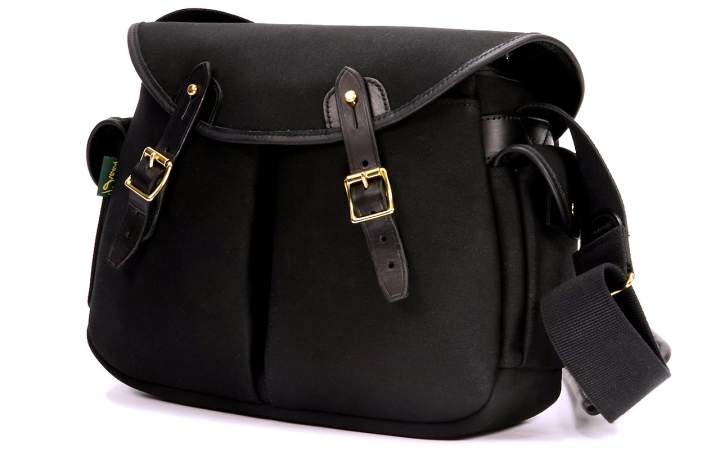 Brady Kennet Camera Bag
Although the Gelderburn is still in production, it isn't a dedicated camera bag. If you want true old school, you can still buy one and add an aftermarket insert. However, Brady have released their own classic English camera bag, made by skilled craftsmen using the best quality materials and traditional manufacturing methods
Brady is famous for.
Brady Kennet Camera Bag £190 (app $306 USD)
Size 14″ x 10″ x 4.5″ (H25cm x D11cm x W35cm)
http://www.bradybags.co.uk/shop/Limited-Availability/28/Kennet-camera-bag-/
The Kennet camera bag was based on Brady's classic Ariel Trout bag, a style first developed by the Brady brothers in 1930 for lady anglers. The functionality, quality and design of this bag have withstood the test of time. It provides stylish, hard wearing and classic protection for your camera, and features a padded lining with padded adjustable dividers. On the front are two large pleated pockets and on the outside easy access side pockets. The bag has a wide webbing shoulder strap with padded leather shoulder pad. The perfect choice for a rangefinder or micro 4/3 kit.
LINKS
http://www.bradybags.co.uk/
https://www.facebook.com/BradyBags
SOURCES
Brady Gelderburn
Dimensions: 16″ x 12″ x 5″ (H40cm x D30cm x W12cm)
http://www.bradybags.co.uk/shop/Shoulder-Bags/155/Gelderburn-/
In Search of the Perfect Camera Bag by Bill Pierce
http://digitaljournalist.org/issue0204/nutsandbolts.htm
Before there was Billingham: The Brady Gelderburn by Marco Sobrevinas
https://eyebeamimages.wordpress.com/2014/11/05/before-there-was-billingham-the-brady-gelderburn/
Mr. Cheyenne Morrison
Photographer & Purveyor of Polaroid Art
Writer: Pryme Magazine A Quarterly Dedicated to Instant Film
Facebook
Tumblr
Instagram
Twitter
Flickr
Google+
Linkedin
Pinterest
Thanks for the piece and the info on these bags. I had not considered the history of the bags, despite owning many different bags myself. I was also unfamiliar with this brand until now. I shall have to check them out.
JCH