IN YOUR BAG: 1736 – Andrew Whitehurst
For this week's installment of "In Your Bag," we have Andrew with his beautiful Leica M6. I am always happy to see books in bags as well…without further ado:
I'm Andrew, a VFX artist usually based in London but I travel a lot for work so a portable film kit is a must. This this the max 35mm kit for working abroad.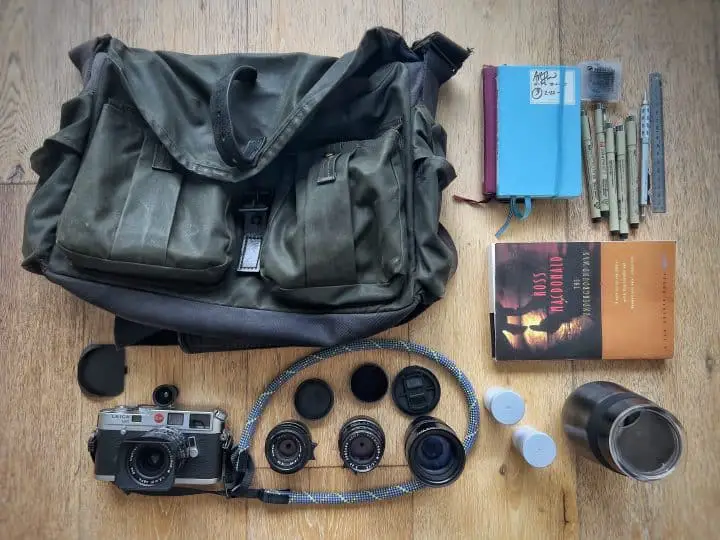 The M6 body and 35mm Summicron I inherited from my dad. "My" M6 (black and not pictured) has Tri-X in it. This body has colour film, currently Portra 160 as I'm in LA right now. I'm finding LA to be a 75mm city mostly with some 35. I've used the 21 a bit and the 50 gets used least of all. Generally I pack the 35 and the 75.
I am @andrewrjw on Instagram.
––––––––––––––––––––––––––––––––––––
Keep them coming folks, we need more submissions, so get your bag on Japancamerahunter.com
Send me a high resolution image of the bag. Optimum size is 1500px across. Please ensure there is a bag in the shot, unless you don't use one. The more you can write about yourself the better, make it appealing and tell us a story. Snapshots of your gear with a camera phone and no words will not be featured.
Oh and don't forget your contact details (Instagram, Twitter, Flickr, Grainery et al). Send the bag shots here. Not all make the cut, so make sure yours is funny/interesting/quirky. And please make sure the shot is of good quality, you are a photographer after all. 
Cheers
-JF