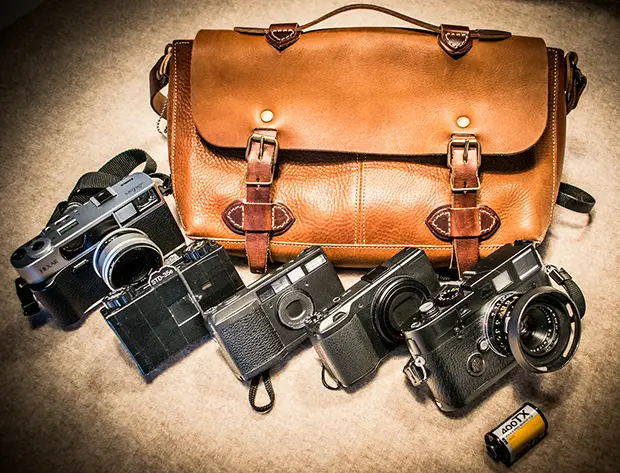 In your bag 806, Andrea Taurisano
Andrea shares with us his super stylish bag today. It looks like a movie prop or something. Come and check out how he uses this great setup.

After watching hundreds of pages of camera p*rn sent by others, I decided to join the club and send you my own bag. Oh, well… a picture of it will have to do.
It took me 15 years of photography, travels and, alas, Gear Acquisition Syndrome to get to the conclusion that traveling light pays off.
That doesn't mean I've now got immune to G.A.S.. It just means that I choose what to take along. And as a way to force myself to choose, the bag I use is a little, hand made leather bag. In the photo I send you, you see it in good company of my favorite cameras: a Leica M6 with an old ´cron 35, a Ricoh GR (my only digital camera), a Ricoh GR1v (which I got hold of thanks to your suggestions), a Sharan pinhole camera (modified to expose the sprocket area) and a newly acquired Hexar AF.
When I go out to do street photography in the city I live in or during short business trips, I choose actually only one of them, depending on the mood
A few times a year, however, I travel to relatively remote corners of the world, and then my rule is simple. MAX 1 kg of photo gear in the bag (film excluded). For example, during my trip to Japan last year I had the M6 and the GR1 (about 1 Kg together). During my solo Trans-Siberian journey this winter, I had the two Ricoh and the pinhole camera, again about 1 Kg all together.
Sometimes I feel I should get rid of some stuff («less is more» they say). But hey, have you seen those gems? How can you get rid of any of them? They are all perfect tools for my photography, that is often grainy and gritty, let's say «for particularly interested». My blog is http://ilcimento.wordpress.com in case someone wants to take a look.
Cheers
Andrea Taurisano
Thanks for sharing your awesome bag and travel experiences, Andrea. Although, Japan is not all that remote really.
Check out the links and make sure you come and comment.
Keep them coming folks, we need more submissions, so get your bag on Japancamerahunter.com. Send me a hi resolution image of the bag (please make sure it is horizontal) and its contents, with some details about yourself and what you shoot. Oh and don't forget your contact details (twitter, flickr, tumbler et al). Send the bag shots here. Please understand that there is a long wait now as there is a backlog of submissions. Not all make the cut, so make sure yours is funny/interesting/quirky. And please make sure the shot is of good quality, as the ones that are not do not go up.
Cheers
Japancamerahunter