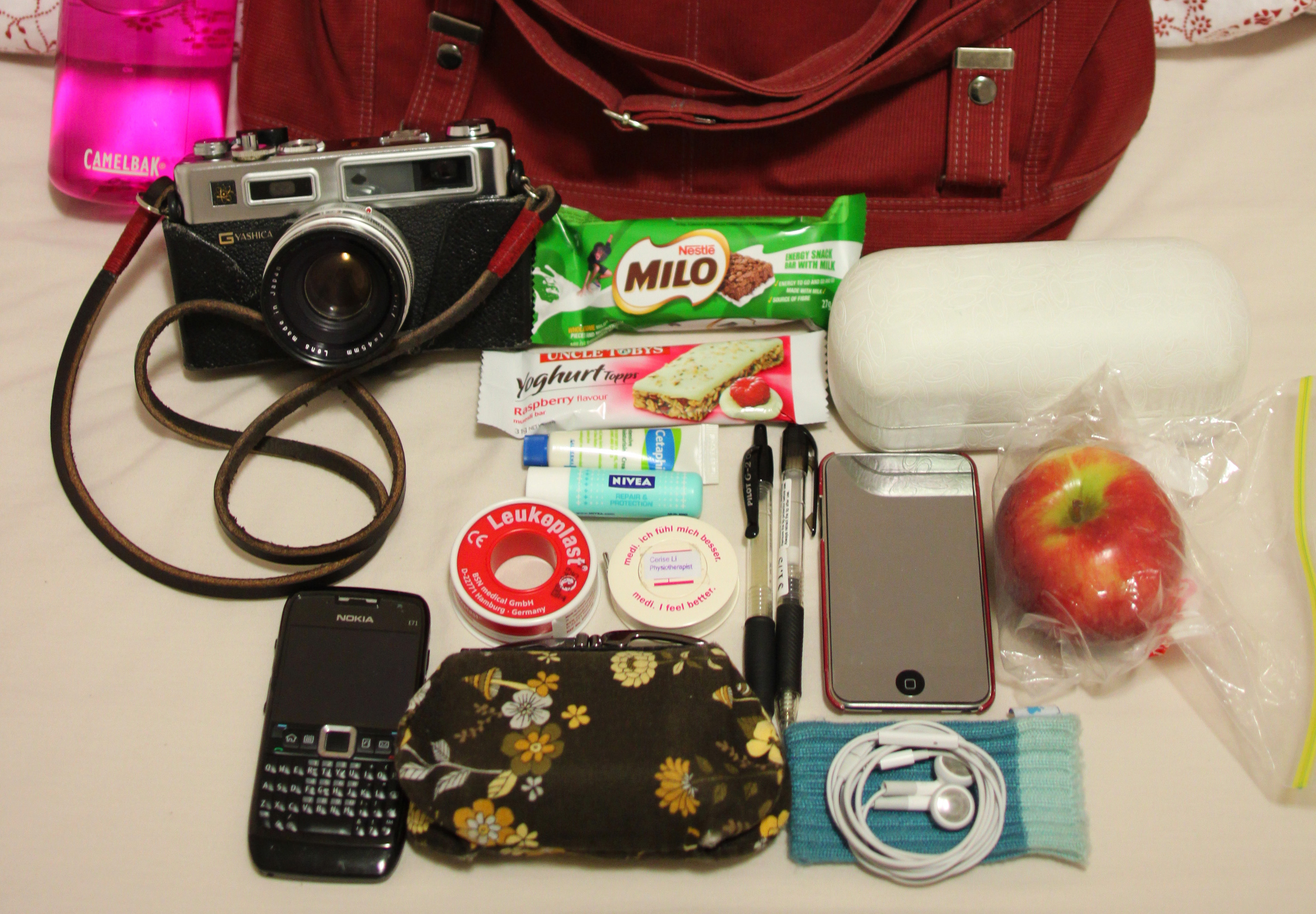 In your bag number 8 and this is Cerise from Singapore
Well, it seems that we had a technical glitch yesterday, so basically the site disappeared for the whole day, but now it is back. Strange. Thanks to all of you who let me know and thanks to all who sent bags in. Keep them coming, I will get them all up eventually.
Right, on to Cerise. She is a student, and so her bag is not strictly a camera bag. But it has a camera in it, and that is what matters. Over to you Cerise.
Hi there, I just thought I'd share with you guys what's in my bag, like the one you and a few others have done :) i know mine's not a camera bag and have other stuff in it, but I'm a student who carries lots of notes and books to school, so on a day with a lighter load I try to bring my camera along, just because :)
Hi guys, I'm Cerise and I like photography – I used to take photos of anything and everything, from my friends and family to the food that I ate. Fortunately, I have become a little more selective of the things I take photos of, in the sense that I try to put more thought into a shot before I release that shutter. I like taking photographs of people and landscape/trees. I use a Canon EOS 500D which I bought for myself after graduating from physiotherapy school in Singapore, and recently received a Canon EF 24 mm f/2.8 as a birthday present from my family. I also own a Yashica Electro GSN which I got this year – shooting in film is a whole new ballgame for me and I almost always can't wait to develop each roll of film so I can see how the shots turn out! Lastly I also have a toy camera, the Superheadz Wide & Slim, courtesy of the boyfriend :)
I currently live in Perth and am completing a Physiotherapy conversion degree – I enjoy what I do and I'm glad I've got photography as an awesome hobby!
What's in my bag: (top to bottom, left to right)
– File: contains the notes that I need to refer to while I'm on my clinical placement in a hospital now
– Water bottle: I try to bring some water with me whenever I'm out and about, so that I can remind myself to hydrate sufficiently (it's a bad habit, not drinking enough water).
– Bag: my bag is from an online shop, moop. I've been eyeing it for the longest time but hesitated to get because shipping was rather expensive. One fine day I managed to convince a friend to also get a bag and we split shipping costs. yay! I use my bag all the time over here in Perth; it is super handy with tote straps and a sling strap so I get a choice of how I want to carry it, whenever. I chuck lots of stuff in it (my bf can attest to that) and it has many useful compartments for me to put my little bits and pieces in.
– Yashica Electro GSN with Yashinon 45mm f/1.7 and a Gordy's strap: I've always wondered what it would be like to shoot in film and after I learnt about rangefinders from my boyfriend I got this rangefinder off Ebay for a good price. Unfortunately the camera wasn't in good working condition and I had to have it professionally repaired for about twice the price I got the camera for. But the camera is now a beaut! It looks even more spiffy now because my bf got me a Gordy's strap in dark brown with red trimming for my birthday :)
– Milo cereal bar and Uncle Toby's muesli bar: I stash some food in my bag for when I get hungry at work during tea break
– Sunglass and carrying case: can't go without some sunnies in Perth when the sun's out!
– Hand lotion sample and lipbalm: the air's rather dry where I am so I carry some moisturiser with me and the lipbalm ensures I won't get painful cracked lips.
– Leukoplast tape: great for times when my shoes cause blisters or friction spots. also good as all purpose tape for emergencies like a broken shoe :p
– Tape measure: my supervisor told me that a good physio should always have a measuring tape on hand when in the wards so I try to carry one with me to work everyday now
– Pens: for writing in my patients' case notes at work
– iPod touch: got this refurbished set from apple – works as good as new, it just didn't come in the fancy packaging. good for those on a budget and don't mind a plain box packaging.
– Apple: it's apple season now so I brought one for tea time, but didn't get to eat it because I was too busy today
– Mobile: nokia makes hardy phones – good for me since I knock mine around so often
– Clasp purse: I bought this handmade purse in 2009 from a lady at the Fremantle markets. it's a good size for the long-ish Australian dollar bills
– Earphones: don't have the habit of coiling my earphones around my ipod so I keep it separately in an ipod sock to keep things neater in my bag
Interesting contents and an interesting view into what people use and take with them. Thanks for sharing Cerise.
Unfortunately Cerise did not give me any contact details about herself, so this is it. If you have them please make sure you send them to me.
Keep them coming folks, get your bag on Japancamerahunter.com. Send me a hi resolution image of the bag (please make sure it is horizontal) and its contents, with some details about yourself and what you shoot. Oh and don't forget your contact details (twitter, flickr, tumbler et al).
Cheers
Japancamerahunter