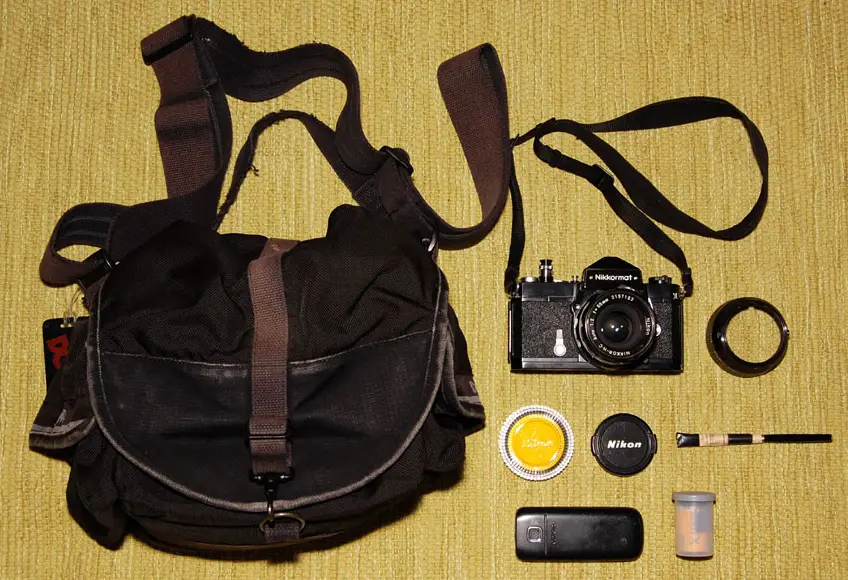 Bag no.7 and it is coming from Genoa in Italy
This bag belongs to Roberto Nania, who hails from Genoa in Italy. Roberto is rocking a classic Domke F3-X in black, which is battered and bruised, making it all the more desirable.
Let's let Roberto tell us more:
This bag is very important to me as it was gave to me as a present from the photographer I worked to while in Milan some years ago, Ramak Fazel. Well, Ramak used the same bag in those years and I was fasinated on how useful it was and how many things it could contain without becoming a luggage; I never saw a bag like that in Italy before; after some years a received by mail a box with the same brand new bag in it and I've been using it every time since then; now it's pretty worn and discoloured.
At the moment it contains a black Nikkormat FT with a black 50mm Nikkor f2, lenshood, lens cap, a yellow filter, a small brush and a cell phone. I bought this camera few weeks ago on the bay, I was caught by its cleanness and simplicity (I'm a Nikon user from my first FM something like 14 years ago). It's loaded with his first roll, the beautiful Tri-X.
Roberto does not have a site at the moment, but he will be putting one up in the near future, when he does I shall be updating this post so that you can all visit and show your support.
I love the simplicity of this set, and the classic nature of the bag and the camera. Well done Roberto.
Roberto has a Flickr. Check it out.
Keep them coming folks, get your bag on Japancamerahunter.com. Send me a hi resolution image of the bag (please make sure it is horizontal) and its contents, with some details about yourself and what you shoot. Oh and don't forget your contact details (twitter, flickr, tumbler et al).
Cheers
Japancamerahunter