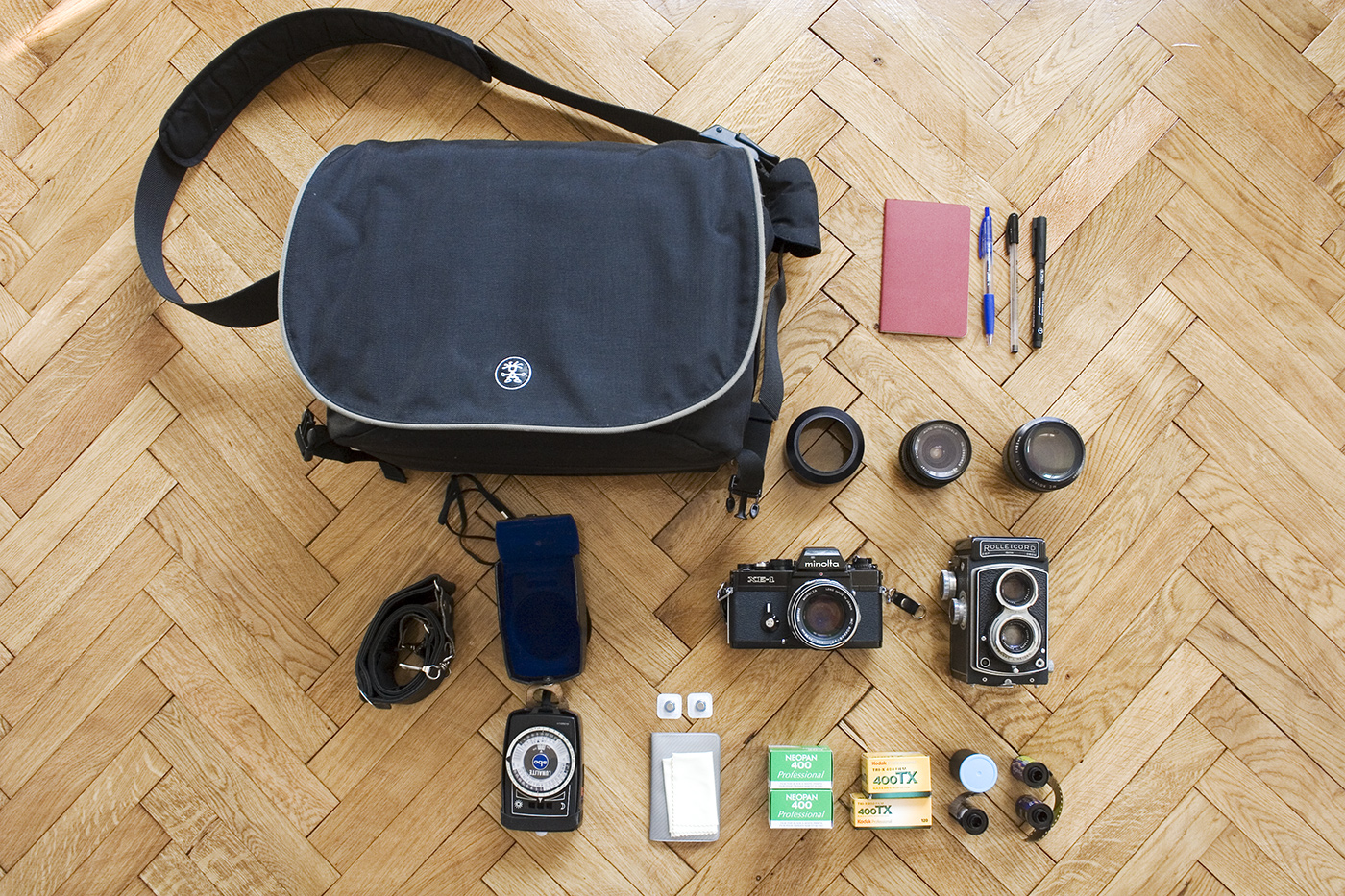 Bag shot number 6 and this time it is from Romania
This bag belongs to Alin Ciortea, who is from Romania. Alin shoots nudes, portrait and photojournalism, he has a blog with a lot of his pictures on it, check it out alinciortea.posterous.com but it is certainly NSFW.
The bag is a Crumpler New Delhi 510. Great bag. Quite big (very big in Crumpler terms) and extremely well manufactured (strong materials, very good padding, ridiculous amounts of zippers and compartments) but quite a back-breaker if fully loaded (especially with old school, all-metal cameras). I always carry one medium format camera and one 135 camera and lenses. This time I have my good old Rolleicord III (a gift from a very good friend of mine) that I prefer many times over my Bronica S2a because of it's smaller size and weight. In can also be just the right camera for portraits when the lighting is right.
For 135 format I use Minolta. XE-1 and XD-7, both great. I have periods of shooting each and from time to time I switch from one to the other. This time I preferred the XE as it's slightly heavier so I can shoot at slower shutter speeds. My lens setup consists of two fabulous portrait lenses (Rokkor 85/1.8 and Rokkor 58/1.4) and a nice, fast Vivitar 24/2 wide angle prime. I also have and use a Rokkor 35-70/3.5 zoom lens, regularly on my XD, when I only want to carry on camera with me and I want a bit more versatility.
Accompanying the cameras there's my trusty Gossen Lunalite external meter and a couple of films to cover all kinds of lighting (2 Fuji Neopan 400 in 135 format – my favourite film -, two Kodak Tri-X in both small and medium formats, 2 Ilford FP4 and 2 Paradies 100 slide films).
Aside photo gear there's also a lens tissue and a Moleskin for quick notes, pens and a permanent marker for those times I feel shooting at different ASA.
Most of the times I shoot nudes and portraits but also fancy street photography and event photography (weddings at times, concerts and behind the scenes when I get lucky)
Keep them coming folks, get your bag on Japancamerahunter.com. Send me a hi resolution image of the bag (please make sure it is horizontal) and its contents, with some details about yourself and what you shoot. Oh and don't forget your contact details (twitter, flickr, tumbler et al).
Cheers
Japancamerahunter