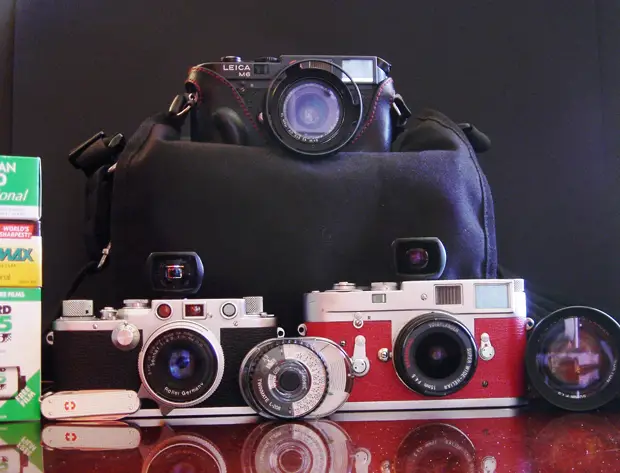 In your bag number 85, René Velásquez
Todays bag is something seriously hardcore for the Leica lovers. A really well laid out showcase shot from El Salvador! It is not everyday that you see something like this. So check it out…

In your bag
Hello, my name is René Velásquez (Dacnard), I am 28 and I am a photo enthusiast from El Salvador, Central America. I have been shooting for almost 2 years, first with a DSLR Canon XS and nowadays with film rangefinders which is what I shot almost exclusively.
I got interested in photography about 2 years ago thanks to an article that I read in a local newspaper about how a photographic company named Leica had helped hundreds of European refugees during the WWII bringing them to America and giving them a camera upon their arrival. This story leaded me to search the internet about the company, their cameras and the rangefinder system.
I was taking some basic photo lessons at the time, but after a while shooting with the DSLR I found that I didn't enjoy photography as much as I thought I would, there was this emptiness… So I decided to take the plunge, sold my DSLR, got a Rangefinder and never looked back.
Shooting film in El Salvador is quite difficult, you don't find black and white film quite often and there are very few places that still develop it, the market is overwhelmed by digital media. This forced me to develop my own film which I acquire whenever I have the chance.


Here is my bag content, I usually carry one camera and one or two lenses at the most, so the following is what you usually may found in it:
The bag:
Black Retrospective 5: A very nice bag, small and very protective.
On Top:
Leica M6 0.85 with improved rangefinder optics to reduce flare, this is my weapon of choice. I use it mostly when shooting with 50mm lens in low light conditions, such as bars and small concerts. This was the camera that I used the most for my pictures of a recent exhibition that I held at a local cultural pub last December.
Zeiss C Biogon 35mm f/2,8. This lens rocks! The pictures taken with this lens have a unique signature, are many of them are the ones I like the most. It is compact and well built. I love this lens so much that I am thinking to homogenize my line of lenses to Zeiss ZM
Front Row
Leica IIIF red dial: Barnack cameras are awesome. I got this camera a couple of months ago and I just can´t stop shooting with it. This camera is always fitted with the Rollei Sonnar 40mm lens. This is the camera that gets most of the attention and comments from people (when they notice it).
Rollei Sonnar 40mm f/2,8. I sought this lens for almost a year. I am really enjoying it along with the Leica IIIf. This is a lens designed by Zeiss, manufactured by Cosina and Rollei, and coated with Rollei's technology. Up to this date is one of the best lenses I have ever handled
Leica M2 with red cardinal leather. My first Leica, classic, simple; it is my back up camera.
Voigtlander Super Wide Heliar 15mm f/4,5. I don't use this lens as much I would like to ☹, I am always surprised about how close and how much you can get with it
Voigtlander Nokton 50mm f/1,5. A great lens for low light conditions and excellent performer; I use this lens mostly with the M6 due to its 50mm bright lines which are a great help when composing
Leica C- Elmar 90mm f/4. This is the latest lens I have acquired. So not much to say yet except that the 90mm focal length looks very promising to me
Others:
Swiss Army small pocket knife
Small notebook to write down ideas and expositions every now and then
Sekonic Twinmate L-208 light meter
Film:
My favorite film is Ilford HP5, but I also use TriX or its generic Arista Premium 400, and other ISO 400 that I may found in my trips, such as Neopan, Tmax, etc.
I really enjoy shooting with slow films, such as Ilford Pan F and the amazing Acros 100. I even have a Rollei ISO 25 that I do not dare yet to use =P
So this is it. Thanks to Bellamy for this great series. Keep on shooting and long live the film!
My flickr
My Blog
This is a stunning shot. It is so thoughtfully laid out. I am really impressed with the way that this has been put together, it has set a benchmark for the rest of you :)
Keep them coming folks, we need more submissions, so get your bag on Japancamerahunter.com. Send me a hi resolution image of the bag (please make sure it is horizontal) and its contents, with some details about yourself and what you shoot. Oh and don't forget your contact details (twitter, flickr, tumbler et al). Send the bag shots here.
Cheers
Japancamerahunter