IN YOUR BAG: 1720 – Steve Mitchell
My name is Steve Mitchell, and I live in Invercargill, at the very south of New Zealand.
I bought my first camera, an Ilford Sprite, with pocket money I had saved at the age of eleven. Dad was a keen amateur photographer, so I guess I was following in his footsteps.
Later I graduated to my first SLR, a Practica, which was followed by a Yashica TL Electro X, and in 1984 I bought a Contax 139 Quartz, with the Planar 1.7/50 lens, using that for the next twenty years until digital photography arrived.
Contax
Fifteen years and half a dozen digital cameras later, I stumbled upon the Contax in a box in the wardrobe, and had the film that was still in it processed. The Contax was no longer working, but one thing led to another and after adapting the Zeiss lens to my Canon DSLR with very good results, I bought a replacement Contax body and a couple of lenses from Ebay, and shot my first roll of film in a very long time.
I was blown away by the difference in the colour and texture of the images, and found that I also enjoyed the analogue process far more than the instant gratification of digital photography. So,  most of my photography is now analogue, both 35mm and medium format. Luckily I have had some kit given to me, and been able to buy more before the prices really started to shoot up!
Bag
This is my bag that I throw in the car whenever I go somewhere. It is a Lowepro BP 300 AW which can carry two SLRs along with four or five lenses and accessories, with a tripod attaching to the back – ideal for walking into the wilderness, which in this part of the world is amazing.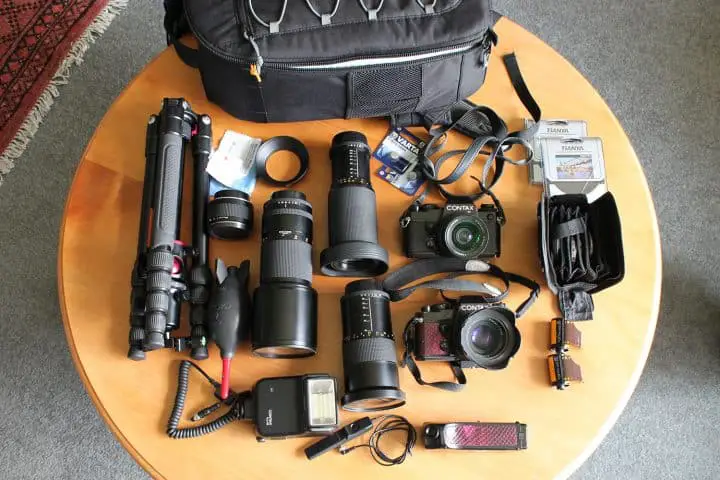 I shoot mostly landscape and travel photography, and my usual kit is;
2 x Contax 139 Quartz bodies
Zeiss Planar 1.7/50
Zeiss Distagon 2.8/25
Zeiss Vario Sonnar 3.3/28-85
Zeiss Vario Sonnar 4/80-200
Zeiss Tele-Tessar 4/300
Zeiss Mutar 2 x Converter
Contax TLA30 flash with extension cable
Contax 139 Motor Winder
Lens cleaning cloth and air duster
Film – I like to work with colour and usually have Kodak Portra 400 and Ektar 100 in the cameras.
K&F Concept Tripod
Remote Shutter Release
Spare batteries for camera and flash
Lens hoods and filters – UV, Skylight, Polarising, ND, Graduated ND and FLD.
It has taken me three years to build up this kit which I could never have afforded when I was younger and had kids to support, and it has given my photography a totally new lease of life!
Sites
I have a blog; viewfromtheendoftheworld.wordpress.com where I try to showcase the amazing world around me. I can also be found at;
Steve Mitchell
Keep them coming folks, we need more submissions, so get your bag on Japancamerahunter.com
Send me a high resolution image of the bag. Optimum size is 1500px across. Please ensure there is a bag in the shot, unless you don't use one. The more you can write about yourself the better, make it appealing and tell us a story. Snapshots of your gear with a camera phone and no words will not be featured.
Oh and don't forget your contact details (twitter, flickr, tumbler et al). Send the bag shots here. Not all make the cut, so make sure yours is funny/interesting/quirky. And please make sure the shot is of good quality, you are a photographer after all. 
Cheers
JCH