Camera Geekery: The JCH 10 Year Sakura M4
Finally we have the forth camera in the series. In case you missed them you can see the first, second and third by clicking the links.
We wanted to do something special for this camera, but we were struggling to come up with something special. That is until we decided to give Kanto camera carte blanche to do whatever they wanted to do. At no point in the process were we given an idea of what the camera would be like, only that it would be know as the 'Sakura' camera. And this is the final result. A camera that reflects how the Japanese feel about sakura (cherry blossoms). This camera celebrates many years of working with Kanto camera and is a stunning addition to the series.

The camera
This camera came as a complete (and welcome) surprise. Kanto camera really went to town on this camera, creating a camera that shows the love of an important part of Japanese culture. The falling sakura petals are hand painted on the body with a bold pink through purple color scheme. There is a dusting of silver across the top plate to help bring the essence of Hanami (viewing falling cherry blossoms).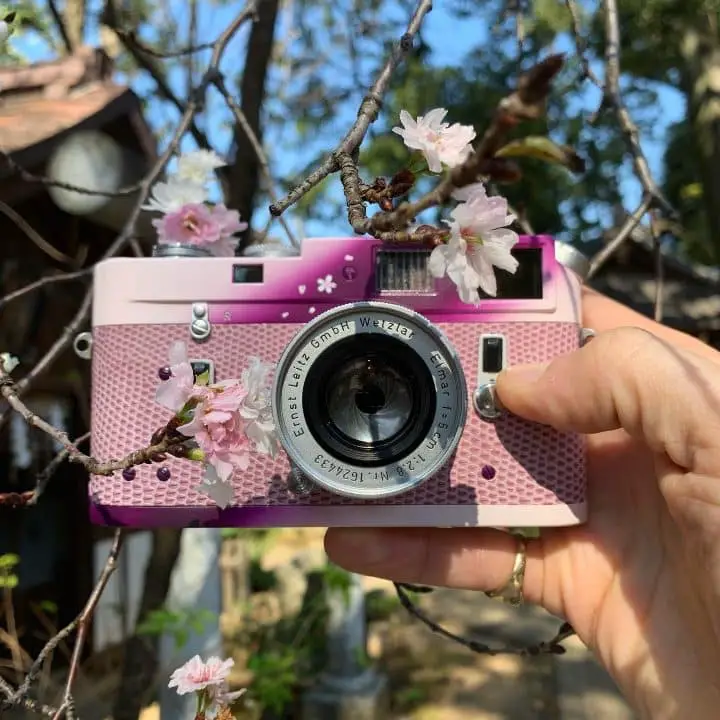 The leatherette has been replaced with a faux snakeskin in pink to keep with the theme of the camera. There are a couple of really special touches on the camera as well, but you would have to see the camera firsthand to find them. Keeping with the element of surprise, all will not be revealed. This camera as with all the others is presented in a custom made JCH 10周年 HPRC case (many thanks to HPRC too for helping us with this project).
Anniversary
This is one of several cameras and exciting projects we will be releasing in the coming weeks and months. We have already released the JCH 10周年 apparel and there will be more cameras and some other really exciting goodies, so make sure you stay tuned. And please check out the store for new updates too.
This and the other cameras in the series will be available for sale on the website in the near future.
Thank you one and all for all of your support for the last 10 years. Here is to the next 10 years.
JCH