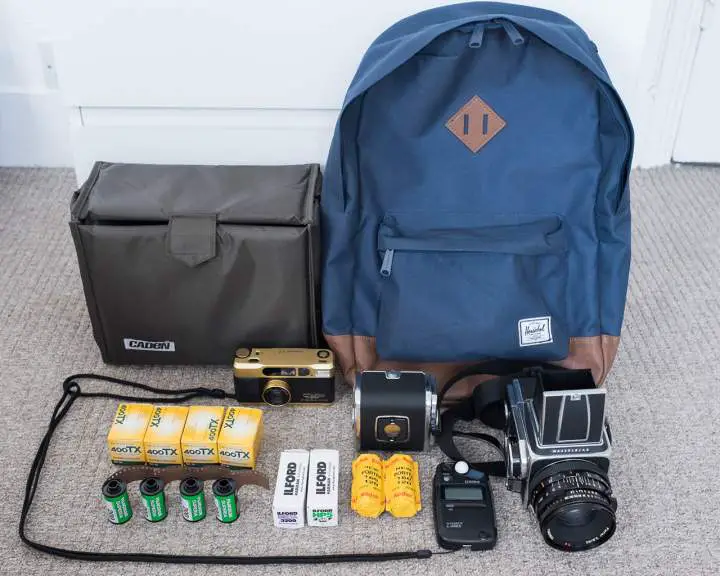 In your bag No: 1407, Michael Neale
Today we have a Kiwi bag, by way of London. Michael has a couple of classics, including a really blingy Contax T2. Check out this film friendly street shooters bag.
My name is Michael Neale, and I am a street and travel photographer from New Zealand, currently living in London.
I began shooting film in June 2015 when I left New Zealand to begin my travels, with my first stop being Tokyo.  I was lucky enough to pick up a 60 year anniversary Contax T2 from Bellamy himself (thanks again for meeting up with me), and this has been my go to street camera since then.  It's super sharp lens, compact size and perfect frame lines make it a delight to shoot with in virtually any type of situation.  I could see very quickly why this camera is so loved by everyone that owns one.  At first I was a little worried the gold on this T2 would draw attention on the streets, which it occasionally does, however this has actually become an added bonus as it will draw the eye of a subject towards me in busy areas such as Oxford Street, where it can be quite difficult to isolate a subject.
My most recent purchase has been a mint condition Hasselblad 500CM with a standard 80mm 2.8 lens.  This included a second film back, plus a load of film so was a great find on eBay.  As it's my latest camera, it is currently getting the most use, but I plan to use this for the majority of my travel photography and portraits.  Shooting with this camera is an absolute dream; I love the slower manual process, and shooting in 6×6 is an extra challenge for me.
These two camera's make up my perfect film camera setup, so this is generally how my camera bag will look. Depending on the situation however, I will also switch these out with another recent purchase, a Nikon F3 and 50mm F1.8 lens (currently off for a service), or for digital shooting I have a Fuji XT-1 paired with the 23mm F1.4 and 56mm F1.2 lenses.  
I've been experimenting with a few different films since arriving in London, with my favourites being Portra 400 and Tri-X, however I also love Ilford HP5, and I've picked up a resonably large supply of Fuji Superior 200 and 400 which I will use for my street photography around London, mainly as I can get it much cheaper than Portra. 
As I never carry more than 2 cameras with me at a time, I can comfortably fit any setup into a Caden camera bag insert which slides easily into a Herschel Heritage backpack.  The Caden insert was purchased nice and cheap off Amazon and allows me to have another use for my backpack, rather than purchasing a 2nd camera bag.  I much prefer a backpack to a shoulder bag, especially when out on a long day's shooting as they are much more forgiving on my shoulders and neck. The Herschel bags look great, are extremely durable, inconspicuous on the streets and seem pretty much waterproof, although I never enjoy testing this out..  
You can find my work on my website:
or on Instagram
https://www.instagram.com/michaelrneale/
Thanks a lot Bellamy for featuring my camera bag; I love the work your doing with this website!
Thanks for sharing your bag, Michael. That is a very nice setup.
Check out the links and please come and comment.
Keep them coming folks, we need more submissions, so get your bag on Japancamerahunter.com
Send me a high resolution image of the bag. Optimum size is 1500px across. Please ensure there is a bag in the shot, unless you don't use one. The more you can write about yourself the better, make it appealing and tell us a story. Snapshots of your gear with a camera phone and no words will not be featured.
Oh and don't forget your contact details (twitter, flickr, tumbler et al). Send the bag shots here. Please understand that there is a long wait now as there is a backlog of submissions. Not all make the cut, so make sure yours is funny/interesting/quirky. And please make sure the shot is of good quality, as the ones that are not do not go up.
Cheers
Japancamerahunter