In your bag 820, Gaetan Cormier
Not one, not two, not even three, but four bags today! Four! That is mental. I am not even sure I could put together four different bags. Oh, wait, yeah I could. Check these out.

Recently I saw my friend François Nadeau (bag #774) showing off his beautiful photo bags and I must admit he inspired me to do the same. First of all, let me introduce myself. My name is Gaetan Cormier, I'm a part-time photographer as my main job is consultant/saleperson in a optics science store. I made a comeback to film photography about 2 years ago and I just love it! I almost don't use my Pentax K5 no more.
My main interest in photography is portrait and art nudes, but I also enjoy street-photography from time to time and some landscape photography. I promised myself to do more landscape this year! So enough and ahead with the goodies!
Bag 1, the Yashica's!
This bag consist of two cameras. My newly acquired Yashica-A and my Yashica rangefinder the MG-1. The bag is actually a binocular bag from Lowepro converted for cameras! The model is called the Field Station. Off course in the bag I carry film and my trusty Sekonic L-308S lightmeter.
Bag 2, the very lightweight
Again with the Field Station Lowepro bag, I use this set-up when I just want to take it cool and enjoy slow pace photography. It consist of carrying the Kodak Tourist wich takes old 620 size film and the Holga pinhole camera.
Bag 3, the back pain bag!!!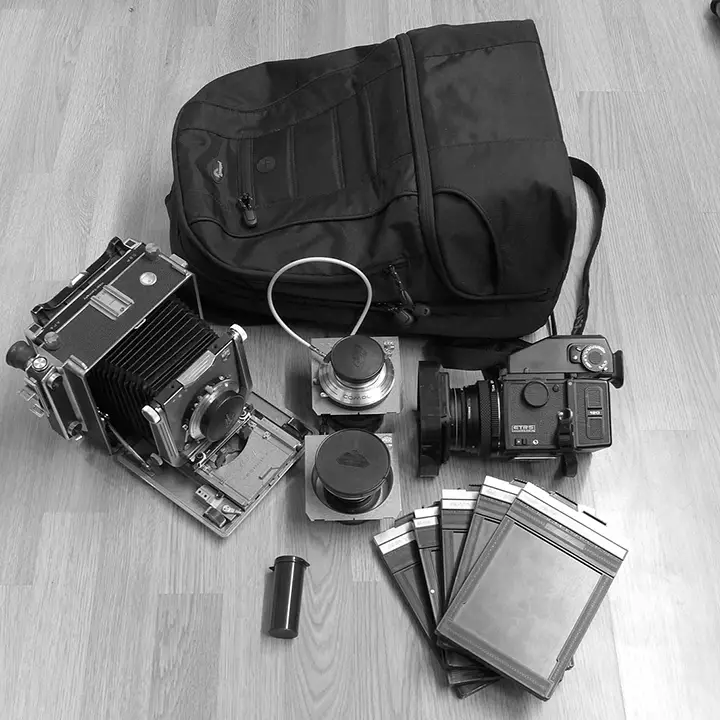 This is my heavy set-up, can you believe that everything shown here fits in this Lowepro backpack? This set-up consist of a Linhof Technika IV with 3 lenses (90mm, 150mm and 240mm) 5 cut film holders and my trusty Bronica ETRS with it's 75mm f/2.8 lens. there's just enough space in there for my Sekonic lightmeter and a few spare 120 film.
Bag 4, the street-photography bag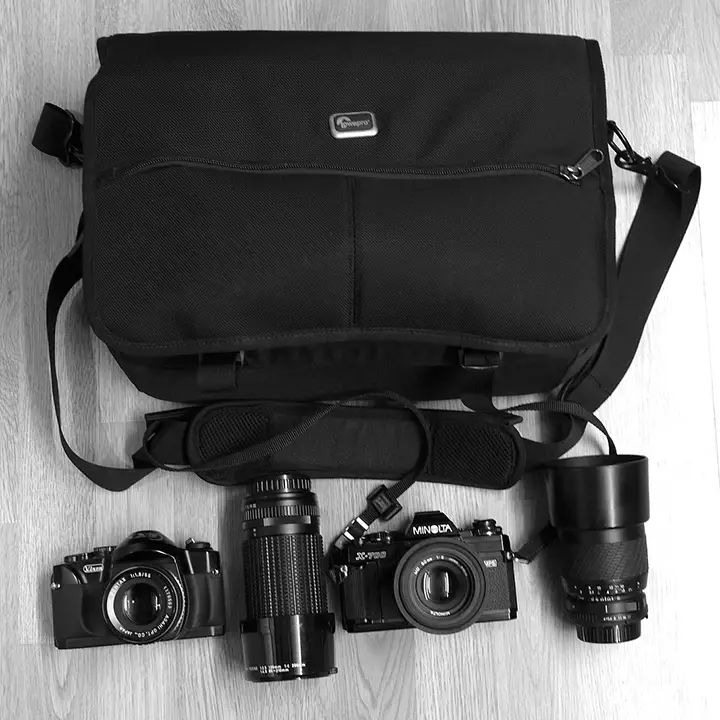 This kit consist of again a Lowepro messenger style bag and two cameras. I have a Vixen VX2 (Pentax K mount) camera with a 55mm lens and a Pentax smc 200mm f/4. Second camera is the most excellent Minolta X-700 with 50mm and a 70-200 lens.
Concerning tripods I use for almost all cameras (35mm and 120) the Velbon Sherpa 200R and for the Linhof I use the amazing Berlebach Mulda tripod.
Film wise, I like to get my hands on old expired films, always a surprise. Otherwise I really like Kodak Tri-X 400, Fuji Acros 100 and the Arista line of films. I process all my B+W films in my home lab.
That's all folks! Cheers!!!
Gaetan Cormier
Photographe / www.photogaet.com
Blog: http://www.photogaet.blogspot.ca
Boutique en ligne: http://www.redbubble.com/people/photogaet/shop
Thanks for sharing your bags with us Gaetan, that is an impressive set of gear you have there.
Check out the links and make sure you come and comment.
Keep them coming folks, we need more submissions, so get your bag on Japancamerahunter.com. Send me a hi resolution image of the bag (please make sure it is horizontal) and its contents, with some details about yourself and what you shoot. Oh and don't forget your contact details (twitter, flickr, tumbler et al). Send the bag shots here. Please understand that there is a long wait now as there is a backlog of submissions. Not all make the cut, so make sure yours is funny/interesting/quirky. And please make sure the shot is of good quality, as the ones that are not do not go up.
Cheers
Japancamerahunter