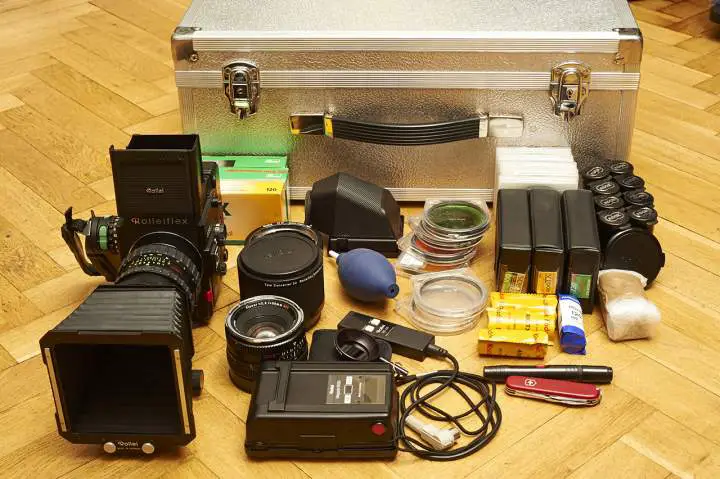 In your bag No: 1315, Volker Muth
Today we have a really cool bag. Well, not so much a bag as a totally custom flight case, packed to the gills with a very fine camera. This one is a true beast. Check it out.
My "bag" is a made to measure aluminum case. It has the maximum IATA measurement for cabin luggage. I love the idea that I could travel light around the world. As a photographer I love to have everything I need in one place and so I don't have to search for items during a portrait session. I just grab this case, a Manfrotto 055XB tripod and an old Pentax Spotmeter V and I am fine for a portrait.
The case includes the following items:
Rolleiflex 6008 professional
Zeiss Sonnar 1:4 150mm PQS
Zeiss Planar 1:2,8 80mm PQ
2x Tele extender
ET17 extension tube
Compendium
90 Degree Prism
additional 6×6 120 film back
three film inserts
some rolls of B&W film and color negative film
some film containers for exposed films
additional NiMh battery
Bay VI B&W, UV filter, Polfilter
Bay VI Zeiss Softar I&II
67mm color correction filter KR3
Tiffen Kodak Wratten 90 B&W viewing filter
72mm and 67mm adapters to Bay VI
BayVI to 67mm adapter
RC 120 remote release
Swiss army knife
lens pen
air blower
data sheets on film
I bought the Rolleiflex 6008 in Germany in 2010 and gave her a CLA , a new battery and a new focusing screen. Since then the camera works fine. This camera allows me a way of working I hardly could do with another camera. First of all there is the waist-level finder. It enables me to see the overall picture on the ground glass but also to talk to the person I am photography. With an SLR I always found it annoying to have a body in front of my face. Working with a waist-level finders helps to build up trust and a certain level of intimacy between the photographer and the person who get photographed. Starting with 35 mm SLRs I easily understood the advantages of the waist level finder and I find composing a picture with the waist-level finder extremely effective. The three-dimensional impression of the focusing screen was an amazingly impression to me.
Using the Rolleiflex 6008 made me appreciate the underlying concept of the camera. There is no odd solution; most oft he camera is self-explanatory. You realise that the Rolleiflex SLX, from which the 6008 descends, was a well thought camera concept. Everything gives the impression of all of a piece. No additional motor drive or prism finder needs to be added to use additional features like shutter priority. The electronic built into the camera is no an end in itself but support for the photographer – if desired. I found the motor drive very helpfully and the noise never annoyed me. Automatic windup to the first frame and wind out at the end of each roll are very convenient on a busy photo shooting. I know that some people are reluctant about electronic in medium format cameras but it works very well and I never had lost a photo due to empty batteries etc.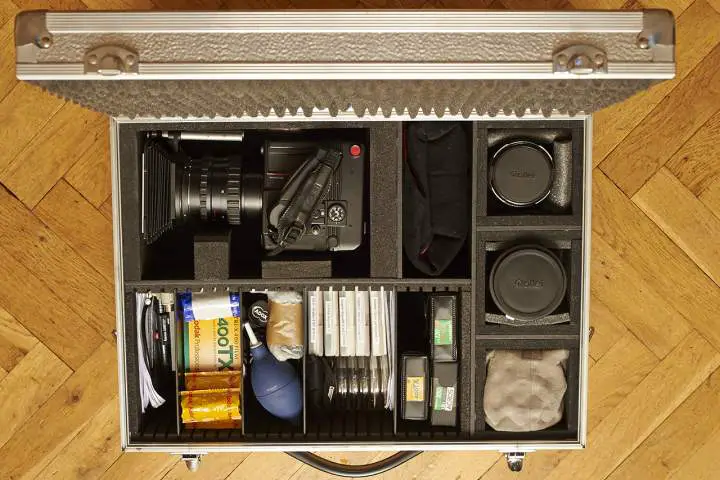 There are some solutions in this camera I would miss a lot like the brilliant laminar dark slide which is much better than the metal dark slide normally used, the film inserts that makes loading new film as fast as with a Nikon and the different exposure modes you can use without any additional prism viewfinder. In fact the 6008 is the only 6×6 SLR camera that combines metering with waist-level viewing.
Kind regards,
Volker
Photographic images of corporate identities and special skills.
http://www.volkermuth.net/en/index.html
Blog: http://volkermuth.wordpress.com
Facebook: https://www.facebook.com/kunststueck.offm
Thanks for sharing your bag with us, Volker. That is a really stunning setup. I love it.
Check out the links and make sure you come and comment.
Keep them coming folks, we need more submissions, so get your bag on Japancamerahunter.com.
Send me a hi resolution image of the bag. Optimum size is 1500 across. Please ensure there is a bag in the shot, unless you don't use one. The more you can write about yourself the better, make it appealing and tell us a story.
Oh and don't forget your contact details (twitter, flickr, tumbler et al). Send the bag shots here. Please understand that there is a long wait now as there is a backlog of submissions. Not all make the cut, so make sure yours is funny/interesting/quirky. And please make sure the shot is of good quality, as the ones that are not do not go up.
Cheers
Japancamerahunter