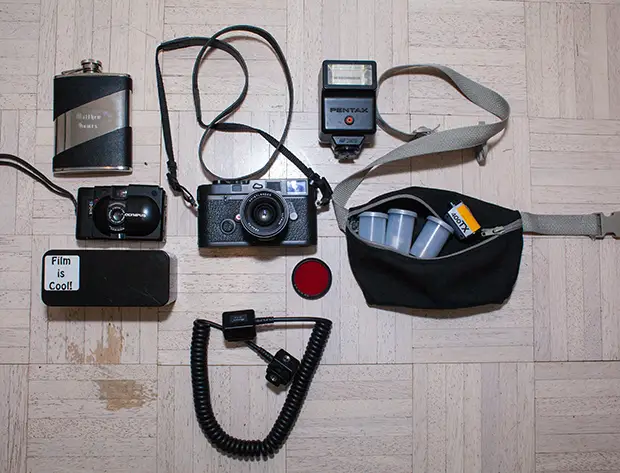 In your bag 760, Matt Gomes
This super chill bag is from my mate Matt. He came to Japan and we had a blast. It is cool to meet someone with such passion for photography and partying. And now we get to see in his bag.

My name is Matt Gomes and I'm a photographer living in San Jose, California.
I mainly shoot street, so this is what I go out with most of the time.
1. The fanny pack. I know that the word "fanny" has other meanings in Europe, but I'm an American so that's what it's called. Its American Apparel (because I've got the money) and you'll find me wearing this ridiculous thing pretty much all the time.
2. The flask. Liquor is very important to the serious street photographer, and I keep this filled with whiskey. I drink it while I'm out so i can maintain my focus. Right now it's full of Stagg Jr. bourbon.
3. The flash. I don't use flash super often, but this comes with me everywhere just in case I need it. It's an old Asahi Pentax AF200S and it cost me exactly $12.00 USD (that's about 162 pesos).
4. The cameras. I take my Leica M6 literally EVERYWHERE. It's an amazing camera and It's a dream to use. I bought this camera from Bellamy and you should get yours from him too. I shoot 28mm pretty much all the time on whatever format I'm shooting, so naturally I'm using a Voigtlander Ultron 28mm on my M6. I bring a dark red filter with me because the harsh sunlight beaming down the streets of downtown San Jose often can exceed the limits of F22 at 1/1000.
My other camera is an Olympus XA. This thing is so incredibly small and useful that I really have no excuse not to have it on me at all times. It fits in every pants or shirt pocket I own, so with me she goes.
5. The film case. From Bellamy himself. A necessity for anyone and everyone.
My photos can be seen on my flickr at www.flickr.com/photos/totalbummerforever and www.totalbummerforever.com
If you're trying to see my current project outtakes and what booze I'm drinking, my instagram is @total_bummer_forever
thanks, Bellamy! I love you so hard.
Cheers to you Matt, thanks for sharing your bag. I am looking forward to shooting and drinking with you in San Jose.
Keep them coming folks, we need more submissions, so get your bag on Japancamerahunter.com. Send me a hi resolution image of the bag (please make sure it is horizontal) and its contents, with some details about yourself and what you shoot. Oh and don't forget your contact details (twitter, flickr, tumbler et al). Send the bag shots here. Please understand that there is a long wait now as there is a backlog of submissions. Not all make the cut, so make sure yours is funny/interesting/quirky. And please make sure the shot is of good quality, as the ones that are not do not go up.
Cheers
Japancamerahunter